Elf on the Shelf's Magical Holiday Journey: Christmas Lights, Ice Skating, and a Ride to Santa Claus
Live holiday events are back in a big way in 2021—so big that even the elves are life-sized! While we totally appreciated the creative holiday drive-thru experiences of last Christmas season, we are definitely excited to be getting out of the car to enjoy holiday lights, decorations, and even outdoor ice skating once again. If all that sounds like a festive evening your family would enjoy, point your car toward Pomona, then jump out of it and enjoy carols, elves, skating, hot chocolate, a trolley ride, and an audience with Santa Claus himself at Elf on the Shelf's Magical Holiday Journey at Fairplex in Pomona.

Bundle up the stroller and go in search of elves...
Elf on the Shelf Walk-thru
The Elf on the Shelf Magical Holiday Journey is divided into two sections: a walk-thru and a ride-thru. The first section can be taken at your own pace, with loads of room, plenty of lights, and a small army of over-the-top-cheerful, ambitiously acrobatic elves. The journey begins with a tale that involves saving Christmas by conjuring up some Christmas cheer, and several stops along the way that feature an elf doing something bouncy, swingy, or rolly while interacting with audiences. The path is wide, spacious, and paved, so it's a great opportunity to pack little ones up cozy in a stroller and walk through the Christmas-lit night looking for the next elf stop.
Kids are encouraged to use a special pen and paper to write and hand in a letter to Santa Claus at the beginning of the journey. Note that this is worth taking the time to do, since it pays off with a treat at the magical journey's end.
RELATED: 50 Funny Elf on the Shelf Ideas

There are elves, holiday scenes, and jingle bells around every corner.
Some of the stops along the holiday journey test the audience for cheer on a special elf-operated cheer meter, and of course the many lights (including a spangly tunnel to walk through) offer festive photo ops. An indoor section (masks required here) features an elf-spangled stage show—but this is also walk-thru, so no commitments if kids aren't in the mood to sit still.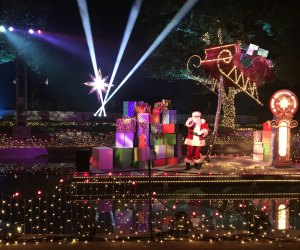 The jolliest old elf of them all is the climax of the visit!
Elf on the Shelf Trolley Ride
The second half of the magical elf journey is a ride-thru experience on an open trolley. Hosts make sure families get to sit together, with respectful space between parties and masks on for everyone's safety (strollers are loaded up as well). The ride rolls through 10-15 minutes of elf scenes, including a few more rounds of egging on the crowd, a tightrope walking elf, some giant storybooks, and various requests to count the jingle bells. The tram stops at key spots, traveling through plenty of lights in between.
The trolley ride's climax, with it being Christmas and all, is the loveliest light display of the evening, all glistening around a special island set up for Father Christmas himself. With more than a little build-up, Santa Claus walks out and waves from a safe but nonetheless spectactular distance.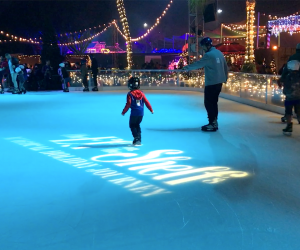 The ice rink in the holiday village is one of LA's few chances for outdoor skating this season!
Elf on the Shelf Ice Skating and Holiday Village
Either before your elf-thru, afterwards, or both, you and your kids can enjoy some time skating, snacking, and soaking up the holiday cheer at the Elf on the Shelf holiday village next to the Magical Holiday Journey entrance. Admission to this area is included in the Magical Journey ticket, though skating on the outdoor ice rink is a separate charge ($13, or $8 for toddlers).
The ice rink is one of very few outdoor skating rinks this season, so if your family loves a chance to go ice skating on an outdoor holiday rink, this is a great chance to do it. Sessions are 45 minutes long, separated by Zamboni-inspired hot chocolate breaks. Skates are available for rental for $7, from size 9j up.
Other highlights of the holiday village are all of the classically indulgent snacks you could wish for, including doughboys, kettlecorn, candied nuts, and a beer and cocktail bar for Santa's hard-working helpers. A few food trucks are also available on site. And of course there are opportunities to buy all the elf-related merch you could possibly want. If supply chains have put a cramp in your holiday gift style, there is no reason to leave the elf shop empty handed.
Elf on the Shelf's Magical Holiday Journey runs through January 2, 2022. Ticket prices start at $25 for adules and $20 for kids.
All photos by the author