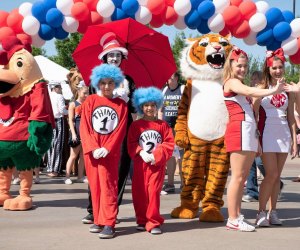 Weekend Fun for Houston Kids: Nature Fest, Fort Bend Arts Festival, April 27-28
It may be the last weekend in April, but there are so many cool events and activities happening Saturday and Sunday, and we found the perfect way to kick off whichever event you attend: donuts! Not just any donuts, though; the donut shops on this list may carry the traditional glazed or frosted donuts your family has come to know and love, but they also carry donuts that pack a punch.
There are also two great sensory-friendly events happening this weekend for anyone with a special needs family member: one at the Houston Museum of Natural Science and one at George Ranch Historical Park. At both events, special measures are being taken so that those with special needs are able to enjoy the exhibits with minimal noise and distractions.
For even more family-fun, be sure to check out our April GoList, Free Things to Do With Houston Kids in April list, and our event calendar, as well as our Spring Fun Guide and Rainy Day Activities list. Whether you're staying home or getting out, we can guarantee that with us by your side no moment will be a dull one!