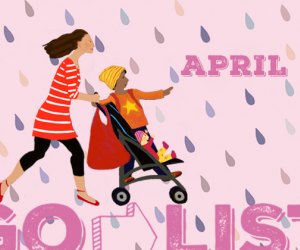 April GoList: The Best Things to Do With Houston Kids This Month
Montgomery County Fair - Conroe
March 29-April 7, 2019
Having withdrawels since the conclusion of the Houston Livestock Show and Rodeo? Get your fix of fried food, livestock shows and more at the Montgomery County Fair just north of Houston.
Rosenberg Railroad Museum RailFest - Rosenberg
April 6, 2019
This railroad-themed day of fun features interactive exhibits for kids on how trains of the past and present work as well as local railroad history. You can also expect typical festival activities, from bounce houses to face painting.
Houston Art Car Parade and Weekend - Inner Loop
April 11-14, 2019
As the kickstart to Houston's Art Car Weekend, this parade is unique as the Bayou City Itself. Come see the most bizarre and spectacularly decorated cars in town.
Houston Barbecue Festival - NRG Park
April 14, 2019
Houstonians have a special relationship with barbecue. It's in our blood. And this festival celebrates just that with delicious food, live music, and more.
Crawfish Crazy Weekend - Galveston
April 12-14, 2019
Enjoy live Zydeco music and all-you-can-eat crawfish along with the regular rides, games, and amusements at Galveston's Historic Pleasure Pier.
San Jacinto Festival and Reenactment Battle - La Porte
April 13, 2019
An exciting battle reenactment is the main attraction at this annual (and FREE) festival. See the pivotal events that led up to Texas winning its independence from Mexico at the Battle of San Jacinto, which took place more than 180 years ago.
Children's Memorial Hermann Ironkids Texas Fun Run - The Woodlands
April 20, 2019
Young athletes are invited to lace up their shoes and tackle a half-mile or one-mile fun run at IRONKIDS Texas Fun Run. The race promotes healthy living and engaging in physical activity outdoors, and shows how exciting competition can be for kids.
Texas Crawfish and Music Festival - Spring
April 27-28, 2019
Old Town Spring hosts its annual crawfish bash. There is no shortage of tasty Cajun food here (as well as other carnival favorites), and you can rock out all day to live entertainment. There are rides and games for kids of all ages.
And for things to do every day of the week, check out our event calendar, and if you haven't already signed up for our free newsletter (where you'll receive our recent posts and things to do each weekend), subscribe now!