Exploring the Missouri City Edible Trail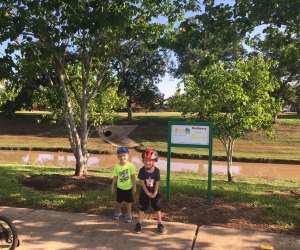 At first glance, the entrance to this trailhead in Southwest Houston looks like any other. The unassuming concrete pathway stretches out in front of you, shaded by trees and running parallel to Oyster Creek. It could be a million other trails, and if you didn't know what you were looking for you might assume it was just that. But a short ways down the path from our start in the dirt parking lot is a sign that tells visitors just how unique this pathway really is: "Welcome to the Missouri City Edible Arbor Trail."
Never heard of an Edible Arbor Trail? Until this adventure, I hadn't either! The trail features over 20 groves of trees and shrubs that produce edible fruits and nuts in the region, each flowering at different times throughout the year. Visitors are allowed and encouraged to pick in-season fruits and nuts as they make their way down the two-mile trail - a unique opportunity to connect people to both food and nature.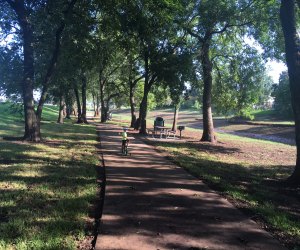 Exploring the trail by bike.
We visited the trail with friends, meaning there were two 3-year-olds, two babies and two adults tackling the trail together. The older two rode their bikes while my friend and I pushed the babies in strollers, which ended up being a great way to see the trail; we probably would have been in bind trying to get back to our cars without the bikes since it's a point-to-point trail and two miles is a long way for little legs - as it was we only made it partway through the trail before we turned back. For any future visits, if the goal is to see the entire trail in one go, I think we'll drop off a car at both the start and finish.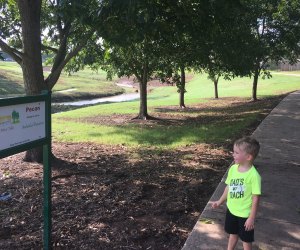 Checking out the type of tree and when it produces.
The concept behind the trail is pretty neat; trees line the sides of the pathway and there are signs by each grove that detail the type of tree or bush planted and when it's in season. Fall sees the biggest number of producing fruits and nuts, however, there's something blooming year-round. The produces ranges from loquats and pomegranates to pecans and olives and everything in between. Visitors can download a Seasonal Picking Guide prior to coming for a heads-up on what they can expect to find.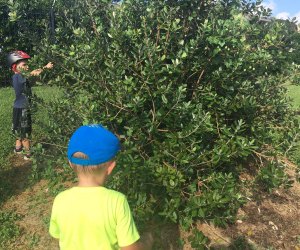 Searching for anything and everything worth picking.
The two older kids loved the fact that they were actually allowed to be picking things off of trees, and excitedly approached each tree with gusto as they tried to locate anything and everything worth picking. Us moms loved being able to get outdoors and do something different and active with our kids - I know I'm always looking for fun, interesting ways to wear my kids out! - and the added educational and interactive elements were an awesome addition to the experience. The trail itself is great for walkers, runners, and cyclists, and we saw all three during our visit. Because the trail always has something blooming, we're definitely going to be visiting again at various points throughout the year!
A few tips for your visit to the trail:
There's not a ton of shade, so it's a good idea to wear a hat.
The parking lot is very small, so definitely keep an eye out as you're driving because it's easy to miss!
You have to walk a bit down the trail from the parking lot before the Edible Arbor part of the trail actually starts.
There are a few benches along the trail, which we definitely took advantage of to rest and have snacks.
You are allowed to eat anything you pick.
It's a point-to-point trail, so remember that two miles one way means two miles back.
Top image: Checking out the signage explaining the type of tree and when it's producing/All photos by Rachael Cherry.