Dinos Alive: An Immersive Experience Featuring Life-Sized Dinosaurs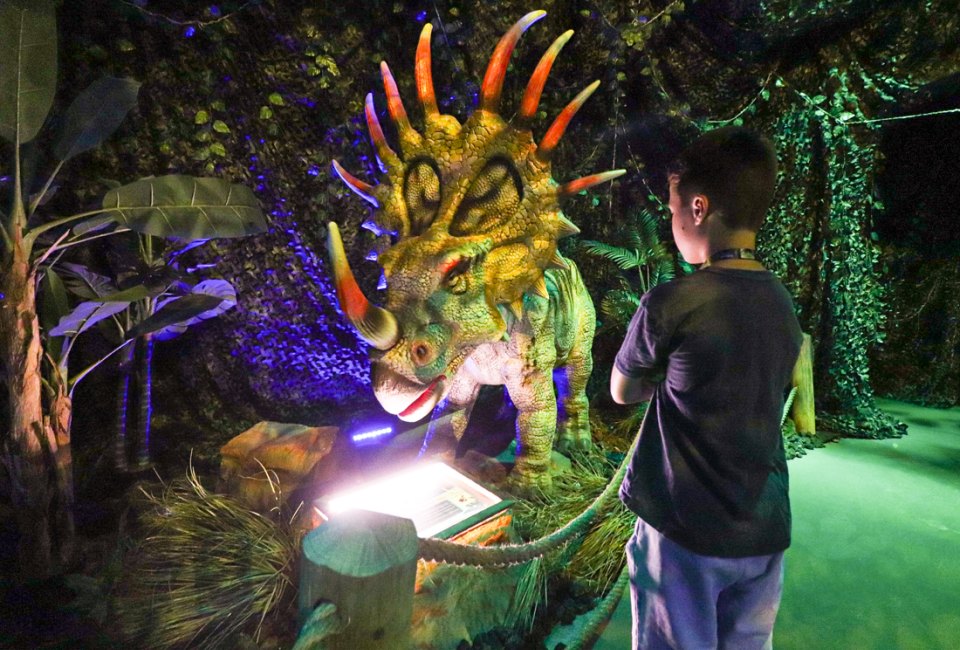 7/7/23
- By
Nan Ross
While visiting Dinos Alive, I thought about Robert Baaker, a world-renowned paleontologist, who once said "It's very simple why kids are crazy about dinosaurs - dinosaurs are nature's Special Effects."
I know my kids are crazy about them. Our family has so many toys and has watched countless dino movies. Every trip to the first floor of the Houston Museum of Natural Science never fails to amaze. So when we heard Dinos Alive: An Immersive Experience had opened in Houston, we headed over to check out what all the up-rawr was about.
We think you should too, but first, here's some info on what to expect on your visit. Also, be sure to check out our Houston Children's Museums and Exhibits Guide for more fun places to explore and beat the summer heat.
What is Dinos Alive: An Immersive Experience?


See over 80 moving dinosaur specimens.
Dinos Alive is an indoor exhibition featuring life-size, animated dinosaurs in an immersive Jurassic venue. Guests walk along a series of paths, sightseeing over 80 moving specimens including fan-favorites: T-rex, Stegosaurus, Ankylosaurus, Velociraptors, and Pterodactyls. There is a jungle, there is fog, and all sorts of prehistoric sounds; the only thing missing is Chris Pratt doing his raptor-whisper routine. Tickets can be purchased on Fever.
What should I expect from the tour?
When you first enter the exhibit, you will be greeted by employees who will give you lanyards to wear during your tour. The lanyards allow you to walk through the different exhibits as many times as you like. The system is self-guided and self-paced.
Dinosaur tracks on the floor lead you into the first main room where lights are low and color-changing. There are many plants and "fog" to make the dinosaurs feel at home. These dinosaurs are actually life-size, meaning some are very large. Their movements are realistic and most of them have a plaque nearby with their name and other interesting information.
Exploring the virtual aquarium in Dinos Alive.
You will continue to follow the footsteps through a tunnel until you're in a room that is a virtual underwater aquarium filled with Jurassic sea giants. The "aquarium" is projected onto the walls and floor, creating the sensation of being submerged under the ocean. There are dozens of bouncy balls on the floor and the kids are encouraged to throw them at the wall which causes swimming fish and other creatures to react in different ways. This was easily my kid's favorite part of the experience!
Leaving the "aquarium," you will pass through a couple more large rooms filled with animatronic dinosaurs, until you find yourself in an area dedicated to the hands-on portion of the experience.


What else is included in the experience?
The hands-on portion of the exhibit offers an opportunity for your kiddo to race a dinosaur and dig around for dinosaur bones. But it was the "color the dino" station that garnered the most attention. Kids can select a picture of a dinosaur, color it, and put it into a machine that turns the image into a projection of a moving dinosaur. This was easily my husband's (er, I mean kid's) favorite part of the experience!
As a nice touch, we were also greeted by an employee (that was an actual Paleontologist) who was on hand to answer any questions we might have about the dinosaurs.


What is the immersive VR Experience?
If you're feeling extra immersive you can add a VR experience to your visit. You're given a VR headset and sent on a romp through the jungle (mostly on the backs of different dinos). You get 360-degree views of a Jurassic world and experience the thrill of being chased by a few T-rex. The whole experience takes about 8 minutes. It's recommended for 8+ but my six-year-old enjoyed it and did not find it scary at all.
Tickets, parking, and other logistics


Tickets can be purchased on the Fever Website, where you will need to select the date and time of your visit. General admission tickets start at $20.90 but increase during peak times and weekends. There are family bundles available to save cost per ticket, and you can also upgrade to a VIP ticket, which would include the immersive VR experience and a Dinos Alive magnet or poster of your choice. Children three and younger are free of charge.
Dinos Alive is located at the Marq'e Entertainment Center, so there is plenty of free parking available and nearby restaurants within walking distance. Dinos Alive does not offer concessions, but there is a gift shop with dino-themed items for sale. The entire experience is indoors, and the duration of your visit will last approximately 35-75 minutes. The Dinos Alive Exhibition is currently slated to be open in Houston until August 20, 2023.

All photos by author Nan Ross for Mommy Poppins
Places featured in this article:
---
Marq'e Entertainment Center
Click Here to Sign Up!
i