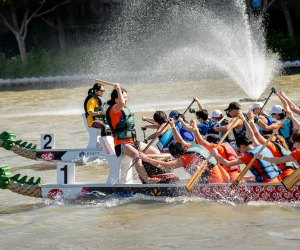 Things to Do in Houston This Weekend: Bayou City Art Festival, Dragon Boat Regatta
This weekend is packed with so many awesome events, narrowing them down to just a few to feature became a monumental task. And that, friends, is a great problem to have! Some noteworthy events: the Earth Science Day Family Festival at HMNS, KBR Kids Day at Guadalupe Park, and Houston Grand Opera's Opera to Go! performance of Strega Nona.
We also have been rockin' and rollin' behind the scenes getting ready for all the fall festivities, and are proud to share some amazing resources with you, starting with our Fall Fun and Harvest Guide that we are confident will quickly become your go-to resource for all the fall-inspired events. We also recommend checking out our Fall Festival round-up, Fall Bucket List, and our Halloween Fun Guide.
Now all we need is temperatures in the 70's and we can officially call it Fall, y'all.
Whenever you're in need of some more activity inspiration, we'd love for you to check out our event calendar, which is full of events happening all over the Houston. You can also use our October GoList to find the top events happening around town throughout the month. Have an awesome event you want to share? Submit your event to our calendar so we can check it out and get it published. And last but not least, you can also make staying up to speed with everything happening on our little corner of the web a breeze by signing up for our weekly newsletter.
Now let's see what's on tap for the weekend!