Online Robotics Camp
Young Gates - Kids Online Personalized Classes

Artificial Intelligence with Scratch Online Camp
Young Gates - Kids Online Personalized Classes

Spark Math: Free Trial Class
Virtual
Sign up for our free newsletters.
Paddle On: 5 Places to Canoe or Kayak in Houston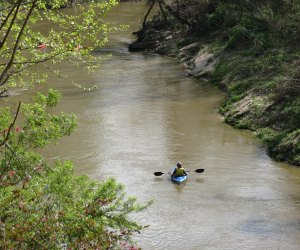 7/24/17
- By
Rachael Cherry
My husband and I both went to college at Texas State University in San Marcos, which (in my obviously unbiased opinion) is arguably one of the most beautiful college campuses in Texas. Being tucked in the Texas Hill Country and surrounded by rivers means there is no shortage of water related activities to do. My husband even took kayaking as one of his electives! Our kayaking adventures came to a dead stop when we moved back to Houston post-graduation, though, largely because we made the same assumption that many people probably make: there's really nowhere to kayak or canoe in the Bayou City. But after doing some research, boy, were we wrong.
One of Houston's best-kept secrets is that it isn't just home to numerous hike and bike trails but also an abundance of waterways perfect for paddling and just waiting to be explored. Here are five of my favorite spots to kayak and canoe in Houston.
Buffalo Bayou Paddling Trail
Also known as the first paddling trail in Houston, this waterway spans 26 miles of Houston and has 10 different access points along the way. The trail starts at Highway 6 and continues all the way to Allen's Landing downtown, and gives paddlers a mix of both urban and natural environments. You can bring your own kayak or rent from nearby companies like Bayou City Adventures, which offers kayaks, canoes, and stand-up paddle boards.
Brays Bayou
Interested in an urban paddling experience that allows you to tour downtown Houston by water? Then you'll want to check out Brays Bayou, which passes through notable landmarks like Hermann Park, the University of Houston, MacGregor Park and more, and continues down to the Houston Ship Channel.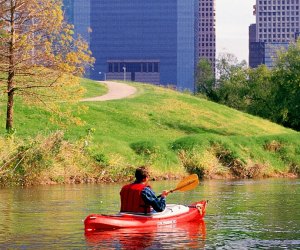 Scenic views in the city/© Photo Courtesy of Harris County Flood Control District
Cypress Creek Watershed
The Cypress Creek Watershed is home to three different paddling trails that total 18 miles in length and eventually combine with Spring Creek. Paddlers have been known to see a variety of wildlife on their trips, including American alligators, peregrine falcons, and even the bald eagle. One thing to note: paddlers should be aware that log jams are an occurrence at Cypress Creek and can be potentially dangerous.
Armand Bayou Paddling Trail
Nestled in the NASA Space Center area is Armand Bayou. The Bayou has been deemed a Coastal Preserve thanks to the Texas Parks and Wildlife Department, and motorized boats are banned in the area owned by Bay Area Park and Armand Bayou Nature Center, allowing for some great flat-water kayaking and canoeing. Keep your eyes peeled, though; alligators in excess of 10 feet have been known to be spotted in this area!
Stephen F. Austin Paddling Trail
For a choose your own adventure take on canoeing or kayaking in Houston, you'll want to check out the Stephen F. Austin Paddling Trail. Comprised of four different waterways, Columbia Bottomland Waterway, Old Settlement Passage, Sugar Mill Stretch and Gulf Prairie Run, the trail covers just over 35 miles of water and offers varying levels of difficulty, plenty of wildlife and a natural river experience that isn't to be missed.
Now that we know how many paddling opportunities there are right here in our city, we just might have to make a trip to a paddling trail nearby. I have a feeling our son will be just as excited about kayaking as we were, and getting to share activities we love with our kids is our favorite way to partake in them.
These five paddling trails just scratch the surface of all that Houston has to offer for canoers and kayakers of all experience levels. For a full list of bayous and paddling trails in and around the Houston area, be sure to check out the Bayou Preservation Association and Texas Parks and Wildlife Department.
Top image: Paddling the 26-mile Buffalo Bayou trail/Photo courtesy Marina Rossow, Bayou Preservation Association