Lights, Shows, & More Lights: Holiday Fun at Magical Winter Lights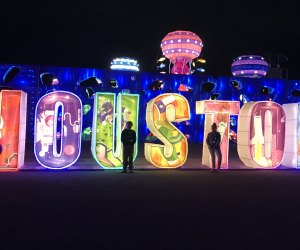 They say everything is bigger in Texas, and there is so much truth to that statement when it comes to celebrating the holidays in Houston. Our city is full of beautiful public holiday light displays and has no shortage of neighborhoods with lights galore. However, there is Houston light display extravaganza so mesmerizing, it can only be called one thing: Magical. Magical Winter Lights presents magnificent displays of holiday lights arranged into several themed areas, celebrates Chinese culture with acrobatic performances and crafts, and is home to a host of carnival games and rides. We took our kids (ages 3, 9, and 11) to check out the festival this year and it did not disappoint.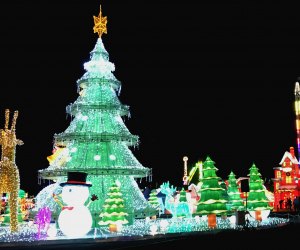 The Christmas Village display spreads holiday cheer.
The entrance to Magical Winter Lights greets each guest with a towering castle and shimmering lights in shades of purple, blue, and white. Upon arrival, our three-year-old wasted no time pointing out that we must be in Disney World. And honestly, that's exactly the type of feeling that this entire festival evokes with its colorful lights illuminating the grounds as far as the eye can see.
Related: Holiday and Christmas Event Guide for Houston Families
The light displays are separated into themed areas that guests walk through. Displays like the Mystical Forest and Magical Wonderland create whimsical worlds of lantern trees, pirate ships, and even a maze to get lost in. What we really loved was how interactive each area was. There are bicycles to ride on that power some of the lights in the Landmarks of the World display, and a giant horse statue to climb on in front of a replica of "Big Tex" from the Texas State Fair in the Lone Star State display. Each display has its own ability to draw you in.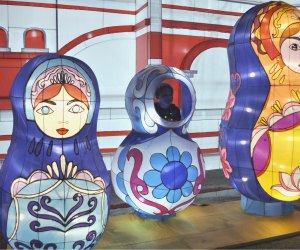 Posing inside of a unique doll display.
The fabulously illuminated displays are obviously the major draw for most guests at Magical Winter Lights, however, our kids absolutely had the most fun in Dinosaur Land. This prehistoric wonderland takes place inside a tented area where dinosaurs are aplenty! Located inside are animatronic dinosaurs and dinosaur eggs, large-scale dinosaur replicas, real fossils in display cases, and a pack of ride-on dinosaurs that kids can roam around the tent on. The ride-on dinosaurs were a total hit with all three kids (yes, even our sixth-grade girl) and we had a blast chasing them around. I loved that Dinosaur Land was not only fun, but had an educational slant to it with informative plaques and prehistoric facts throughout.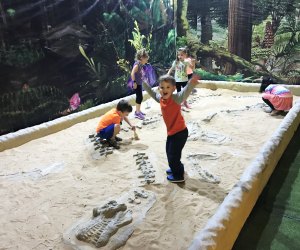 Digging for faux fossils in the sand pit was so much fun.
Another huge hit for us was the lighted pads display. It is basically a giant dance floor with squares that light up in various colors when stepped on. Or, like a make-your-own game of Dance Dance Revolution on steroids. People of all ages were moving and grooving on this fun display. Family-friendly dance music ("Can't Stop The Feeling", "Celebration", etc.) kept the party going until way past bedtime.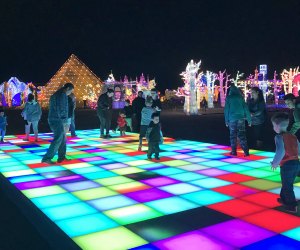 An outdoor disco party!
The inspiration for Magical Winter Lights comes from the Chinese tradition of lantern festivals which began more than 2,000 years ago. Each night at Magical Winter Lights, cultural performances by Chinese acrobats take place. We were able to see a troupe of young women perform balancing acts that were absolutely awe-inspiring. They paid homage to their Chinese heritage through dance and costuming while performing very intricate acrobatic tricks. I really appreciated being able to see and learn about the Chinese culture through the performance, as well as through an interactive Chinese Zodiac light display where we got to help the kids find out what animal they're represented by on the zodiac calendar.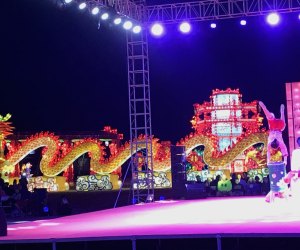 Amazing acrobatics performed on stage.
As if the light displays themselves aren't enough, Magical Winter Lights also has a large midway area with rides, food, and games. An assortment of food vendors serve traditional carnival treats like funnel cakes and candied apples. There are plenty of rides and a wide variety of games for kids of all ages. Even our three-year-old was able to ride on one of the smaller car rides on his own. A giant Ferris wheel is the crown jewel of the carnival area. From the top, you can get a great view of the entire lighted festival.
With the holiday season upon us, Magical Winter Lights evokes feelings of joy and glee that makes it a wonderful experience to share with the entire family. Beautiful lights, spectacular entertainment, fun activities, and cultural enrichment puts Magical Winter Lights in a class of its own when it comes to holiday activities in Houston. I cannot wait to go back year after year!
Magical Winter Lights is open nightly through January 2, 2018.
All photos by Ashley Jones