Best In-Person Coding Classes for Kids in Houston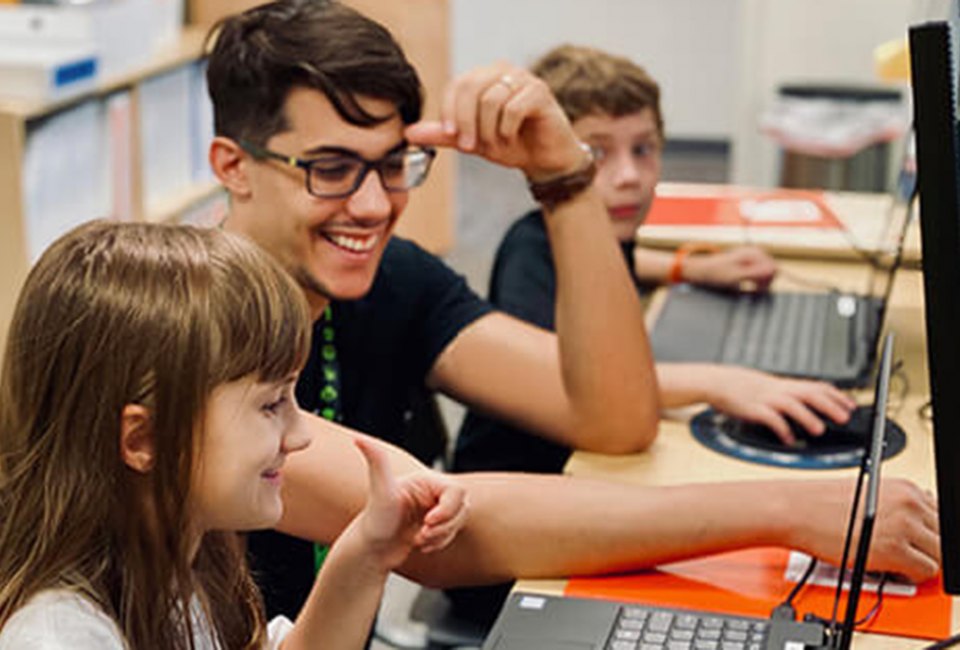 8/8/21
- By
Vicky Yip
Houston is a city of many different languages, so why not give your kid a chance to learn the language of computers by taking a coding class? We've rounded up 11 places offering in-person coding classes for kids in the Houston area. Many of these coding schools also offer virtual classes.
Learning how to code is a STEM skill that Houston kids can build upon as they grow up in a world run by technology. Coding skills are important for creating computer software, websites, apps, video games, and more. But it's not just a skill for future jobs: learning how to code helps kids exercise their logic, creativity, and problem-solving skills—traits that will be useful no matter what.
For more information on other types of enrichment classes, check out our local Class Listings or our list of other STEM classes in Houston.
1. Code Ninjas – Tanglewood, Memorial City, and more
At Code Ninjas, kids learn to code by building their very own video games. The coding programs include convenient drop-in hours on weeknights or weekends to give parents flexible options. Plus, Code Ninjas has several locations, making it easy for any kid in Houston to find a coding class. Contact a Code Ninja location near you for details.
2. Coder Kids – Southwest Houston
At Coder Kids, the main focus is teaching students the principles of computer programming through coding games, animations, and simple programs. Their projects are created using platforms like Scratch, Python, and Unity. You'll find coding classes for kids as young as Pre-K all the way through 12th grade.
3. iCode – Missouri City
iCode Learning prides themselves on having the latest technology available for their students to learn coding. Their world-class facilities boast 3D printers, programmable drone kits, elite gaming computers, and dedicated teachers who use their leading proprietary curriculum to get kids started on their coding journey.
Kids ages 7 and up can learn about computer science at Color Coded Kids. The interactive and fun classroom setting focuses on the fundamentals of programming while allowing kids to develop a love for technology at a young age.
At SMART Core Labs, kids in first grade and above have the chance to learn about artificial intelligence, coding, robotics, and more. Starting with drag and drop coding programs, younger elementary kids will start programming with pictures first. Then as kids get older, they'll code videogames using Scratch, Python, Java Minecraft, and Java programming language.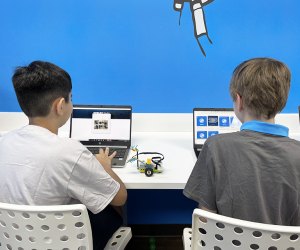 IDEA Lab Kids
Afterschool classes here at IDEA Lab Kids allow students to learn real-world skills with STEAM (Science, Technology, Engineering, the Arts, and Mathematics) courses including fun, hands-on coding and robotics classes. Enroll in single classes, by the month, or for the entire semester. IDEA Lab even has convenient transportation options from area schools that pick up kids and transport them to the center. Transportation services can be paid for on a monthly schedule.
The mission at the American Robotics Academy is to educate young people on the importance and impact of robotics technology in today's world. Houston-area robot fans will use devices to learn how to code their robots to participate in exciting challenges by getting their bots to walk and follow commands.
At The Coder School, their flagship after-school program, called Code Coaching®, combines a super small 2:1 teaching ratio. The individualized curriculum allows kids to move at their own pace, doing things that interest them the most. This Houston area kids program also offers traditional coding classes that teach software.
Engineer a love for robotics coding at Funtastik Labs, a coding class for kids in Houston's suburbs. Younger kids build solid fundamental skills for coding and engineering through drag and drop coding. Older kids advance their engineering skills with more complex builds and advanced programming. More intermediate students will master Python coding to integrate into robotics.
10. KidztoPros – Houston & Katy
In their Coding & Game Design program, kids learn how to create games, apps, and robots to prepare them for an increasingly tech-driven future using project-based programs in popular coding and design environments. Their after-school programs are taught by experienced instructors to small groups of students and include options like Minecraft Coding and Game Design.
Elementary and middle-schoolers can learn computer programming skills that will help them create video games and animated stories, bringing their imaginations to life. With Sylvan Learning Center's Coding classes, they'll learn about basic coding and programming, problem solving, logic, physics and more. Kids attend weekly classes that have distinct objectives and outcomes, so your student can work towards a goal and feel a sense of accomplishment. Check if the location closest to you is offering in-person coding classes at this time.
Photos courtesy of the centers