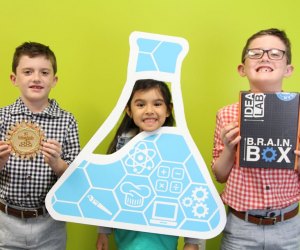 STEM Classes For Kids in Houston
Does your kid love robots, LEGOs, computers, and NASA? What about multiplication, division, and science experiments? If so, your little ones will love participating in a fun and education STEM-centered class. STEM (science, technology, engineering, and math) classes create a space where kids can learn how to use science and math skills to create their own video games, build computer systems, experiment with chemical reactions (safely), and so much more. Check out our top picks for STEM classes in the greater Houston area for your budding engineer.
To find more enrichment classes for kids around Houston, from STEM to music, visit our ultimate classes guide, and check our directory to discover even more.
And for even more ideas on different types of classes around Houston for kids of all ages, be sure to check out our classes and enrichment guide for Houston kids.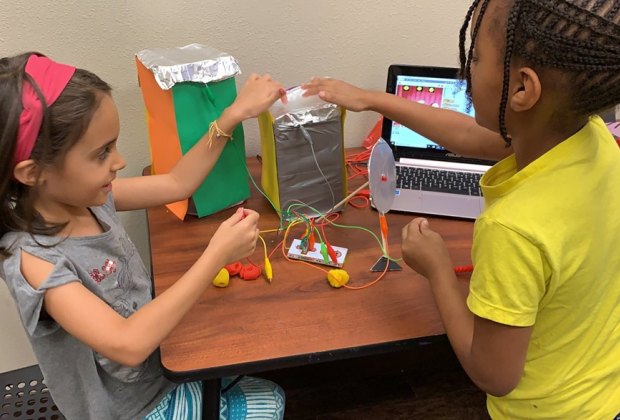 Kids dive into a variety of interactive STEM projects. Photo courtesy of Smart Core Labs.
Smart Core Labs - Pearland
2809 Miller Ranch Rd., #401, Pearland
832-736-5691
There are a wealth of classes for students in grades K-12 to choose from when attending classes at Smart Core Labs. Core topics include Science, Machines, Art & Animation, Robotics and Technology with multiple class options within each. Parents are able to pick from both after school and in school programs, camps, and weekend classes.
Idea Lab Kids - Various locations
281-982-5126
Choose from a variety of STEAM (STEM + Arts) based enrichment learning ranging from Augmented Reality, Robotics, 3D Art, Coding, Drones, Engineering, Movie Production, Cooking School and more. IDEA Lab Kids provide engaging and innovative curriculum through Pre-School and After-School programs as well as Classes, Camps, Workshops and Birthday Experiences.
Choose from one of the many locations in the greater Houston area, with several others coming soon.
Building Brains - Various locations
888-55-BUILD (28453)
Programs and camps at Building Brains locations are for students ages 3-14 to combine fine motor skills with critical thinking skills through the use of educational building kits. Hands-on teaching methods allow kids to learn through doing and help to enhance math and problem-solving skills.
Classes are offered at multiple locations around Houston. Find the location closest to you here.
American Robotics Academy - Various locations
281-599-7626
Designed for school-aged children, American Robotics Academy allows kids to explore mechanics while also learning how to work in a team. Through the use of the LEGO Technic System, kids get an up-close-and-personal look at gears, axles, levers, and other mechanisms in a manner that is familiar and easy to manipulate.
Find the American Robotics Academy location nearest you here.
Mathnasium - Various locations
​877-601-MATH (6284)
Whether your child excels at math or needs a little extra help, Mathnasium provides a supportive environment to enhance math skills at any level from elementary through high school. By tailoring mathematical concepts to each child's existing knowledge base, Mathnasium is the perfect place for kids to hone in on their STEM skills.
Multiple centers are located throughout the Houston area. Find the one closest to you here.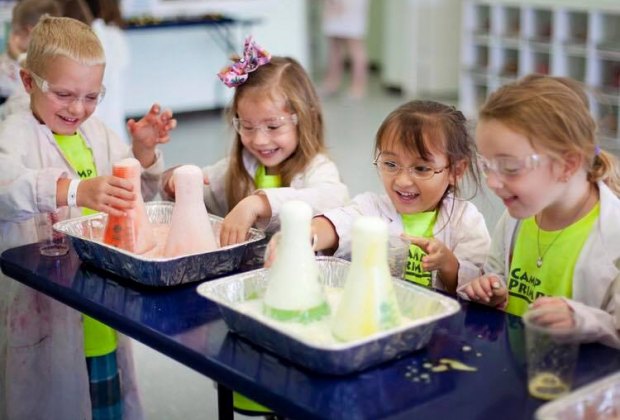 Kids dive into science and STEM through interactive and imaginative experiments. Photo courtesy of Little Beakers Science Lab.
Little Beakers Science Lab - Cypress and The Woodlands
13040 Louetta Rd., Suite 226, Cypress
281-401-9501
26803 Hanna Rd. Units 507/508, The Woodlands
832-509-2270
Little Beakers Science Lab gives kids ages 6 and up the opportunity to use real lab equipment to study science up close. Students at Little Beakers also gain valuable STEM experience by participating in the study of the periodic table of elements as well as historically significant scientific discoveries. Classes are offered at both locations each Thursday and Friday for 50 minutes.
Engineering For Kids - Various locations
281-499-9997
Kids ages 4-14 learn by doing with Engineering For Kids classes. Focused on fun, age-appropriate STEM activities, during each class children will experience a different aspect of STEM concepts during their lesson. From building hot air balloons to designing video games, this program covers a wide range of STEM activities.
Classes are offered at multiple locations in the greater Houston area. Find the location nearest you here.
Sylvan EDGE STEM - Various locations
888-338-2283
Engineering, coding, and robotics come to life for kids at Sylvan EDGE. Programs are available for kids in grades K-12, tailoring the STEM experience to each age group by using age-appropriate concepts to explore structural design, physics, and problem-solving.
Multiple centers are located throughout the greater Houston area. Find the location closest to you here.
Code Ninjas - Various Locations
855-446-4652
Drop in during normal school hours for coding lessons that serve to teach kids through game-based curriculum. Kids receive color-coded wristbands as they advance their coding skills with the goal of progressing from "white belt" to "black belt" and becoming the ultimate Coding Ninja.
Multiple centers around Houston and the surrounding areas. Find the one closest to you here.
Mad Science - West Houston
6300 Westpark Dr., #500, Houston
713-663-7623
The interactive, inquiry-based classes at Mad Science give children in grades K-6 an opportunity to explore the world of STEM using unique equipment and original material. While engaging in activities kids learn how science affects the world around them in a fun, educational setting. Mad Science offers after school programs, in-class workshops, camps, and more.
This post originally published in 2017.