SPONSORED
Sylvan EDGE STEM Classes (Almost) Too Cool for After-School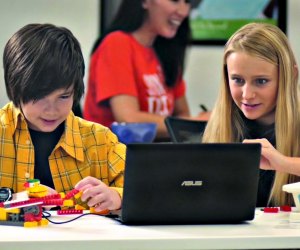 We're forever amazed by the things kids are learning to do these days. From coding to building robots, today's kiddos are mastering critical 21st century skills that will help them excel in school and, ultimately, their careers. And the best part of all is that places like Sylvan Learning have figured out how to make engineering, coding, and even math, fun. Sylvan Learning believes that engaging and interactive experiences during this pivotal time help nurture an early love of STEM, which can literally serve kids for a lifetime.
We recently took a bunch of kids to try out a Sylvan EDGE STEM program for an afternoon, and we couldn't believe what they created. Check out the video to see what your little learners could be doing at Sylvan.
With over 750 locations across North America, Sylvan Learning brings fun, affordable, and engaging academic programming to students in grades K-12. Blending together talented teachers and one-of-a-kind SylvanSync Technology on the iPad®, the centers are known for their highly-personalized tutoring services, results-driven test prep and college prep courses, and the much-loved STEM-focused EDGE after-school program.
Want to learn more about Sylvan EDGE or some of the center's other programming? Just find the location closest to you and get signed up!