Gluten Free Boston Kids: Glutenus Minimus Saves the Day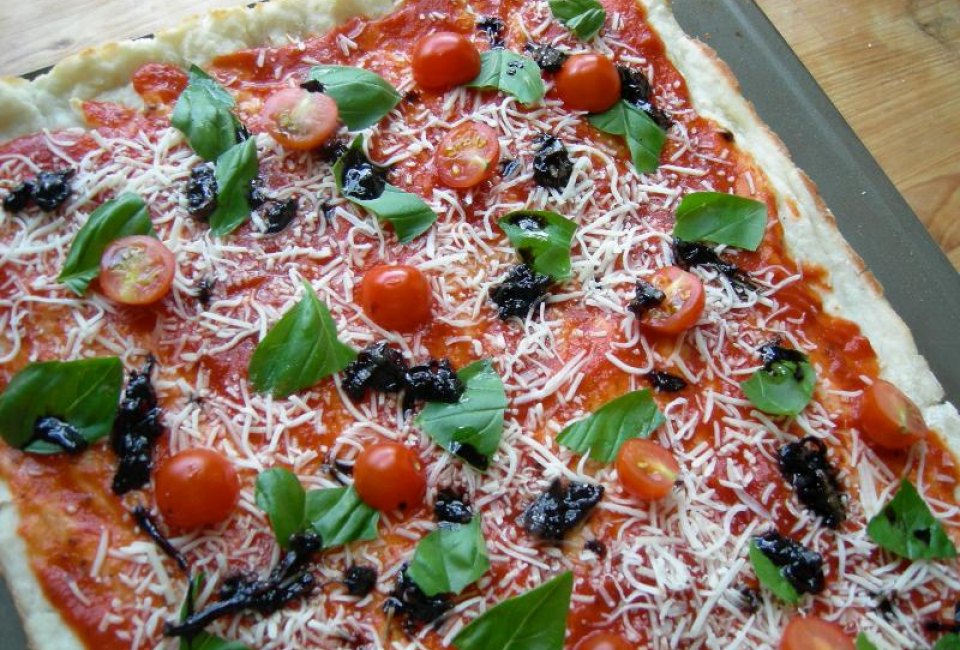 3/28/12
- By
Tara D
GLUTENUS MINIMUS HAS CLOSED FOR BUSINESS AS OF OCTOBER 2015
As a gluten free parent with two gluten intolerant kids, there are some things I really miss, like being able to go out for a quick slice of pizza. I can't tell you how many times we have gone to places that serve gluten free pizza, only to have them tell us they just ran out of the GF crust. If someone in your family eats gluten free, you've probably had similar experiences. If you have, I have very good news for you: Glutenus Minimus, the gluten free bakery in Belmont, is now serving pizza!
It's true. I have been there and seen it with my own eyes.
You may know Glutenus Minimus as the gluten free bakery to get the best assortment of cookies around, donut muffins that are better than any regular donut you've ever had, or beautiful cupcakes you can pick up for your child to take to a party. It is, indeed, that place. It's where the goodies are so good, they have as many regular gluten-eating customers as they do gluten free ones. It's also the place where you can get fresh baked loaves of French bread, brioche and challah.
My kids and I have always loved visiting Glutenus Minimus, where we are welcomed by the aroma of freshly baked cookies and a smile from Natalie, the owner, or another member of the bakery team. But I often wished that they had a savory option, something we could just pick up and eat on the spot that wasn't a sweet treat.
Now, my wish has come true. And it couldn't have come at a better time, since the place with the best GF pizza around – Zing Pizza in Porter Square – closed, and left a huge void in our dining options. If you were a big fan of Zing's hearty, substantial gluten free crust, I have more good news for you: Glutenus Minimus was their gluten free crust supplier. Now, every Tuesday, Wednesday and Friday, from noon until whenever they sell out, you can buy slices of gluten free pizza on that wonderful crust at Glutenus Minimus for $4.25 a slice. It's a bit pricey, I know, but it's worth every penny. In addition to classic cheese pizza for the kids, they offer one or two other types of pizza each day, with gourmet toppings to delight the more sophisticated palate. These are some of the recent pizza flavors offered:
Margherita
Roasted vegetables with goat cheese
Bacon with balsamic onions, roasted garlic, and feta cheese
Hawaiian
Pesto (nut free) with sun dried tomatoes, caramelized onions, and artichoke hearts
Prosciutto, spinach, and balsamic onions with feta cheese
Buffalo Chicken
They sound really good, right? They are. I've tried three of the flavors, and they were all delicious and filling. Most gluten free pizza crusts are super thin, and we usually feel like we have to eat several slices to get full. With this pizza, it just takes one slice (and a cookie) to feel like you've had a meal. My kids, who eat everything in sight and then ask for more, were completely satisfied with a slice of the cheese pizza and a peanut butter chocolate chip cookie (our favorite). In fact, they didn't start asking for snacks until at least of couple of hours later, which is unusual for them!
If you're gluten free and vegan, there is more exciting news over at Glutenus Minimus: They have a new baker who is cooking up treats like vegan chocolate chip cookies and vegan key lime coconut cake. Give them a call to find out about their vegan options, or take a look at their Facebook page, where there's a photo of a beautiful (and apparently delicious) gluten free, dairy free cake they made for a wedding shower.
Whether you're gluten free, vegan, hankering for a slice of pizza, or you just like good food, Glutenus Minimus is definitely worth checking out. Tell us what you think of it! We'd also love to hear about your favorite places to go out for gluten free pizza.
Glutenus Minimus
Location: 697 Belmont Street, Belmont, MA 02478
If getting to Belmont isn't convenient for you, check out these Boston-area eateries for their Gluten Minimus offerings. Or you can place an order online.
Contact: (617) 484-3550 or glutenusMinimus@gmail.com
Regular Hours: The bakery is open for retail hours Tuesday-Friday 9am-6pm and on Saturdays 10am-4pm. They are trying additional hours on Monday and (9am-6pm) Tuesday evenings until 7:30pm – hopefully the new hours will stick.
Click Here to Sign Up!