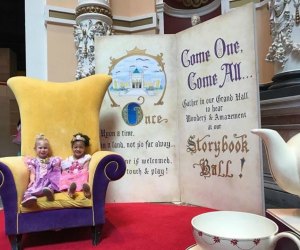 Don Your Dresses and Crowns for a Medieval Fantasy Ball at the Please Touch Museum
On Sunday, April 22, Please Touch Museum is hosting a magical celebration with its annual Storybook Ball- Medieval Fantasy. This enchanted event transports guests back to the time of knights and ladies, princes and princesses. Step into a storybook ball and meet your favorite medieval characters like Sleeping Beauty, Maid Marian, and even a real knight in shining armor!
Immerse your family in a medieval day filled with singing, dancing, and merrymaking. Kids can enter a castle, meet special characters, and become a knight while exploring medieval history through stories, plays and unique crafts.
Included events in your ticket to this special celebration:
Yarn Tapestries: Guests are invited to spin colorful yarn into creative tapestries.
Medieval Bestiary Collages: Build your own mythical beast with this crafty event.
Castle Building: Get tips from a master builder as you design walls, towers, and arches for your very own castle.
Medieval Quartet Performances: Experience song and dance inspired by instruments and tales of old.
Meet the Animals: Philadelphia Zoo animals come to pay a special visit.
Knight Training School: Learn the tools of the trade, including etiquette, horsemanship, and lance skills as you advance from squire to knight.
Maid Marian's Tales: Join in a special story time with a focus on fairytales
Illuminated Manuscript Drawings: Manuscripts were once a work of art. Learn how it was done and then try your own!
Medieval Herb Garden: With a scientific eye, conduct investigations with the magical herbs and plants from long ago.
Catapults: Explore the science of catapults and give it a go!
Royal Court Parade and Ball: The moment you've been waiting for, a real ball! Learn dance steps and spin around in your fancy party clothes.
Tickets to this all-day event are $25 per person. Special event features are timed so check the calendar to make sure you don't miss any of your favorites. And remember - storybook balls are always more fun with friends so share this post with someone who you'd like to join you at Please Touch Museum's magical annual event.
Please Touch Museum
4231 Avenue of the Republic
Philadelphia, PA 19131