The BFG: How Scary Is Disney's New Movie About Kid-Eating Giants? A Parent Review
Although The BFG isn't as well known as some of Roald Dahl's other books (like Charlie and the Chocolate Factory and Matilda), it definitely has its share of rabid fans. If your family is among them, you'll be happy to hear that Steven Spielberg is quite faithful to the source material in Disney's new CGI/live-action hybrid, The BFG—though some of the Dahl darkness has been replaced by the director's signature wide-eyed wonder. Even so, for parents of younger children the question is, just how terrifying are those tot-eating giants? We've got the answer (and a photo in case you want to see how your preschoolers react), plus the scoop on whether it's worth splurging for IMAX 3D.
While the title character of the story has the middle name "friendly," he's the only one of his kind who is. Based on Dahl's 1982 children's novel of the same name, The BFG (which stands for Big Friendly Giant) has a simple yet potentially scary story: Late one night, bookish London orphan Sophie spies BFG (Oscar winner Mark Rylance in a motion-capture performance) lurking outside the window. To stop her from telling other "human beans" about his existence, he kidnaps her and takes her back to Giant Country. After an initial wariness, the two lonely, gentle souls form a familial-type bond as he introduces her to his fantastical world, including his job as a literal dream catcher. But how long can BFG hide Sophie from his fellow giants, who are all bigger and nastier and consider kids delicious snacks?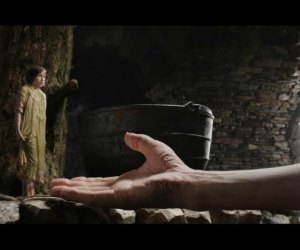 OUR LATEST VIDEOS
As I watched The BFG, I couldn't stop thinking about E.T.. Like that 1982 classic, The BFG was penned by late screenwriter Melissa Mathison, directed by Spielberg, and scored by John Williams, whose emotional music can easily make your eyes well up with tears even when you're not really feeling it. But there are thematic similarities, too. Just as Elliott and the big-eyed alien needed each other, so do Sophie and BFG. They're both alone and bullied and sort of stuck. This is more than friendship; it's kinship.
Of course in terms of arresting visuals, The BFG is light years beyond E.T.. This is one movie that begs to be seen in IMAX 3D. Not only are you able to better appreciate its breathtaking scale and rich details, but you also get an up-close look at Rylance's incredible work as BFG. Aside from his big, brown, amazingly expressive eyes, Rylance is totally unrecognizable as the big-eared, wizened giant. However, his lumbering movements, soothing voice, and childlike innocence are what make you believe in and, eventually, fall wholeheartedly for BFG. Even though he's 24 feet tall, he has the spirit of a little kid, with his hilarious malapropisms or completely made-up words (he calls farts "whizzpoppers"), his crippling fears as a "runt," and his ability to find the magic in everyday existence. Because BFG is so lovable, the movie—despite its deliberately slow pacing and lowbrow humor—casts a spell, especially for school-age kids.
RELATED: More Parent Movie Reviews
Preschoolers, on the other hand, may not be so taken with the film. In addition to running almost two hours, there are those evil, villainous, and ravenous giants, who keep threatening to gobble up Sophie (and—spoiler alert!—actually do in a dream sequence). They're also absolutely awful to poor BFG, constantly taunting and insulting him, and, in one scene, they destroy part of his home. Death is also discussed in depth, since Sophie is an orphan and BFG has lost friends, too. While we didn't hear any crying at the advance screening we attended, we didn't see many preschoolers in the audience. Even if your tots aren't frightened looking at this: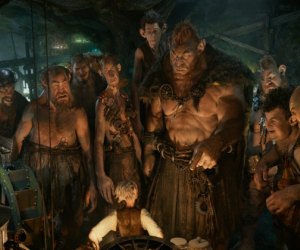 I'm not sure how much enjoyment they'll get out of the film. I'd say 7 and up is best, with tweens the sweet spot.
I'd be remiss if I didn't highlight BFG and Sophie's farcical dinner with the Queen of England, a scene which got an uproarious reaction from kids and adults alike. It's heavy on the aforementioned "whizzpoppers" and will either be your absolute favorite sequence or inspire lots of eye rolls. My ten-year-old exclaimed, "Wow, we don't even make this many fart jokes in class!" which should give you an indication of what it's like. And really, it's a good metaphor for the movie. Aside from the visuals, this is not groundbreaking stuff. But it still has the power to entertain and charm.
The BFG is rated PG and opens nationwide on Friday, July 1.
All photos courtesy of Disney.