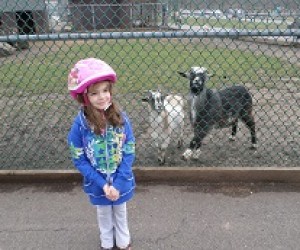 New Jersey Playgrounds with Free Zoos and Farm Animals
What's more fun than visiting a playground or zoo on a warm, sunny day? How about a zoo within a playground? Get the best of both worlds at New Jersey parks that have awesome play areas plus farm animals or mini zoos. Even better, these zoos are all free. Visit some furry friends and spend the day without spending a dime on admission fees.
Holmdel Park – Holmdel
I have fond childhood memories of feeding the animals and playing on the swings at Holmdel Park. While the playgrounds have been updated from the metal contraptions I remember, Longstreet Farm, within the park, continues to exhibit a piece of history with a working nineteenth century farmhouse. Visitors are welcome to tour the land, observe turn-of-the-century farm life and meet the barnyard animals that include pigs, chickens, horses, cows and sheep. In addition to the farm, Holmdel Park features 500 acres of adventure, including two beautifully-renovated playgrounds, picnic areas, nature trails and a duck pond.
Merrill Park – Woodbridge
The wooden "progressive playground" in Merrill Park is one of the most unique play areas I've experienced. The equipment, divided by age groups, includes imaginative climbing structures, slides of all sizes, a rope bridge and wooden swings. Over the pedestrian bridge by the playground is a mini animal haven with horses, chickens, pigs, turkeys, peacocks and goats. The paved path surrounding the zoo is nice for stroller walks. The parks other amenities include two traditional playgrounds, a walking track, ball fields and picnic areas.
Johnson Park – Piscataway
A few blocks from the hustle and bustle of New Brunswick lies this nearly 500 acre riverfront park, with three playgrounds, tennis courts, ball fields, bike paths and animals. The animal sanctuary is one of the larger playground zoos around and one of the few that allows guests to feed the inhabitants. The snack bar adjacent to the zoo sells treats for both hungry people and animals. Dwellers of the zoo include horses, pigs, goats and llamas. The park's playgrounds are small but enough entertain the kids. If you're spending the day, be sure to check out the historical and educational East Jersey Olde Towne Village within the park.
Thompson Park – Monroe
This spacious, lakefront park is home to over 900 acres of activities that include hiking, boating, picnicking, a playground and small zoo. Visitors can bring their own food for the deer, goats, turkeys, chickens, ostriches and bunnies that occupy the animal area. Just across from the animals is a colorful, shady playground with climbers and swings segmented by age group. There are two other play areas in the park and plenty to keep little ones busy.