7 Places Where Long Island Kids Can Be Marine Biologists for a Day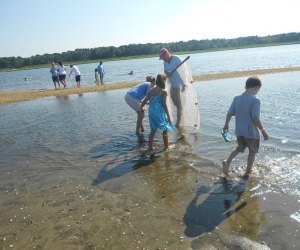 If your children are aspiring marine biologists--or simply obsessed with marine aquaculture--then Long Island is the right place to live. Within a short drive of just about wherever you are, you'll find a museum, nature center or aquatic facility dedicated to marine life. Kids can do everything from learn about ocean life and touch stingrays to swim with actual sharks. These five places are most appropriate for toddlers and older, but chances are these destinations will draw a learning smile from even the youngest in your family. And for more to do this season, be sure to check out our Summer Fun Guide.
Long Island Aquarium and Exhibition Center
431 East Main Street
, Riverhead
631-208-9200
The aquarium is one of Long Island's top destinations and has hosted more than 1 million people since its opening in 2000. Its multi-acre facility includes indoor and outdoor exhibits on freshwater and saltwater environments, and is anchored by its 120,000-gallon shark tank. Living side by side in the tank are sand tiger and nurse sharks, moray eels, tropical groupers and smaller fish. The boldest among you can, for an an added fee, take a dive in the shark cage, but most kids seem to prefer interaction from a safer distance. Other inside exhibits include the stingray pool and crab villa, where kids can touch and feed these marvels of evolution. Outside, of course, is the Sea Lion Coliseum, home to its three pinniped stars, Bunker, Java and Nila. Weather permitting, there are four sea lion shows per day. While touring outside, don't miss the Penguin Pavilion, Otter Falls and the seal tank. The aquarium houses the Riverhead Foundation for Marine Research and Preservation and kids are invited to attend their educational seminars and seal, dolphin and sea turtle releases.
Cold Spring Harbor Fish Hatchery and Aquarium
1 Bungtown Road, Cold Spring Harbor

516-692-6768
This 35-year-old facility on the Nassau-Suffolk border focuses on freshwater ecosystem education and boasts the largest collection of native freshwater fish, amphibians and reptiles in New York State. At its two aquarium buildings and eight outdoor ponds, visitors can feed hungry trout and try their hand at catch-and-release fishing. Kids also can explore the Turtle Alcove, where hatchlings live out their early days. At the Hatch House and Rearing Pool, newly-born trout mature free from predators. On Tuesday and Wednesday mornings kids 2 to 5 enjoy nature-based story time, craft making and fish feeding. Summer camp programs include Junior Biologists, Turtle Trackers, Naturalist-in-Training and more.
Cornell Cooperative Extension, various locations

631-852-8660

This 100-year-old nonprofit affiliated with Cornell University and Suffolk County specializes in environmental education. It offers marine seminars for kids at its Northport, Oakdale, Southold and East Hampton facilities, including week-long marine discovery camps in Northport and Southold in July and August.
South Fork Natural History Museum
377 Bridgehampton-Sag Harbor Turnpike, Bridgehampton

631-537-9735

SoFo, as East End locals know it, was founded in 1988 by a group of South Fork naturalists. At its two-story center, kids can study live and recreated sea habitats; dig in at a marine touch tank full of crustaceans, urchins, sea stars and bivalves; and enjoy video presentations on the formation of Long Island's aquatic habitats. The museum hosts lectures suitable for kids of all ages, including seabird walks for toddlers, shellfish biology for older kids and even offshore shark adventures. Aspiring marine biologists might want to experience the annual marine science summer program.

Suffolk County Environmental Center
550 South Bay Avenue
, Islip

631-581-6908

Part of the Seatuck Environmental Association, the environmental center is a short walk from Great South Bay. Its 70 acres include trails and boardwalks that allow visitors to witness fish, seabirds, turtles and more in their natural habitats. At its visitor center, a 100-year-old Norman castle-like structure, preschoolers and older kids can participate in year-round activities designed to introduce them to the wonders of the natural world.
Theodore Roosevelt Nature Center

Bay Parkway, west of the Meadowbrook Parkway, Jones Beach State Park

516-780-3295

On the west end of New York's most-visited state park lies a tribute to the nation's 26th president. From Oyster Bay, Roosevelt was a legendary naturalist, and the nature center here introduces kids to the marine ecosystem in a most hands-on way. Seabirds, amphibians and other live marine animals are on display. Kids can follow the boardwalk to experience the dune environment and bird nesting areas, dig for whale bones, experience a butterfly garden and even view a shipwreck. Once school ends, educational walks through the South Shore Estuary Reserve are popular with kids of all ages.
The Waterfront Center
1 West End Avenue, Oyster Bay
516-922-SAIL
Kids can learn about a variety of marine wildlife, as well as become educated about water conservation and weather, at The Waterfront Center. There are also youth programs, including marine science mornings, after school STEAM and Aquatots.
Photo: Long Island Aquarium