Le Play Cafe: Indoor Playspace for Kids, Coffee, Tea and Me Time for Parents [CLOSED]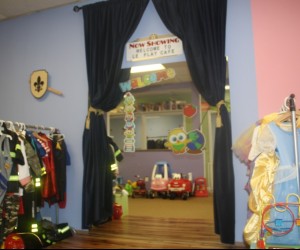 *NOTE: This play space has closed.*
Imagine this scene, sipping a warm cup of coffee, relaxing in swanky comfortable couches all while watching your son and daughter play dragons and princess in a castle. You find yourself being able to enjoy your coffee while reading a book, meeting new moms or catching up on news and events while reading a newspaper and watching TV. Sounds lovely right? Too good to be true? Not so, this scene happens everyday at Le Play Cafe! Read on for more info on this fabulous new spot, and how you can save over 50% through Poppins Perks.
Le Play Area and Coffee lounge is an indoor playground and cafe that caters to moms, dads and children! Located in Bellmore, Le Play Cafe is the perfect answer who for parents who want a little relaxing time to themselves but also want their children to be engaged in play and fun. When I heard about this wonderful place, I remember saying to my mom, 'This is just too good to be true". The next day, my three year old Sara and I made a trip to Le Play Cafe to experience this play haven for ourselves.
Upon entering, Sara was instantly drawn to the play area with a kitchen area, play castle, dress up area and tea spot and I was drawn to the cafe with comfortable furniture, flat screen tv and cafe with refreshments. Sara immediately wanted to play in the play area and I immediately wanted to retreat to the cafe area, but being the good mother that I am, I walked over to the play area with Sara to see what it was all about.
We were greeted by lovely hostess who invited Sara to play dress up since she looked like a princess. (I fell in love with them right then and there!) Sara, who can be apprehensive to warm up to people, began to play with the two young ladies. Soon, Sara was asking the other children in the play area to join her for a tea party in the kitchen area. I was so impressed with how much the hostesses were so engaged with the children, and I was impressed by the wide variety of activities there were for children to play and explore.
After seeing the Sara had 'made herself at home' and was comfortable with hostess, I went right over to the cafe.
I scanned the menu of yummy refreshments and different blends of coffee they had for sale. I left my spending money at home that day so unfortunately I was unable to partake of the goodies, but one mother assured me that refreshments and coffee alone were so good that it was worth coming back for another trip. I took a seat on one of the swanky couches in the cafe and took in the calming atmosphere and realized that dreams really do come true, your child can play and have fun while you relax! I was able to peak over the wall and see Sara was still having a blast. Upon leaving, Sara did not want to leave and what can I say, I didn't either! On the way home I called my mother and said, 'Mom, Le Play is a wonderful place that is too good and it is true!"

Katina Wells had an incredible idea after moving from South Florida to Long Island, she wanted to combine an area for kids and parents to be able to play and relax and be 'separate but together'. She felt Moms should have the option to play with their children and then have a moment to themselves. With Le Play Cafe she turned her vision into a reality; a 2,000 sq ft play space that is supervised, and a great lounge for parents with coffee, Wi-If, big screen TV's and comfortable furniture. The play area has a multitude of fun for every age of child. From a pretend grocery store, to an area for building and construction, to a fun slide and climbing area and a separate infant play space. Also included in the play area is a musical area full of fun musical instruments and a ball put. Parents can lounge in the cafe while their children play or they can join their children in the play area.


Le Play Cafe is also a great place for birthday parties and play groups! Rain or shine, you'll see why Le Play Cafe is a great destination for parents and children!
Le Play Cafe
2465 Merrick Road
Bellmore
516-308-7053
Times of Operation: Monday-Friday 10am-5pm; Saturday-Sunday 10am-2pm
Prices: $12 for children 6 months to 6 years, siblings $8, Parents, Caregivers, and children under 6 months- Free
We loved Le Play Cafe so much we asked them to offer a deal for our readers. FInd out how you can get 53% off play passes at Le Play Cafe through Poppins Perks.