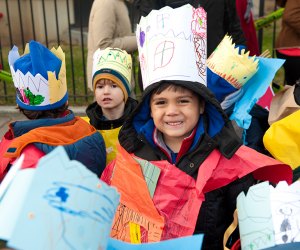 25 Free Things for Kids to Do in NYC on Winter Holiday Break
From December 23, 2019 through January 1, 2020, NYC students are officially on holiday break. As your family gears up for a week of gleeful abandon (or mass chaos, as the case may be in your house), we've pulled together some fun ideas for things to do with kids over the break.
While we recently offered 35 fun NYC options for your family to enjoy during break, we've rounded up even more great ideas—and these are FREE. Our list of 25 free things to do with the kids during winter break means you can enjoy the school vacation without denting your budget.
Need more local NYC inspiration? Check out our day trip guide, best indoor entertainment spots for rainy or chilly days, the Mommy Poppins kid-friendly restaurant guide, or explore a new-to-you neighborhood. As always, our daily Event Calendar is loaded with even more family activities happening all over the five boroughs.
Sign up for our FREE newsletters to get posts like this delivered to your inbox.
1. Join carolers under the Washington Square Arch in Greenwich Village on Christmas Eve.
2. Visit an amenity-filled public atrium. Our favorites include the David Rubenstein Atrium at Lincoln Center and the Winter Garden in the Financial District.
3. Celebrate each day of Hanukkah (from December 22-29) at the lighting of The World's Largest Hanukkah Menorah in Manhattan or at Largest Menorah Lighting in Brooklyn.
4. Tour the seasonally decorated farmhouse, enjoy steaming cider, and create take-home crafts at the Queens County Farm Museum's Holiday Open House Thursday, December 26–Saturday, December 28.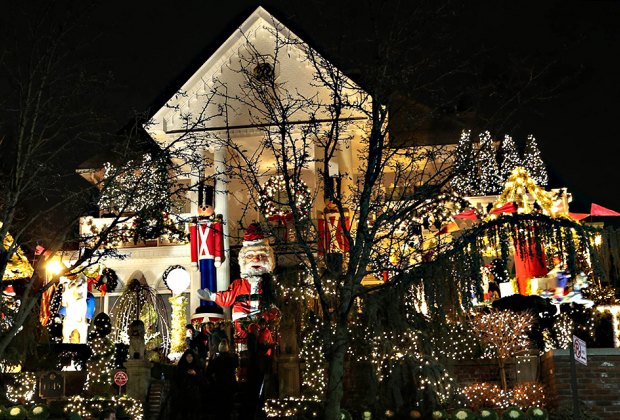 It just wouldn't be Christmas in Brooklyn without the Christmas lights in Dyker Heights. Photo by Richie S. via Flickr
5. Gawk at the incredible light displays NYC residents create at their homes, like the Dyker Heights lights in Brooklyn.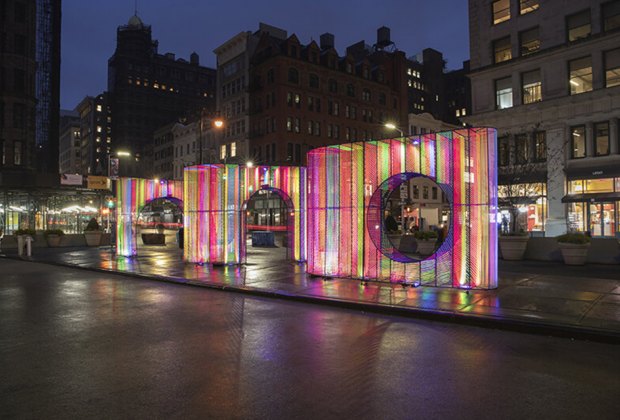 Ziggy is a vibrant art installation chosen for the 23 Days of Flatiron Cheer. Photo courtesy of the Flatiron 23rd Street Partnership
6. Explore the 8th Annual 23 Days of Flatiron Cheer featuring loads of festive events all centered around the interactive art installation Ziggy by Hou de Sousa.
7. See the Children's Discovery Garden at the Brooklyn Botanic Garden during its no-admission-fee winter weekday hours. On Wednesdays, the New York Botanical Garden also offers FREE grounds passes, and the Queens Botanical Garden offers free admission daily during the winter months (open Tuesday–Sunday).
8. Or check out the winter fun at one of the NYC Parks Department's many nature centers.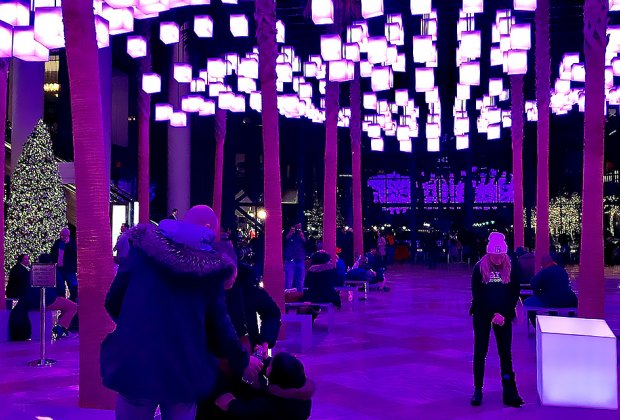 The awe-inspiring Luminaries are a cheerful sight to see on a holiday outing. Photo by Janet Bloom
9. Walk beneath a dazzling canopy of glowing lanterns—and make a holiday wish—at Brookfield Place's Luminaries exhibit.
10. Check out NYC's most popular cultural institutions during free admission hours. Try the New York Hall of Science's hands-on Remake the Holidays during free admission hours on Friday, December 27 from 2-5pm. Learn how to reuse and repurpose leftover holiday materials to create items such as stuffed toys, festive paper garland, gift tags, and more.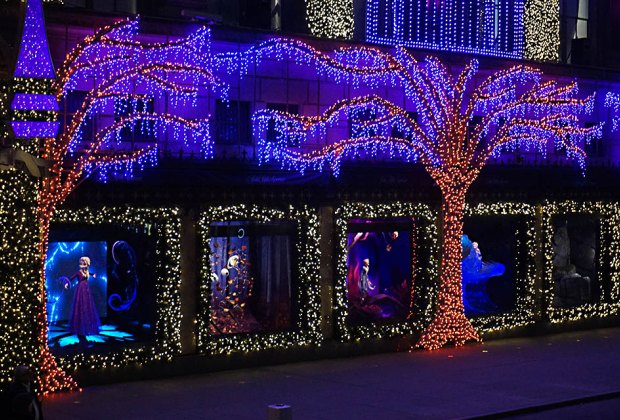 Gaze at the Saks holiday window display. Photo by Jody Mercier
11. Stroll around town and enjoy the dazzling department store holiday windows before they're dismantled for the season. Be sure to include a stop at Saks Fifth Avenue's sparkling homage to Frozen 2.
RELATED: Family-Friendly Restaurants Near Rockefeller Center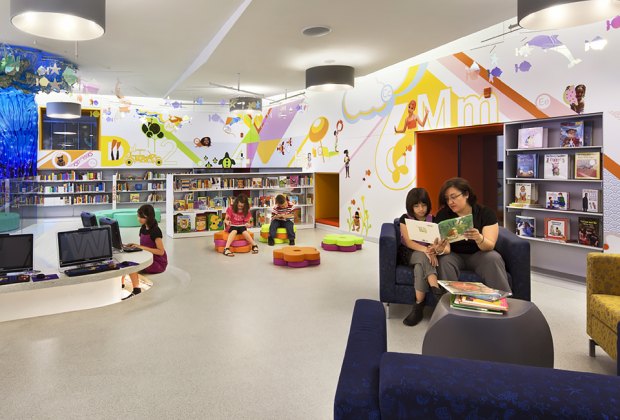 Hands-on interactive learning exhibits are just part of the fun at the Children's Library Discovery Center in Queens. Photo by Michael Moran/Otto Archive, LLC
12. Hit up your local library for no-cost fun. The Children's Center at 42nd Street in the main branch of the New York Public Library, the Central Branch of the Brooklyn Public Library in Prospect Heights, and the Children's Library Discovery Center in Jamaica, Queens are all destination-worthy.
13. It's pay-what-you-wish every Wednesday at the Bronx Zoo. So while admission isn't technically FREE, you can pay as little as a buck for your whole family for the day. For a totally FREE Wednesday zoo experience, head to the Staten Island Zoo after 2pm. And don't forget that the New York Aquarium admission is pay-as-you-wish on Wednesday afternoons from 3pm to last entry.
14. Follow the free choo-choos on their way to the North Pole at the Holiday Train Show at Grand Central.
RELATED: Inexpensive Winter Getaways for NYC Families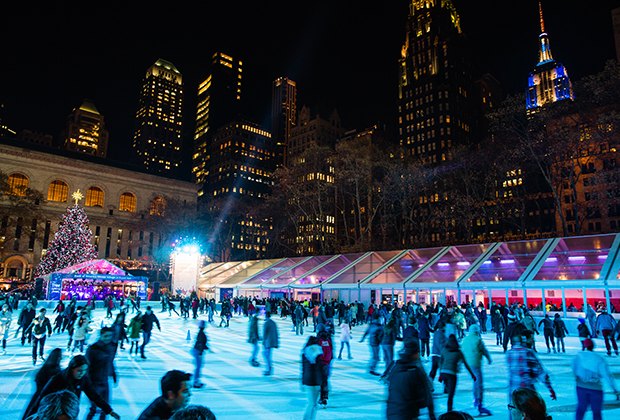 Tote along your skates and hit the ice at Winter Village at Bryant Park. Photo by Angelito Jusay/courtesy of Winter Village.
15. BYOS: Skip shelling out for rental skates and hit the ice at the Bank of America Winter Village at Bryant Park for FREE.
16. Discover the always FREE National Museum of the American Indian, housed in the historic U.S. Custom House. Programming includes family-friendly films, workshops, and other no-cost fun.
17. Commune with nature during Winter Recess in Prospect Park with daily FREE programming at Lefferts Historic House and the Audubon Center from December 26-29.
18. See live camels, colorful puppets, parrandas, music, and dancing to mark the arrival of the Three Kings at the 43rd Annual Three Kings Day Parade.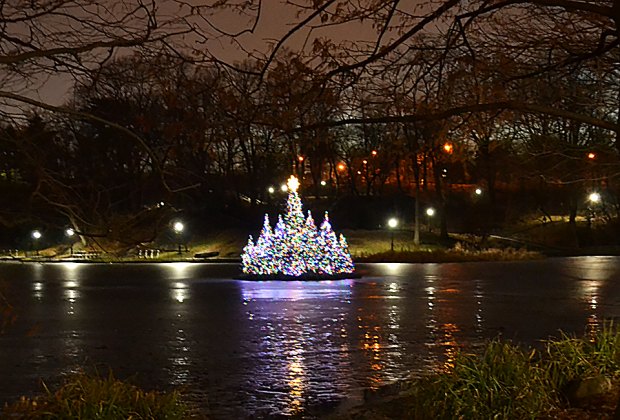 Take a walk through Central Park to see these beautiful Christmas trees in a peaceful setting. Photo by gigi_nyc via Flickr
19. Go on a giant illuminated Christmas tree crawl (once the crowds have slightly subsided). Rockefeller Center isn't the only go-to spot. You can find lovely Christmas trees in Bryant Park and at South Street Seaport, plus a flotilla of illuminated firs on Central Park's Harlem Meer.
20. Get your blood flowing! Participate (or, just spectate) at the Winter Double Dutch Tournament on Friday, December 27 in Queens.
21. Escape from reality for a little while at The Chanukah Virtual Reality Experience on December 22, which entertains kids while teaching them about the Jewish holiday. As an added bonus, there will be free latkes courtesy of Katz's Deli for the first 100 families!
22. Skip the crowds in Times Square and head to Brooklyn's Grand Army Plaza or Central Park for a fireworks show ushering in 2020.
23. Warm up inside after a walk in Central Park, at the Annual Wreath Interpretations Exhibit where you'll find some imaginative and unusual wreaths.
24. Participate in a day filled with FREE music at one of the many Make Music New York events happening throughout the city on Saturday, December 21 including the Jingle Train in Harlem or Bell by Bell, the popular community parade through the East Village.
25. Still got energy to burn? Try one of these 50 tried-and-true indoor games and activities to keep kids busy all winter, plus 50 science experiments.
A version of this post was published in 2017; it is updated annually.