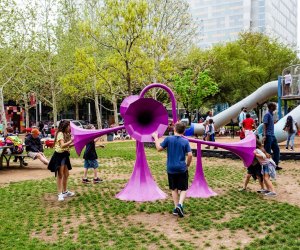 Weekend Fun for Houston Kids: Sonic Playground STEM Extravaganza, Sept. 7-8
A big congratulations to all the parents out there is in order; you've successfully made it through not only the start of school, but the first school holiday as well! You now what that means... it's time to buckle down, because the first semester is full steam ahead. And like a good friend, we're prepared to tackle this school year alongside you, providing both guidance and entertainment in equal doses.
In the spirit of the school year, we've compiled a list of 65 school lunch ideas for your kids that they'll actually eat. These Bento box meals are balanced, tasty, and just plain fun, so you won't have to worry about your kids bringing home the lunches you lovingly packed for them virtually untouched.
For everyone who's not quite yet filling their daytime hours with school or looking for great afternoon activities, our event calendar is an awesome resource for finding fun weekday activities, our Free Things to Do in September list gives you plenty of ideas that don't include your pocketbook, and our September GoList highlights the top events happening throughout the month. We also have a weekly newsletter that you can sign up for so you always know what's happening here at Mommy Poppins.
Did you know that you can also submit your event to our calendar? If you're planning something awesome, we'd love to hear about it and share it with our readers! Fill out the form, hit submit, then we'll review it and publish it for all to see.
Now let's tackle this weekend planning together with a sneak peek at what's happening around town.