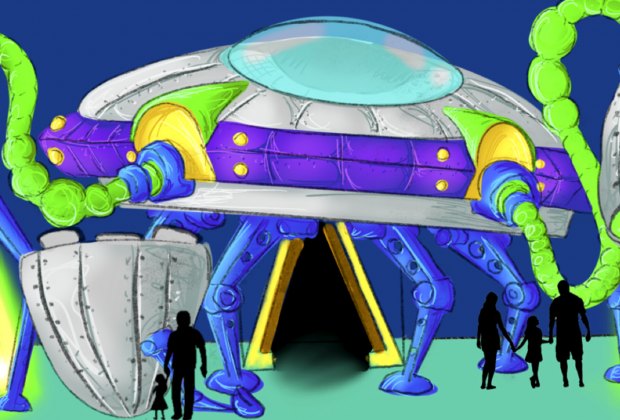 New Immersive Alien Experience to Crash into Houston
Seismique, a 40,000-square-foot technologically driven interactive art museum is slated to open in West Houston later this year. And it's not just your run-of-the-mill interactive and immersive art museum - this permanent fixture will explore alien encounters, and will open its doors in Fall 2020.
There are not many details floating about just yet, expect for the tantalizingly bizarre renderings on the musem's website. But what we do know is inside Seismique will be 40 rooms, or "galaxies," filled with...well, we have no idea. The man behind this new-age museum is Steve Kopelman, principal and COO of Escape the Room, which is the largest escape room company in the country. So, from that information, we can glean Seismique will likely feature games, challenges, and other unique ways in which guests can interact with art.
Kopelman plans to open in a former Bed Bath and Beyond at West Oak Mall, which provides plenty of space for his vision of an immersive experience with enough content for guests to discover over the course of multiple visits.
We are all here for the trend of interactive art exhibits like Candytopia and Color Factory, but this news makes us even more excited that Houston will be home to a permanent experience sure to knock our socks off. Seismique will showcase work from artists around the country, with 10-12 rooms dedicated to Houston-area artists. And lastly, it will of course be Instagram fodder friendly.
To receive more content like this and other fun things to do with Houston kids delivered to your inbox, sign up for our free newsletters.
h/t Paper City