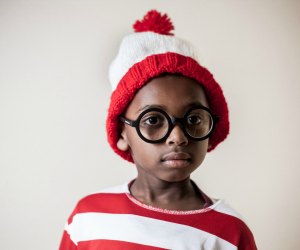 Adorable Last-Minute Halloween Costume Ideas
Despite bearing the job title of "Stay At Home Mom," I am not one of those crafty moms (much to my chagrin). I've tried to be, multiple times, but my attempts at being creative and crafty usually end up falling short of the high standards I see on social media. To top it off, I also have a bad habit of procrastinating (one of the many reasons I am a proud and frequent Amazon Prime user; two-day shipping for life!). All that to say, when it comes to holidays like Halloween, it's not unusual for me to be scraping together ideas that are cheap and easy at the last minute so my kid can trick or treat - or trunk or treat - in costume. Find yourself in the same situation? Check out these costume ideas for some last-minute inspiration:
The sheet ghost
It really doesn't get any simpler than the traditional sheet ghost. Take a white sheet, cut out two eye holes and a mouth hole and you're golden. Sure, it may be the most basic of basic costumes, but in a pinch it will serve you well.
Where's Waldo?
Pair a red and white striped long-sleeved shirt with jeans, sneakers, a beanie, and some black plastic glasses, and your kiddo immediately transforms into everyone's favorite hard-to-spot guy.
LEGO Block
For the LEGO-obsessed kids out there, a LEGO block costume is the way to go. All you need is a big cardboard box, solo cups, and spray paint. Cut the back off the box and a half circle on the top and bottom so your child can stand inside the box, then cut an armhole on each side. Hot glue solo cups to the front of the box in two straight lines to mimic the connectors on LEGOs. Finish the whole thing off with a coating of spray paint and you're ready to go!
Farmer
Got a pair of jean overalls and a plaid shirt? Then you're well on your way to creating a perfect farmer costume for your child. Roll up the sleeves, top the whole thing off with a straw hat, and you're done.
Ballerina
For the little aspiring dancers, a ballerina costume is quick, easy, and adorable. Tights, a leotard, a tutu, and ballet shoes can all be found fairly cheap at most stores. Finish it off by pulling hair back into a bun and your little girl is immediately transformed into a tiny ballerina.
Black cat
Is it Halloween without a black cat? This is another super simple costume to throw together that's always a hit. Headband cat ears and a pin-on tail can be found at most stores around Halloween time (and both are really easy to make for those of you wanting to try your hand at a simple craft). From there, all you have to do is pair them with a black long-sleeved shirt and black pants and add a little face paint to create a pink nose and whiskers. Meow.
Grapes
Looking for something out of the norm but still fast and easy to put together? Dressing your child up as a bunch of grapes is one of the easiest costumes you can pull together last-minute, and it's unique and cute to boot. All you need is a sweatshirt and sweatpants in green or purple and lots of balloons in the same color to safety pin all over the sweats.
M&M
A candy-themed costume fits the Halloween bill perfectly, and being an M&M is both simple and fun. Cut the sleeves off an oversized sweatshirt, glue on a white felt "m," then layer your sweatshirt over a long-sleeved shirt and jeans or tights in the same color.
Stick Figure
White sweats, black electrical tape, a white paper plate, a Sharpie, and scissors are the only things you need to pull off an impossibly cute stick figure Halloween costume. Simply use the electrical tape to tape off the body of the stick figure on the sweats, cut out eye holes on the paper plate, then draw a black circle around the perimeter of the plate and add a big smile to the face.
Sun
This costume requires some minor crafting, but it's so cute that it's worth the cutting and gluing involved. Get an oversized yellow sweater and cut off the sleeves, then glue a large felt circle to the middle of it. Add triangle pieces of orange or yellow felt all around the perimeter of the circle and a smiley face to the center of it. Tall yellow socks and a yellow long-sleeved shirt underneath will top everything off and ensure that your little one is shining bright all night long.
Top Image via Flickr
OUR LATEST VIDEOS