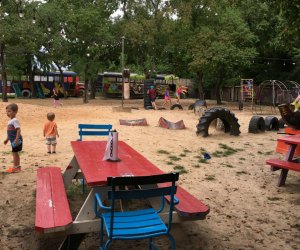 Best Things to Do in Cypress With Kids
Not too long ago, longtime Houstonians may have referred to Cypress as "the country," but the northwest Houston suburb has certainly grown. It's bustling with unique small businesses, particularly some great restaurants and breweries. There are plenty of reasons to spend the day out in the CYP, and there is plenty to do. These are our top recommendations for places to see and where to eat in Cypress with kids.
Indoor Playgrounds
The enormous ground Cypress covers affords it space for spacious and fun indoor playgrounds. Cypress has nearly one of everything, from glow-in-the-dark putt-putt to rock climbing. These are some of our favorites:
Kidtastic
Kidtastic opened in 2018 and features a colorful and fun playscape for younger children. We recommend this spot for kids up to 7-8-years-old. There's an enclosed tot spot with a slow-motion merry go round and slides next to the main play area that is packed with interactives, ladders and slides. There are also security cameras monitoring all corners of the playground and displayed on video monitors in the seating area so you can always have an eye on your little ones.
Urban Air Tampoline Park
Even if trampoline parks aren't totally you're thing, Urban Air has a fantastic playground that's almost worth a dedicated trip (I say almost because..admission prices). This spacious center has designated zones for kids of all ages and plenty of space for adults to lounge and watch the fun.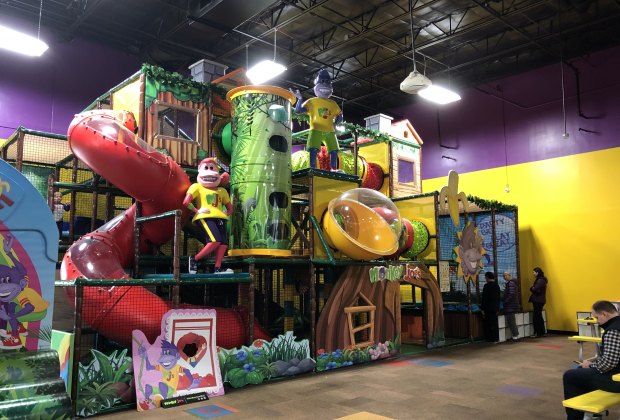 The playground equipment at Monkey Joes has slides, obstacles, and a foam pit.
Monkey Joe's
Monkey Joe's - Copperfield Crossing received some nice renovations in early 2019. What was once a large space filled with only inflatables now includes an enclosed toddler play area and a playscape with slides (lots of slides) and more. There are huge inflatable slides, still, including smaller models for younger children, and a few arcade games. We love this place because it's SUPER affordable - the least expensive indoor playground we've found in the area.
KidSpace
KidSpace is colorful, clean, has a zipline, AND a cafe. A cafe that sells coffee. Enough said. But really, it features more "kid-sized" play features than most indoor spots instead of simply playground equipment. Go check it out for yourself!
Restaurants
Cypress is home to deliciously diverse selection of restaurants. And just like west-Houston town Katy, it has a great selection of restaurants with playgrounds, or at least room for running around.
The Shack Burger Resort
Aside from their larger-than-your-head delicious burgers, the Shack has a huge outdoor seating area that backs into an even more huge playground, complete with sand pits, climbable oversized tires, slides, and more.
Creekwood Grill
Creekwood Grill is located in a historical Cypress building and boasts an incredible covered patio and playground with two play structures, a sand pit, and lots of room to run. The menu features southern comfort foods and there's almost always a food truck parked outside selling dessert.
Rosehill Beer Garden
Rosehill Beer Garden has all of our favorite things - food trucks, playgrounds, and beer. There's a giant oak tree on the property that provides some nice shade. We've yet to have a bad time!

The playground at La Hacienda is covered and enclosed.
La Hacienda
This Tex-Mex staple serves all your favorites, has a HUGE facility which means lots of seating, and a great (albeit...old) covered playground. We love this spot because we never have to worry about our kids being too loud.
Swanny's Grill
Swanny's has room to play for both kids and adults. There are volleybal courts, a playground, room for kickball, and indoor and outdoor seating. Oh, and the food is pretty great, too.
Parks & the Outdoors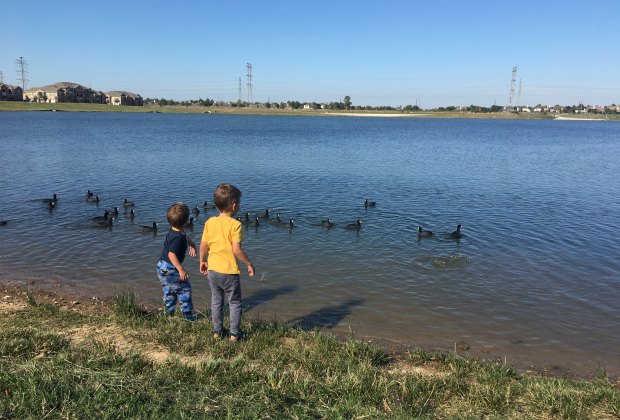 Feeding the ducks at Goforth Park.
Harris County Deputy Darren Goforth Park
Yes, the name is a mouthful, but it's one of Cypress' newer parks and one of our favorites. It's massive. There is a huge playground, covered picnic tables, and a paved trail around the retention pond/lake. Granted, that trail is not shaded at all, so keep that in mind during summer months.
Cypress Park
Cypress Park was built on a flood plain, so during a heavy rain you'll most likely see just that - a flooded area with the tops of playground equipment peaking out. But in its normal state, the park has nice playground equipment, covered tables, a paved trail along it's lakes (the property is also next to an equestrian center, so you may also get a glimpse of some horses), and as a fantastic bonus - there are restrooms.
Zube Park
The 140-acre Zube Park has fantastic playgrounds, a free splashpad (one of the largest in the area), and is the home to the Houston Area Live Steamers. The steamers own and maintain a collection of model trains, and once a month you and your kids can ride them around the park for free!
Matzke Park
Matzke's playground is accessible to kids of all abilities (for more parks like this check out our city-wide roundup), a paved trail great for strollers, and an adorable butterfly sensory garden.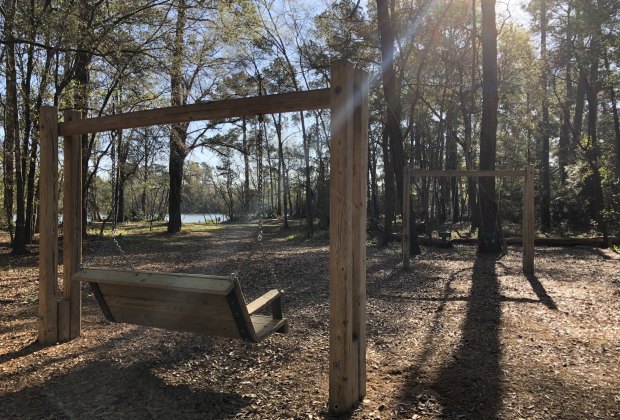 Lose yourself in the beauty of the Kickerillo-Mischer Nature Preserve.
Kickerillo-Mischer Reserve
It's spots like these that give one hope while living in the midst of urban sprawl. The nature preserve sits right next to Vintage Park, a multi-use entertainment complex with shopping and eating. Push out your canoe onto Marshall Lake walk the shaded and paved trails, or go fishing! It's a beautiful spot and will one day feature a trailhead that will connect to hundreds of acres of parks along Cypress Creek.
Little Cypress Creek Preserve
You won't find plastic playgrounds at Little Cypress Creek Preserve, but a nice dose of the great outdoors. Once inside it's easy to forget there is a gas station just beyond the trees and doens of neighborhoods. The 58-acre preserve is great for hiking - just note there are no permanent restrooms, just a porta-potty by the parking lot.
Other Cypress Sites
Boardwalk at Towne Lake
Believe it or not, the grasslands of Cypress now feature a man-made boardwalk that is accessible by car and boat! The entertainment complex has a green space where they hold various events and activities (and when it's vacant, is perfect for playing), and plenty of restaurants.
Cypress Top Historic Park
Learn about the humble beginnings of Cypress at this collection of historical buildings, including a train depot and gas pump. It's also a great spot for pictures!
All photos by the author.