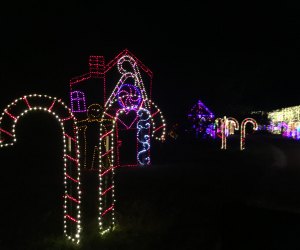 Christmas Light Trail at Dewberry Farm
Dewberry Farm is an easy favorite when it comes to planning fall activities, and once the holiday season hits it becomes a choose-n-cut Christmas tree chopping destination. However, this year the farm has added another layer of holiday cheer to the festivities: the brand new Trail of Lights and Christmas Village, touting it as a "Christmas Adventure as Big as Texas!" Christmas lights become a bigger and bigger deal each year as our kids get older, and when we had the opportunity to check out the Trail of Lights I knew it was a holiday activity we had to add to our list.
Spoiler: it was a BIG hit... dare I say... (drum roll...) as big as Texas?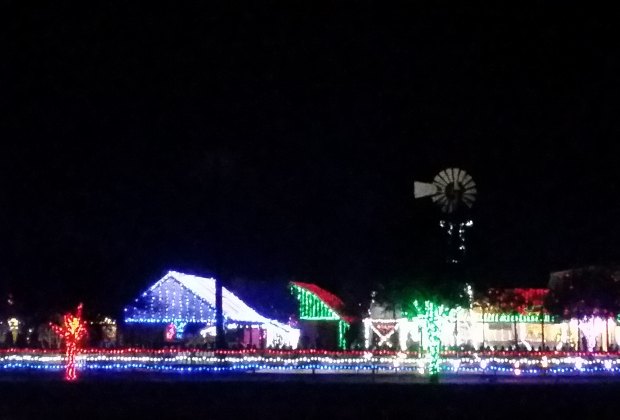 Welcome to your Texas Winter Wonderland!
The adventure begins as soon as you enter the farm, which has been transformed into a Texas Winter Wonderland. Not wanting to get distracted by all of the other holiday fun, our first stop was the loading station to board the wagon ride and check out the Trail of Lights. The ride takes you on a 1.5 mile long trek through the farm's prairie and woods to see over a million lights set to Christmas music. By the time we got to the first attraction, my three-year-old son was awestruck, repeatedly exclaiming, "This is awesome!" and "I'm loving this!" I also have a one-year-old daughter who was equally as mesmerized by the lights, and while her vocabulary may be limited, she was able to give us her version of, "Ohhhh, wow!" and "Look at this!" (Read: this is something that a wide age range will enjoy.)
RELATED: Guide to Christmas and Holiday Events for Houston Families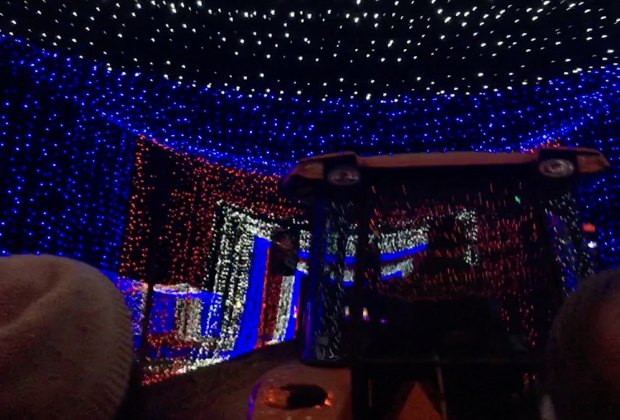 Lights galore, everywhere!
The light displays feature traditional holiday favorites like reindeer, Santa and his sleigh, tunnels made up entirely of Christmas lights (a family favorite!), and toy soldiers. There are also more Texas-themed ones, such as Santa driving the Sealy Tractor, armadillos, and even a NASA spaceship with Santa in a spacesuit. All in all, it's 20-30 minutes of pure holiday fun for kids of all ages.
RELATED: Best Houston-area Neighborhoods & Homes for Viewing Christmas Lights
Sounds awesome, right? But wait! There's more...
When you purchase wristbands to the Trail of Lights you also get access to the entire farm, now known as the Christmas Village. There are tons of photo opportunities, like a giant snowglobe that you get to step inside for a unique holiday picture, lights galore around the farm in addition to what's on the Trail, live music to enjoy as you sit outside by the fire, and lots and lots of holiday treats. Santa is even visiting for pictures!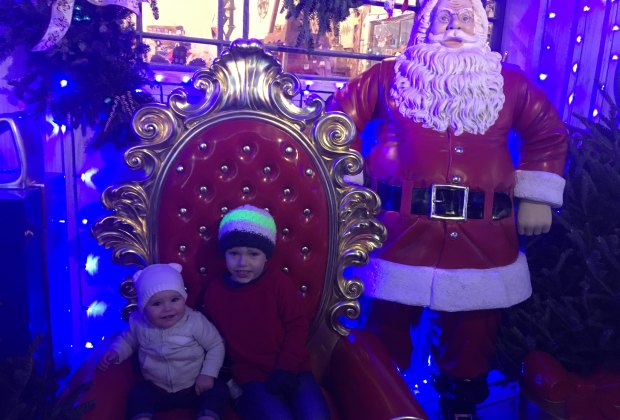 This is not the real Santa...
30+ of the farm's attractions are also open, and getting to run around and play after the Trail of Lights was almost like Christmas came early for my son. As if getting in some extra playtime was enough, an added element of fun was getting to slide down the slides, climb all over Fort DewHickey, and bounce on the jumping pillows in the moonlight.
If you're looking for a unique holiday attraction, the Trail of Lights and Christmas Village at Dewberry Farm definitely delivers. It certainly became a favorite for our family, and will definitely continue to be a Christmas tradition for us in the years to come.
RELATED: Free Christmas and Holiday Events Around Houston
A few tips for your trip:
Dewberry Farm is open from 6-11pm Sunday through Thursday and 6-Midnight Friday and Saturday for the Trail of Lights. Get there early so you have plenty of time to take in everything the Farm has to offer after you see the lights! This year's event ends Dec. 30, 2017.
Wear comfortable shoes that are good for walking.
There are a limited number of tickets sold each night; purchase tickets online in advance to ensure they aren't sold out when you get there.
Tickets bought online are at a discounted price from those purchased at the door.
Kids under 3 are FREE.
All photos by the author