5 Houston Area Farms For Cutting Your Own Christmas Tree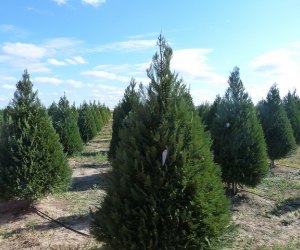 While artificial or pre-cut Christmas trees are definitely convenient during an already hectic holiday season, there's something refreshing about choosing and cutting your own tree with the family. Instead of heading to the store or dusting off fake pine needles from the attic this year, start a new tradition by visiting one of the Christmas tree farms in and around Houston. Not only will you be supporting local tree growers, but you'll also be making memories with your family to last a lifetime. Here are five local tree farms ready to provide you with the perfect Christmas tree:
Dewberry Farm - Brookshire
7705 FM 362
November 25 officially kicks off Christmas at Dewberry Farm, so mark your calendars and start planning your tree-cutting tradition. The Christmas Forest at Dewberry Farm consists of 40-acres of prime Christmas trees, and once you've found the perfect tree you can chop it down yourself or have the tree-cutting experts do it for you. After your tree is cut, take advantage of all the activities the Farm offers while the Dewberry tree specialists process it at Santa's Workshop. Be sure to check the calendar ahead of time for the dates the Farm is open, operating hours, and tree prices.
Spring Creek Growers - Magnolia
23803 Decker Prairie-Rosehill Road
Whether you're looking to choose and cut your own tree, purchase a pre-cut tree, or invest in a living Christmas tree, you can trust that any tree purchased from Spring Creek Growers is going to be a winner. The farm has even been awarded the Grand Champion Christmas Tree of Texas in 2001, 2002, 2006, 2007, and 2008. But don't just cut your tree and go; make sure you also schedule Breakfast with Santa during your visit for even more family fun. Pricing, information on the different types of trees available for purchase, and tree care can be found here. Spring Creek Growers opens Nov. 19 for the 2016 season.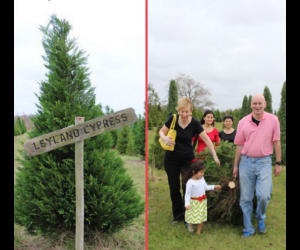 Photo courtesy of Holiday Acres
Holiday Acres - Manvel
9029 Mustang Bayou Road
For a quaint tree-cutting trip, you'll want to head to Holiday Acres. This no-frills Mom & Pop Tree Farm is committed to providing guests with a unique country Christmas experience that focuses on the act of cutting and choosing the perfect tree, and does so by keeping things as simple and straightforward as possible. There is no admission charge to enter Holiday Acres. All activities at Holiday Acres are solely for the use of Christmas tree customers and reserved groups. Tree varieties and prices can be found here. Holiday Acres opens Nov. 25 for the 2016 season.
High Star Christmas Tree Farm - Hockley
19020 Becker Road
Every year the day after Thanksgiving marks opening day for High Star Christmas Tree Farm, a farm whose tagline is "Where Christmas is for kids... and the young at heart." While choose-and-cut Christmas trees are the farm's specialty, kids of all ages also enjoy taking night-time hayrides, visiting the Wreath Barn, seeing Santa, riding the farm train, and navigating the maze. Pricing for trees can be found here.
Red Caboose Christmas Tree Farm - Magnolia
14558 Tree Farm Road
Since 1990, this 30-acre tree farm has been providing top-notch Christmas trees to choose, cut, and take home for the holidays. Christmas trees aren't all the farm offers, though; hayrides, train rides, a koi pond, farm animals, and barbeque that can be enjoyed by the lake are just a few of the other attractions, ensuring that you and your family are in a for a full day of fun when you visit. Pricing for trees can be found here. Red Caboose Christmas Tree Farm is open daily.
Tips for making your tree-cutting experience a success:
Call ahead of time to verify opening dates and hours of operation.
Wear close-toed shoes, as most tree farms entail a decent amount of walking through forested areas.
Verify the different types of payment accepted at the farm beforehand.
You'll want to check to see if the farm you're visiting will shake the loose pine needles from your tree and if there's any extra cost associated with packaging it to take home.
Don't forget your camera! This is an experience worth documenting.

Top image courtesy of Dewberry Farm