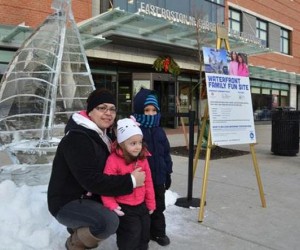 First Night Boston: A Family-Friendly New Year's Eve Celebration
Boston rings in 2017 with its annual First Night celebration, the country's oldest and largest New Year's Eve arts festival. The celebration features music, dance, ice skating, and theater performances. There's a family festival in the Copley Square area and a procession to Boston Common, where fireworks for families light up the sky at 7pm. Best of all, the festival is completely free, with no buttons required.
FIRST NIGHT HIGHLIGHTS
Family Festival: The Copley Square area is packed with kid-centric events including performances by Puppet Showplace Theater, the Chu Ling Dance Academy, the O'Shea Dance Academy, Jungle Jim, and more. Free ballroom dance lessons for kids of all ages start with a toddler and parent class at noon in the Boston Public Library. Families can also find arts and crafts, magic shows, face painting, and photo opps with favorite characters throughout the afternoon.
Winter on the Waterfront: New Year's Eve on the Waterfront unites a dozen indoor Family Fun Sites along an ice sculpture trail from East Boston to the Seaport. Visit each site for free food, music, crafts, and other activities. Envoy Hotel is hosting a Touch-a-Truck and Boat event to celebrate Boston's first responders. Family Fun Sites are open from 1pm to 4pm.
The People's Parade: The procession, featuring drumlines, giant puppets, dancers, and a Chinese Dragon, starts at Copley Square at 6pm and moves down Boylston Street toward Boston Common. Be a part of the Procession by joining Puppeteers Cooperative before the parade and bringing a giant puppet to life on its way down Boylston Street!
Skating Spectacular: The Skating Club of Boston celebrates the New Year at The Boston Common Frog Pond with the annual Skating Spectacular at 6pm.
Family Fireworks: Don't be late! The 10-minute fireworks display takes place in the intimate setting of the Boston Common Ballfield (at the corner of Boylston and Charles) at 7pm.
Ice Sculptures The 2017 First Night First Day ice sculptures depict "Maritime Legends" throughout Copley Square.
Midnight Fireworks: This year, ring in the new year with the Countdown to Copley pyrotechnics and light show in Copley Square at midnight.
FIRST DAY
The festivities continue on New Year's Day in Copley Square with activities devoted to families and children's entertainment from noon to 4pm.
TIPS
Plan ahead: The First Night website lists the full schedule of events, where you can sort by venue, and the Winter on the Waterfront website lists further details about waterfront activities. There are so many options available that it's very helpful to go with a few choices already in mind.
Get an early start: Some of the indoor performances are first-come, first served and can fill up quickly.
Be prepared for crowds: This is not a typical day/evening in Boston. There are people everywhere, so it's important to reinforce whatever plans your family has in order to stick together (buddy system, what to do if you're separated, etc.)
Use public transportation: Enough said.
Dress for the weather! Cold, wet feet and hands will make everyone miserable. Conversely, too many layers will be a major distraction if it's a warm evening.
Restrooms: Portable "blue rooms" are located on the Common and Copley Square.
---
Photo: New Year's Eve on the Waterfront, courtesy of the Boston Harbor Association.
Originally published Dec 2011 and updated annually through 2016