Preschool Directors Share How To Pick a 'Good Fit' Preschool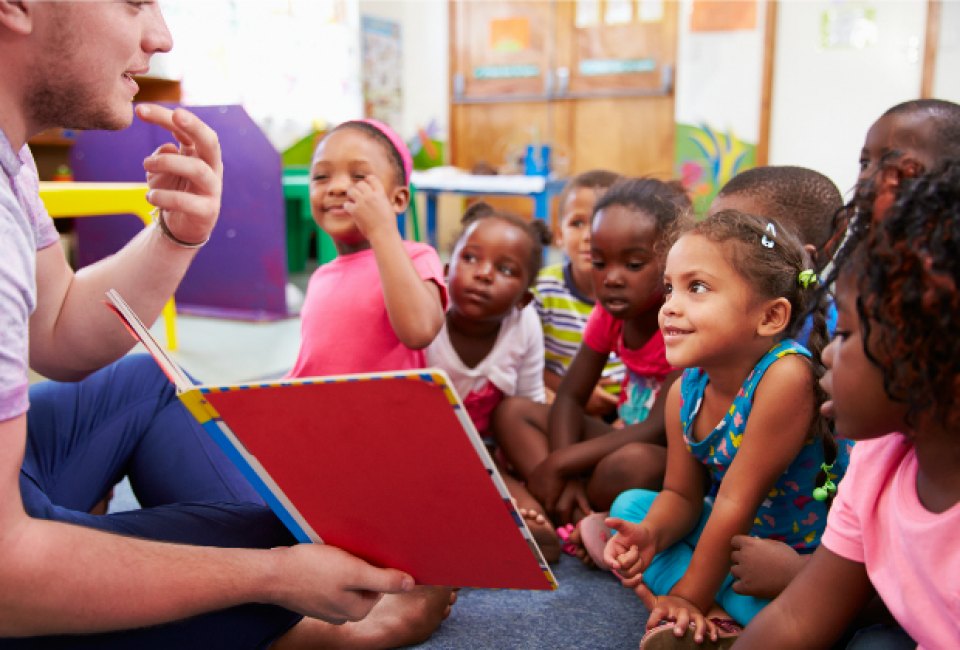 9/18/14
- By
Anna Fader
Applying to preschool is one of the most important (and potentially harrowing) experiences for young children and their parents. It's the beginning of their education, their introduction to schooling and their foundation for a life of learning. In NYC, we are lucky to have many preschool choices available, but it can be a lot of work to figure out which one is best suited to your child.
We asked directors from participating preschools at one of our recent Preschool Fairs to share their insights about the admissions process and what parents should look for in a program. Who better to explain how to navigate this journey than these experts, who help families find the right schools for their kids every day? Read on for their top tips.
Early Childhood Education Preschool Philosophies
There are several educational theories underlying preschool programs. "A school's culture and philosophy should resonate with you and your family's values," advises Ilysa Winick, founder of Reade Street Prep. Do a little research to identify the type of program that your family feels comfortable with, and that will help narrow down your choices.

Here are the most popular types of early childhood education programs:
Progressive (Bank Street/Play-based)
"Children and child development have stayed the same, but societal pressures on both parents and children have intensified," says Meredith Gary, co-director of The Downtown Little School. "As skills that used to be taught in first grade are expected of younger and younger children, it becomes ever more crucial to remember the value of play."
Daniela Levarda, administrative director of Bright Beginnings NYC, agrees. "Between the ages of 2 and 4, children learn best through play. By incorporating play into every facet of our curriculum, we maintain their interest, as well as encourage their active involvement in the classroom. There is a Native American saying that describes our approach: 'Tell me and I'll forget. Show me, and I may not remember. Involve me, and I'll understand.'"

Mary Young, director of Lower School admissions at Little Red Schoolhouse, a leader in progressive education since 1921, adds, "Teachers at LREI challenge students to think deeply and find their own solutions through research, discussion and first-hand experiences. Knowledge becomes meaningful this way, when children are required to think beyond the page, beyond the search engine results, beyond the 'right answer.'"
Montessori
"The Montessori philosophy is devoted to helping each child grow toward independence by building confidence, competence, self-esteem, respect for others and social responsibility, while creating a joyful, diverse and family-oriented community," explains Bridie Gauthier, head of schools at Montessori School of Manhattan. "The Montessori School pedagogy is based on the scientific research work of Dr. Maria Montessori, encouraging self-directed learning that is guided by certified Montessori teachers through continuous observation of each student."
Jennifer Jones, founder of Battery Park Montessori, adds, "The Montessori program is our foundation because it is based on the belief that children are born as perfect learners. The way to maximize that potential is by providing a rich learning environment, filled with interactive tools, opportunities for independent choice-making, and mixed ages for a variety of social experiences and mentorship."
Dual-Language/Immersion/International
With the advent of a global society, more schools are taking an international approach to early education, with language immersion or culture-based curricula. "What we teach at Mandarin Seeds is beyond a language," says Sarah Liu, founder of Mandarin Seeds Ya-Ya Preschool. "We are opening doors and building bridges to connect our children to a multilingual and multicultural world."
Battery Park Montessori's Jones, who recently opened the Pine Street School, agrees. "There is a global connection in almost everything we do today. [An international program promotes] an environment that teaches children to consider their impact on others, think globally and contribute to larger solutions. This awareness and respect for other cultures is enhanced by studying new languages, through which children learn how to listen and communicate with others in a meaningful way."
Eclectic:
Schools that follow an eclectic program believe no one teaching style suits all children. "[An eclectic program] combines the best theories/practices from both traditional and more progressive teaching methodologies," says Michele Gabriele, director of children's programming at CitiSchool at Citibabes. Winick from Reade Street Prep adds, "Our program is multisensory and supports many different learning styles. We aim to strike the balance between academic and social readiness, as we truly value developing the whole child."
What is a "good fit?"
Now that you have an overview of the different styles of preschool programs, how do you know which one will be a good fit for your child and family? Here's what preschool directors advise:

"At this age, happy parents equal happy children. If the parent is comfortable with the school and believes in its philosophy, then it will be a 'good fit.'"—Khris Della Pace of The Park Preschool and The Barclay Street School

"A 'good fit' is a school where children and parents feel comfortable, happy and safe. Only then can the learning occur. Take time to reflect on the school's tangibles (e.g., the curriculum, teaching staff and facility) and intangibles (its values, approach and character)."—Meera Sinha, associate director of admissions at The Montessori Schools - Flatiron & Soho

"Find your home away from home. The place where your child looks forward to going each and every day, seeing their teacher and friends, and learning new things. As a parent, you know they are well cared for in a clean and safe environment, they are being engaged academically and allowed to be creative and express themselves, and you feel confident that all the things on your list are being checked off."—Jessica Pollard, managing director of The Learning Experience Children's Academy of Manhattan

"School has this wonderful potential to build community on both a small and large scale. School is the warm fire we are gathering around, where people from so many walks of life are agreeing on a philosophy that will guide and launch the direction their children follow. So, a 'good fit' is when the family recognizes its values in the school's mission and practice."—Jennifer Jones of Battery Park Montessori and the Pine Street School

Looking for a preschool in your neighborhood? Check out our Preschool Guide to browse programs in Manhattan, Brooklyn and Queens.
Top photo via Bigstock.