35 Summer Activities in Connecticut for Kids Before School Starts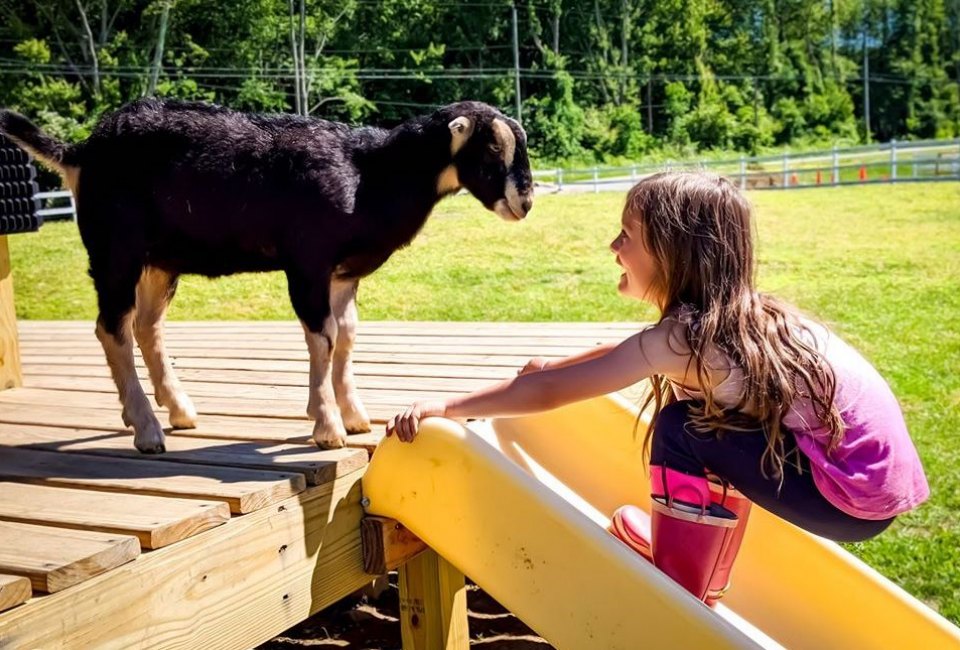 8/5/20
- By
Ally Noel
This summer is unusual for sure, but there are still plenty of fun things to do in Connecticut before kids are back at their desks (or Zoom rooms). From snuggling with goats to taking a lighthouse cruise, these end-of-summer activities will keep kids entertained, with safety and social distancing in mind.
Our Connecticut Summer Fun Guide has even more ideas for making the most of the shortest, but sweetest, season of the year.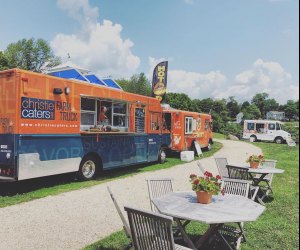 Bring a blanket, grab a bite, and watch the sunset on Social Thursdays. Photo courtesy of South Farms
3. Pack a blanket and enjoy a family-friendly Social Thursday at South Farms, where there will be food trucks, music, and drinks for sale.
4. Pick your own peaches, plums, and more for a late-summer pie at one of these PYO farms.
5. Gaze into the eyes of tigers, howl with a wolf, or swing with the monkeys—its all happening at Connecticut's Beardsley Zoo.
Things To Do at Connecticut Beaches
6. Get up close and personal with coastal creatures while exploring a natural tide pool.
7. Explore coastal Connecticut at one of our favorite state beaches.
8. Grab a rake and dig up some seafood. Recreational shellfishing is allowed in many of the state's shoreline communities.
9. Head to the shoreline town of Branford, one of our very favorite day trips.
Things To Do at Connecticut Lakes and Ponds
10. Drop a line in one of Connecticut's fishing holes, from hidden lakes to the Sound.
11. If your local inland beach is still closed, take a road trip to one of these spectacular northeast swimming lakes.
Things To Do at Connecticut Parks and Playgrounds
12. Take a camping trip! These Connecticut campgrounds are open this summer and still taking reservations.
13. Cool off close to home at one of these Hartford spraygrounds and splash pads or Fairfield- and New-Haven-area spraygrounds and splash pads.
14. Get fresh air for you in a little one on one of these stroller hikes.
15. Explore more at one of Connecticut's State Parks! Make sure you follow CT DEEP on Twitter for daily closures and information on hidden gems.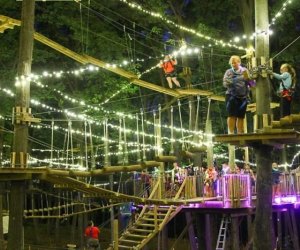 Tree climbing is a magical experience at Glow in the Park in Bridgeport. Photo courtesy of The Discovery Center
16. Climb fairy-lit trees in the twilight at Glow in the Park's summer series, every Saturday evening through September 5.
Boat and Train Rides in Connecticut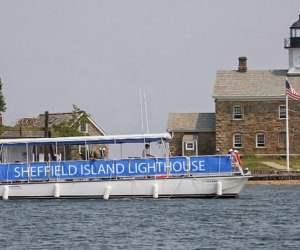 This Norwalk Harbor Lighthouse Cruise goes past Sheffield Island Lighthouse. Photo courtesy of Newport Seaport Association
17. Take a lighthouse cruise around Norwalk Harbor on a free Saturday or Sunday, and learn about how the Native Americans introduced early settlers to local delicacies (like oysters).
18. Rent a kayak and paddle rivers, streams, and the Long Island Sound.
19. Play I Spy with ospreys, herons, and more aboard summer's last Maritime Aquarium Birding Cruise on the Long Island Sound.
20. Raft down the Housatonic with Clarke Outdoor River Guides.
21. The Thimble Islands are an archipelago of more than a hundred islands. Take a cruise on the Sea Mist and learn all about their history (hint: it involves pirates!)
22. Visit the reopened Shoreline Trolley Museum and take a ride on America's oldest, continually operated street-level railway line.
Summer Live Festivals and Events in Connecticut
23. Celebrate and support local businesses at CT Localpalooza, with live music, food, and more.
24. See live, in-person jousting, birds of prey, and more while you play the part of king, queen, princess, or brave knight in the kickoff to the Connecticut Renaissance Faire on Labor Day weekend.
Summer Entertainment and Theme Parks in Connecticut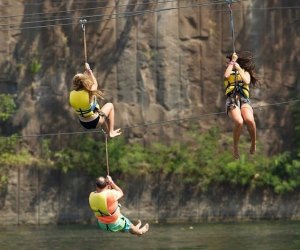 Zip line across the water at Connecticut's natural outdoor water park. Photo courtesy of Brownstone Exploration and Discovery Park
25. Jump off cliffs and zoom into the water at Brownstone Exploration and Discovery Park or another New England water park.
26. Check out a throwback screening at the Prospector Movie Theater or Ridgefield Playhouse
27. Pack that car and head to the movies! In addition to our three drive-ins, there are a ton of pop-up outdoor movie theaters all around the state.
28. If you have the need for speed, take a spin in a go kart.
29. Plan ahead, and reserve some splash time at Chelsea Piers.
30. Bounce it out at one of Sky Zone's three Connecticut locations.
Summer Outdoor Dining in Connecticut
31. Make it a goal to gobble up one of these insane, locally made ice cream creations.
32. Tacos aren't just for Tuesdays anymore. Our Taco Roadtrip will take you on a culinary journey all around the Nutmeg State.
33. Take a break from the kitchen and reserve a table at one of these family-friendly outdoor restaurants.
Museums and Aquarium Fun
34. See an octopus or ray or jellyfish up close: From Norwalk to Mystic, Connecticut has some of the best Aquariums in the country.
35. It is almost school time (sigh): Get kids thinking about art, culture, and history again with a visit to one of these now-open Connecticut museums.