Online Robotics Camp
Young Gates - Kids Online Personalized Classes

Artificial Intelligence with Scratch Online Camp
Young Gates - Kids Online Personalized Classes

Spark Math: Free Trial Class
Virtual
Sign up for our free newsletters.
Let's Taco Bout Tacos: A Taqueria Tour of Connecticut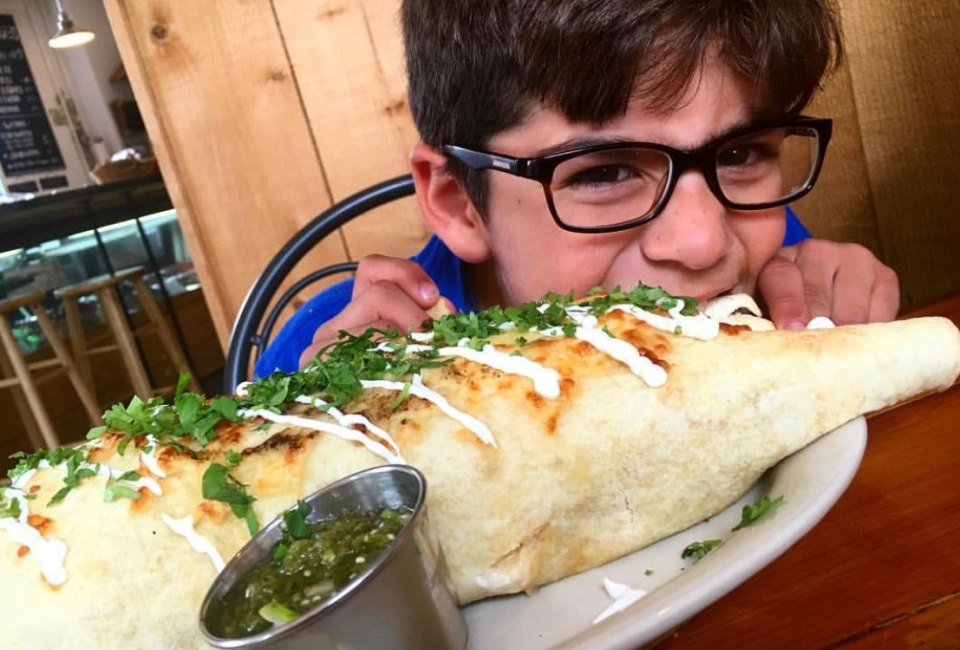 10/26/18
- By
Ally Noel
As far as I'm concerned, tacos aren't just for Tuesdays. Connecticut has so many delicious taquerias, that it would be impossible to limit consuming them to just one day a week. These little folded circles of deliciousness are the perfect family friendly food. They contain simple and fresh ingredients that will satisfy even the pickiest of palettes. Thankfully, Nutmeggers love to get creative with their tacos! This list has everything from taco drive throughs to Kung Pao chicken and everything in between. For more dining inspiration, make sure to check out our Family Friendly Dining Guide.

Fairfield County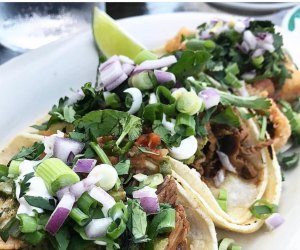 Fresh tacos at Rincon Taqueria. Image via Instagram user d_pustay
Taco Tequila — Norwalk
With a slogan of "Real Mexican Food by Real Mexicans", you better provide a delicious taco. This little strip of Main Street in Norwalk is home to a few great restaurants. Taco Tequila is a welcomed addition. Their tacos are hand crafted using fresh ingredients and are made to order. Make sure you save room for desert! The churros are delicious!
Tequila Mockingbird — New Canaan
Restaurants in New Canaan may come and go, but Tequila Mockingbird is a tried-and-true constant. Opened in 1993, this family friendly Mexican spot in downtown New Canaan is a local favorite. Baja style fish, skirt steak, and chorizo tacos will surely delight all your senses.
Rincon Taqueria — Norwalk
Tucked in a small strip mall on the Post Road surrounded by a sea of fast food choices, you might drive right by Rincon Taqueria and not even notice it. Many consider this hidden gem to be "the best Mexican in Fairfield County." Make sure you have a TON of room in your tummy. The burritos at Rincon can probably feed ALL of your children and their friends.
Bodega Taco Bar— Darien & Fairfield
According to the Bodega Taco Bar founders, "everything tastes better in a tortilla". Truer words may have never been spoken, but that is certainly the case for this establishment. Bodega is that rare restaurant that can work for a date night OR a night out with the whole family.
New Haven County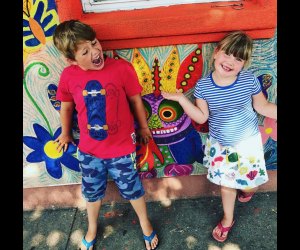 The bright murals outside of Mezcal make the perfect backdrop for deliscious tacos. Image via Instagram user Jennelea
Mezcal —New Haven
It's hard to miss Mezcal with it's brightly colored murals decorating the exterior. The festive feeling carries through to the atmosphere inside as well. Mezcal serves a variety of authentic Mexican dishes perfect to satisfy any taco craving.
Taqueria Mexicana — West Haven
Many consider Taqueria Mexicana to be the best in town. That's high praise given the amount of competition in West Haven. This small restaurant provides real authentic Mexican for lunch and dinner seven days a week. A wide variety of tacos ranging from chicken to beef with cactus should satisfy any taco craving.
Hartford County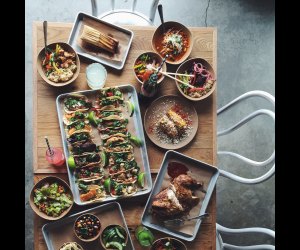 Enjoy a feast at bartaco. Image courtesy of bartaco.
Lucky Taco—Manchester
Lucky Taco has been making its mark on Main Street since 2014. Lucky Taco has some truly original taco creations, including Kung Pao Chicken and Ginga Ninja Marinated Fish Tacos.
bartaco- West Hartford
A trip to bartaco will remind you of those childhood days spent wandering the beaches of California and South America- even if you've never been there. bartaco is hard to beat- they offer a large variety of tacos and a kids menu that hits the spot. With its light and bright atmosphere, bartaco will make you feel like you just spent a day at the beach, even in the dead of winter. Plus, it also has locations in Westport and Stamford.
Litchfield
Dos Amigos —Torrington
In addition to delicious tacos, this no-frills taco restaurant serves up a full menu of Mexican favorites. Why this may not be the swankiest spot in town, Dos Amigos strives to provide an authentic Mexican restaurant that makes you feel like family.
El Camion—Woodbury
What began as a food truck, has morphed into a delicious brick and mortar taco joint. You can't make a "bad choice" with the menu at El Camion. This popular taco spot is a favorite among locals. They provide some fun twists on classic fish, chicken, steak, and pork tacos.
Cover photo via Instagram account shoegoddez