Our Trip to the Splash Zone at Chelsea Piers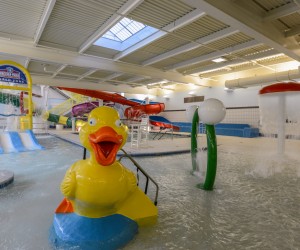 "Mom. Is it time yet? Are we going to the Splash Zone today?" For the last week, these have been the first words out of my daughter's mouth. On Saturday she walked into my bedroom at the crack of dawn wearing her swimsuit (over her pajamas of course) and goggles. Finally, Sunday arrived. Splash Zone Day at Chelsea Piers Connecticut! To say my four-year-old daughter was looking forward to this adventure would have been a bit of an understatement. Bonus points: she got to bring a friend!
Located in Stamford, Chelsea Piers Connecticut is an absolutely stunning facility. It's relatively new (it opened in July of 2012), and is a dream come true for any athlete. They offer an impressive selection of drop-in activities, one of which is the Splash Zone.
The Splash Zone is one of Fairfield County's only indoor water parks. The 6,000sq. ft. space features several water features for kids as young as six months to explore. Chelsea Piers charges $20/session for non-members. Supervising adults who are non-members pay $10. Non swimmers and children age 5 and under must be accompanied in pool by a supervising adult. For more information and reservations check out this page. Word to the wise: Non- members MUST make a reservation to use the Splash Zone.
We were scheduled for the 3:00 time slot, so we arrived fifteen minutes early. This was a good thing. Chelsea Piers is huge! The girls' eyes were wide with amazement when we walk through the doors. There was an ice skating rink to the left of them and a bustling Olympic sized swimming pool to the right. At the front desk, we found several friendly staff members that pointed us in the direction of the Splash Zone. We checked into the Aquatics desk and got our wristbands before heading to the locker rooms.
The locker situation is very family friendly. There are separate lockers for girls and women (same is true for boys and men). We helped ourselves to the family locker room. It was spacious with lots of different configurations for private dressing rooms and the walls are lined with lockers that you can rent for 50 cents. There are also blow dryers, shampoo, and body wash to use at your convenience. After we unpacked our bags, and got our towels we were ready to head to the Splash Zone!
The girls took off as soon as we walked through the door. I placed our bag of towels on the large bench and surveyed the scene. The Splash Zone is pretty much broken up into three parts: a warm water pool, splash pool, and slide zone.
The warm water pool is a lovely little pool that ranges from one to four feet deep. There are life jackets hanging from the wall for you to use (the Splash Zone allows any acceptable Coast Guard approved flotation device). There are foam noodles to play, splash and jump around with.
The splash pool features several water features for kids of a variety of ages to explore. This is a shallow pool, maybe a foot deep, with sprinklers, play structures, buckets, and slides. It is perfect for a child who may not know how to swim yet.
The Slide Zone offers three "big kid" slides (in fact, you need to be at least 42" big). These slides are a big hit with older kids who may be looking for a bit of an adventure.
The lifeguard staff at the Splash Zone was definitely on top of things. Unlike so many other places, I felt very safe knowing that my girls were being watched the entire time. They were focused, friendly, and attentive.
The price of admission buys you 75 minutes in the Splash Zone. This was the perfect amount of time to completely wear out my girls.
Because this was our first time visiting the Splash Zone, I put on my bathing suit just in case the girls needed help. If you aren't suited up, there is a large bench to sit on and watch your children (warning: you will probably end up getting a little bit wet). Even though it was January, the room was extremely warm so I highly recommend dressing lighweight for the occasion.
By the time we left the pools, showered, and got changed, we had worked up quite the appetite. Chelsea Piers offers a few dining options. We decided to keep things simple and get some frozen yogurt and lemonade at the Just Sprouted cafe. It may be winter outside, but this sweet treat definitely made of think about warmer, sunnier days. While you are in Stamford, you should head downtown to get a Churo at Lorca, or one of the other 40 Things to Do in Stamford With or Without Kids.