Connecticut Trolley Museum Lights Up Smiles All Year Long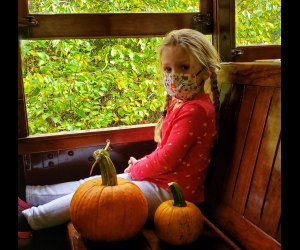 Families with little ones that love the show Daniel Tiger know all too well the excitement a trolley and a "ding ding" can elicit. But the Connecticut Trolley Museum in East Windsor offers the perfect mix of education and fun each season and has something for kids of all ages, not just the preschool set. Autumn is an especially great time to visit the Trolley Museum because the trolleys—which you can ride as many times as you want—make a visit extra picturesque with fall colors passing outside the trolley windows. But there's a lot to enjoy all year long.
For more train adventures, see our list of train rides your preschooler will love and find out what's along the Hartford line that will fill a day with adventure. Or, work your way through our list of 50 Fall Things to Do in Connecticut with Kids.

During the fall and Halloween, a trolley ride brings preschool kids to a special pumpkin patch. Photo courtesy of the Connecticut Trolley Museum
The Connecticut Trolley Museum has around 70 pieces of trolley-related equipment, some of which date back to the late 1800s, and are from railways around Connecticut as well as places like Boston and New Orleans, and as far away as Rio De Janeiro. In the visitors center, kids who love trains can see much of this equipment and learn about the evolution of the electric trolley and their impact on our cities. The combination of entertainment and learning makes the Connecticut Trolley Museum a great destination for parents looking for a fun afternoon, a bit of extracurricular learning, or even a homeschool field trip.
In the fall, families can take a preschooler-friendly antique trolley car ride to the Trolley Museum's Pumpkin Patch—a field with pre-picked pumpkins scattered about where each child can choose their own to bring back to the museum and decorate. All ages can enjoy the arts and craft table and explore the visitor center's historic displays decorated for Halloween.
For kids age 16 and up, the Rails to the Darkside is a haunted nighttime event with theme actors on the trolley ride that includes a haunted walkthrough in the visitor center.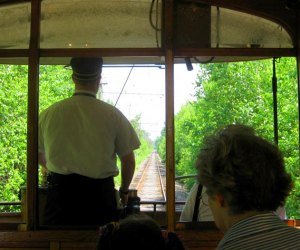 No matter the season, kids of all ages can enjoy a trolley ride. Photo courtesy of the Connecticut Trolley Museum
Winterfest and the Tunnel of Lights takes place after Thanksgiving, when you can join the motorman and sing Christmas carols as the trolley heads through the festive tunnel. Afterwards, families can pop into the visitor center and find it decorated like a winter wonderland, complete with model trains and holiday music.
In spring, families can come to Easter Bunny Fun Days and ride the Easter Eggspress, see the character Motorwoman Cotton-Tail, make a bunny craft, complete scavenger hunts, and win surprise-filled eggs.

Summer at the Trolley Museum features special storytime rides. Photo courtesy of the Connecticut Trolley Museum
Trolleys run through the summer, and the museum is open daily. Kids who love trains can participate in scavenger hunts, get arty at a craft table, focus on LEGO building, have fun at a dress-up station, and be delighted by story time on a trolley ride. Summer at the Connecticut Trolley Museum also features superhero and princess days, and a music concert series.

See trolleys and train cars from all over the country and other parts of the world all year long at the Connecticut Trolley Museum. Photo courtesy of Marc Glucksman
Adding even more to the destination, located on the museum grounds you'll also find the Connecticut Fire Museum with 15 antique fire trucks dating back as far as 1923, and the Connecticut Motorcoach Museum with a variety of transit buses.

Take a ride back in time on so many trolleys, get up close to antique fire trucks, and explore transit bus history all year long in East Windsor. Photo courtesy of the Connecticut Trolley Museum
General admission tickets are $11 for adults and $8 for children 2 and up. Prices are subject to change for special events.