Take a Scary Ride on the Rails to the Darkside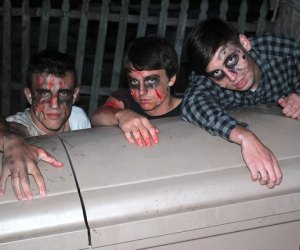 The Connecticut Trolley Museum, located in East Windsor, Conn. is usually a fun place for the whole family, but during the Halloween season, it is transformed into a haunting and gory destination for all thrill seekers only.
The story goes that the little museum and rail line were built on top of a small cemetery from which it's residents were never removed and re-interred. These ghostly spirits rise from the dead (some in zombie or walking dead form) every year around this time to torture and frighten all who come after dark.
Brave souls who attend this event will be invited to participate in three different spooky locations. Most people who come fall into two categories: the ones who laugh off the scares and the ones who barely make it through the haunted house without running and screaming into the night.
The "outside" and the cemetery take a couple of months to assemble and are offered to the public by the Shaker Pines Fire Department of Enfield. The Department has built and run the strobe-lit, ghoulish maze for about five years. Hanging limbs, electrical sparks and scary apparitions all greet you as you are ushered through narrow, darkened hallways.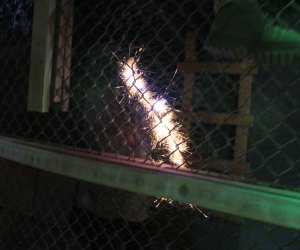 Don't get zapped as you make your way around this corner!
The interior of the museum itself is also transformed into a spooky walk with loud noises and blood curdling screams. Actors roam the path you are walking, confronting you and your fears. When you exit you are relieved to be back out into the night once more. What's not to like?
Finally, the trolley, in complete darkness, runs you down the rail and stops. Where? No one knows. Perhaps the original site of the cemetery? Passengers aren't alone for very long as bloody zombies make their presence unmistakably known.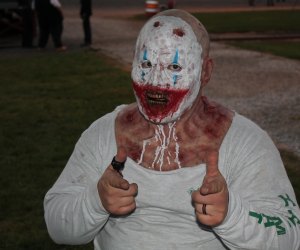 This is one of the 'people' you will meet in the dark as your make your way through the darkened hallways in the haunted maze.
Rails to the Darkside's opening night was October 7, but, they will be running every Friday and Saturday night all month long.
Cost for entry is $17 and runs every Friday and Saturday night all October long. This event is not recommended for children under 12.
Photos by Jennifer Coe