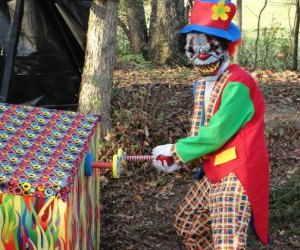 Haunted Houses in Connecticut: Scary Halloween Fun for Big Kids
Halloween isn't all pumpkins and hayrides. There are also thrills and chills to be had right here in Connecticut at some of the scariest haunted houses you'll ever find! These frightful attractions are geared towards older children, teens, and adults and not recommended for very young children. If you're looking for the real deal, check out our post on the Real Haunted Houses of Connecticut. For those who just want to have a spooky-good time, then a haunted house attraction is just the thing. From amusement parks filled with zombies to empty summer camps and abandoned school buildings, there is something to scare the pants off of everyone. We've rounded up the scariest haunted houses across the state, and a couple that are right over the border, for all of your frightful fun this Halloween season. Check it out...if you dare!
Haunted Graveyard at Lake Compounce—Bristol
This spine-chilling walk-thru maze is set up inside Lake Compounce amusement park, and for a separate fee it keeps the screams coming with over 150 live actors and animatronic scenes. Open at dusk on Fridays, Saturdays, and Sundays through October 30. Group and military discounts available, and please note that the Waterpark and Kiddieland rides will be closed. The Haunted Graveyard has donated over a million dollars from admissions sales to the American Diabetes Association since it started in 1991.
Haunted Isle—East Haven
The Haunted Isle experience takes you on a trolley ride into the deep, dark woods. Once you arrive at the Isle and pass through the gates, brave an unlit path for the scare of a lifetime. Ghosts, goblins, and zombies haunt your journey back to the trolley and the safety of civilization. Once your trip is complete, refuel with food trucks and a concession stand.
The Hallow at Fairview Tree Farm—Shelton
Encounter four scary attractions at this Shelton farm where havoc reigns during the Halloween season. Brave the Melonhead Revenge Trail and find out for yourself whether the legends are true. Visit Hemlock Manner Mortuary, Pine Hills Parish, and The Dark Harvest.
Rails to the Darkside—East Windsor
Legend has it that in 1905, the Hartford & Springfield Street Railway moved a cemetery to complete construction of the railroad tracks. Ever since then, people say that the restless souls haunt the rails through the dark woods of East Windsor.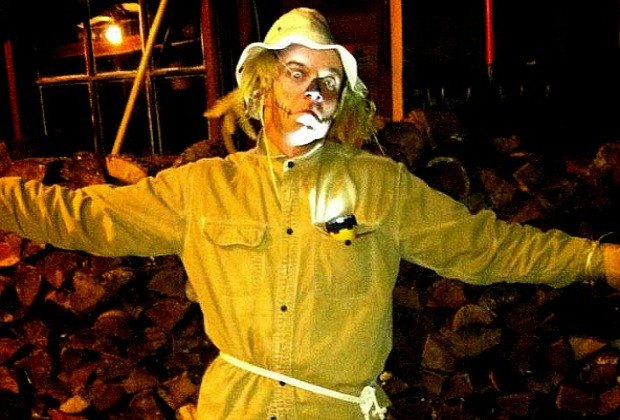 Fright Haven—Stratford
This spooky organization has been unleashing decades of celluloid horror onto their brave ticket holders. Same name, same location, new terror. This attraction is not recommended for younger children. Tickets can be purchased at the box office or online. There are discounts for groups of 20 or more.
The Dark Manor - Baltic
This popular haunted attraction has been voted Connecticut's #1 scariest haunted house. There are three attractions to wander through, The Graveyard, The Catacombs, and The Dark Manor. The Manor is staged inside an abandoned schoolhouse, which makes for a very creepy location, and the scares are staged throughout the building on two floors. For the full experience, management recommends groups of six or fewer entering at a time. The hours and days vary through the end of October, so it's best to check their calendar. Ticket prices vary depending on time of day (there are less scary matinee options) and peak season. Group discounts are available. The Dark Manor is not recommended for children under age 13.
Nightmare on Wolcott Street—Waterbury
With over 55 rooms of terror, you'll find live characters, animatronics, chainsaws, creepy sounds, loud bangs, and everything else that makes a haunted house so scary. Recommended for teens, but younger children may attend if accompanied by a parent. Tickets sold at the door.
Harrybrooke Park Haunted Trail—New Milford
The creators of this annual event, now in its fourth year, warn that there are serious scares to be had. Children under the age of twelve are strongly discouraged. Tickets can be pre-purchased to avoid long lines, and proceeds benefit local nonprofits.
These two haunted attractions are worth the trip over the Connecticut border:
Scared by the Sound - Rye, NY
This haunted attraction is in its 17th consecutive year and since 2014 they have been haunting Rye Playland. Visitors make their way through attractions like the Crypt Walk, the Tunnels of Doom, the Creepy Morgue and the new Outdoor Blackout Maze. There are over 100 live characters who create creepy scenes throughout the attraction. Recommended for ages 8 and up. Fridays, Saturdays, and Sundays through October 31. Hours vary so best to check the website. Please note that the amusement rides are not open for Scared by the Sound.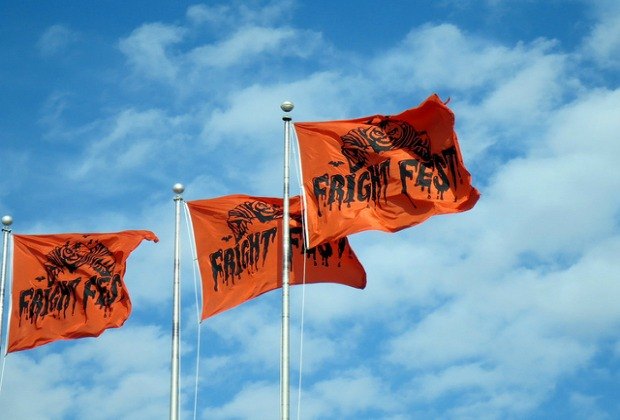 Photo credit: Flickr
Six Flags Fright Fest - Agawam, MA
During the month of October, zombies and other frightful characters come out at night and walk through the park, scaring people while they wait for rides. A Scream Pass gets you admission to some terrifying entertainment including the Midnight Mansion, Total Darkness, and Wicked Woods. Park-goers experience the New England SkyScreamer backward, which sounds pretty frightening. Six Flags isn't cheap, and there is an additional fee for parking. I find it's best to buy tickets online in advance to save some money or stop by your local AAA branch.
Originally published 10/14/2014.

Cover photo credit: Flickr