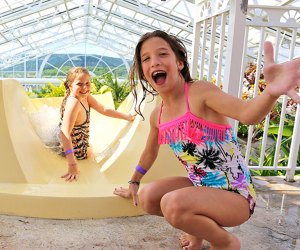 Easy Spring Break Getaways for New Jersey Families
Spring break means sunshine and outdoor fun. But if a trip to Florida or the Caribbean is not in your family's plan this season, a low-key vacation that's closer to home is an ideal way to welcome warmer weather.
Most New Jersey schools are on spring break in mid-April, when weather in the Northeast can be unpredictable: too chilly for outdoor swimming, yet too warm to stay cooped up inside all week. So dress everyone in layers and plan a mix of indoor and outdoor fun for the whole family. We've rounded up the best options for fun family destinations in and around the Garden State, from New Jersey beach towns and indoor water parks to Pocono resorts and Hudson Valley getaways.
If you're looking for a shorter jaunt minus the overnight stay, check out our guide to New Jersey family day trips. And if a road trip is not on your agenda this April, visit one of these indoor play spaces or zoos.
North Jersey
Crystal Springs Resort – Hamburg
When it's too warm for skiing and too chilly for outdoor swimming, this resort's tropical indoor pool oasis is the place to be. Featuring an underground aquarium, huge waterslide, and hot tub all surrounded by lush foliage, the Biosphere Pool Complex is a winner with families staying at the resort. Dining options range from cafe fare to the upscale Restaurant Latour, which boasts an award-winning wine cellar. Though the golf courses are not scheduled to open until May, hiking, biking, and horseback trails should be open weather-permitting, along with tennis courts.

Camp along the river and have water sports at your disposal at Delaware Valley Family Campground.
Delaware River Valley Family Campground – Columbia
Tucked along the scenic Delaware River, this family-friendly campsite offers cabins as well as trailer rentals, a family game room, mini-golf, and basketball courts. The heated outdoor pool and kiddie pool open in warmer weather. Spring specials and discounts begin April 1.
RELATED: Easter Bunny Train Rides for Kids in New Jersey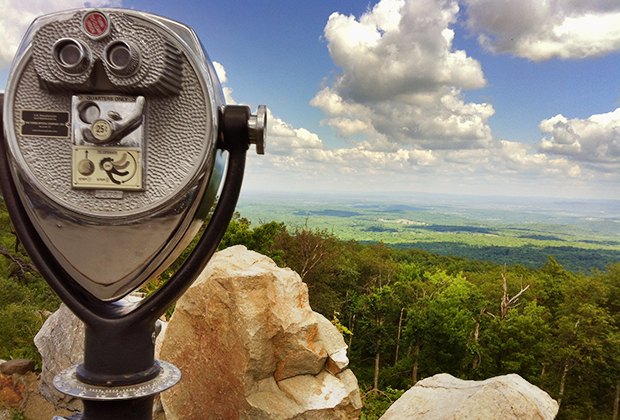 Enjoy the gorgeous views at High Point State Park. Photo by Jason Jenkins via Flickr
High Point State Park – Sussex
Camping season begins April 1 at most New Jersey campsites, so head to the highest spot in the state for a sweeping view of New York, New Jersey, Pennsylvania, and the Delaware River. Enjoy family hikes through the woods and around lakes, including part of the Appalachian Trail. High Point State Park features tent campsites along Sawmill Lake that are available from April 1. Rental cabins open in May. If April showers dampen your campsite, head to the Franklin Mineral Museum to explore mining, fossils, and fluorescent mineral displays.
Westin Jersey City Newport – Jersey City
City slickers will appreciate the spectacular view of the iconic Manhattan skyline across the Hudson River. With PATH train service right around the corner, families can take advantage of all the Big Apple has to offer without paying big-city prices for spacious accommodations. If you tire of the train, check out the ferry, which will deliver you to the city's West Side. The only four-diamond hotel in northern New Jersey, this waterfront hotel features an indoor pool, multiple restaurants, and free Wifi. It's also close to the Garden State's STEM gem, the Liberty Science Center.
Central Jersey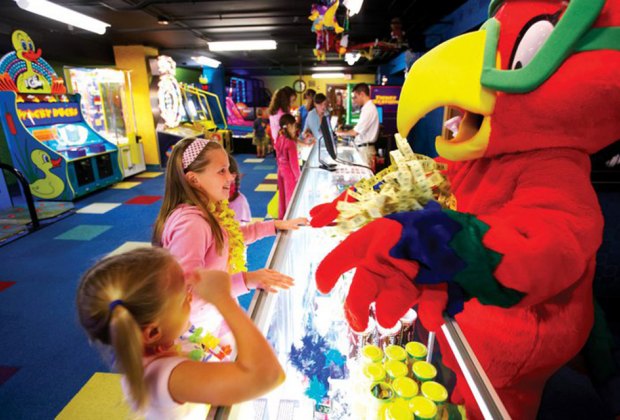 There are plenty of family-friendly activities at Co-Co Key Water Resort to keep kids busy during spring break!
Co-Co Key Water Resort – Mount Laurel
No need for summer weather to enjoy the thrills of looping water slides and high-speed flumes. This indoor water park features four-story slides, a 300-gallon dump bucket, aquatic jungle gym, water basketball, lily pond, and a lazy river. An on-site cafe, dip-in theater, and arcade add to the fun. Check in to the nearby Hotel ML and Conference Center to relax and recharge before a second day in the water park. O head out from there to Camden to visit the Adventure Aquarium, or on to Philadelphia's family attractions, including the Franklin Institute and Please Touch Museum.
Southern Jersey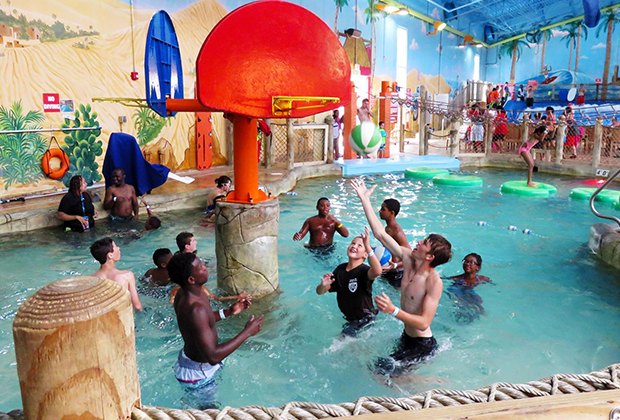 Shoot some hoops at Sahara Sam's Oasis.
Sahara Sam's Oasis – West Berlin
More indoor splashing fun awaits at this massive water complex featuring a surfing simulator, mat slides, family tube slides, an adventure playground, leisure pool, tubing river, and toddler-only zone. Several hotels in nearby Mt. Laurel offer stay and play packages for water park visitors, and all provide easy access to Philadelphia to continue the family fun.
Jersey Shore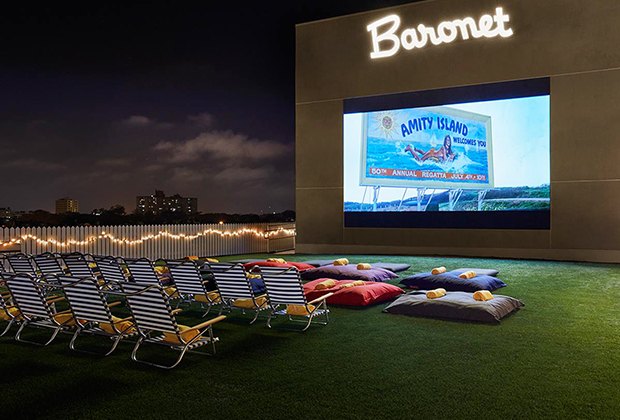 On balmy nights, catch a flick under the stars at the Asbury Hotel.
Asbury Hotel – Asbury Park
The newest addition to Asbury Park, this trendy hotel offers some family-style rooms with bunk beds that the kids will love. Parents will enjoy the rooftop lounge space with games, bean bag chairs, and a movie screen (weather-permitting). A lobby lounge serves coffee and snacks, and an adjacent bar features live entertainment. Restaurant options abound in Asbury Park, along the boardwalk and on bustling Cookman Avenue. A beachfront playground at Seventh Avenue is also sure to keep kids happy—even if they can't bodysurf in the chilly ocean. And don't miss the Silverball Museum Arcade for hours of pinball.
RELATED: 10 Best Indoor Water Parks for Kids in the US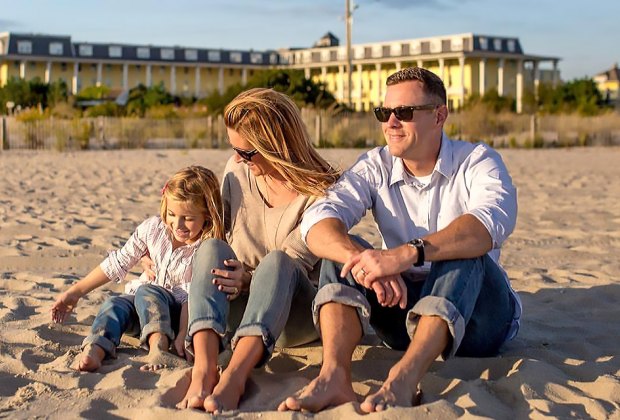 Unwind on the sand at the beachfront Congress Hall Resort.
Congress Hall – Cape May
The iconic yellow Cape May resort features spring break family specials that include dining credits, family yoga, and a welcome basket with toys and treats. Family activities scheduled in April include cooking lessons, a Mad Hatter tea party with Alice, train rides, arts and crafts, a Peter Pan luncheon, and an interactive children's play. If that's not enough to keep everyone busy, head out for a three-hour cruise with Cape May Whale Watcher to catch a glimpse of migrating whales and frolicking dolphins, or climb the 199 steps to the top of the Cape May lighthouse.
Grand Hotel – Cape May
A popular summer family destination, the Grand Hotel also features a heated indoor pool, bike rentals, and a fitness center, making it a good option for cooler weather. A spring break mid-week family special includes daily buffet breakfast and kids' camp offerings from partner EcoVentures. Day camp activities include hands-on shark lessons, scavenger hunts, ocean-themed arts and crafts, nature walks, and building a terrarium.
Jenkinson's Boardwalk and Aquarium – Point Pleasant
There's a ton to do at Jenkinson's Boardwalk, even when the weather isn't beachy. Games and activities include two mini-golf courses, four arcades, a ropes course, fun house, and, of course, rides—the amusement park will open for the season on March 24, weather-permitting. Stop by Jenkinson's Aquarium to visit sea turtles, penguins, sharks, and other aquatic creatures, and then hit the Sweet Shop for your fix of salt-water taffy and fudge. There are plenty of restaurants and hotels nearby.
RELATED: 70 Things To Do with Kids at the Jersey Shore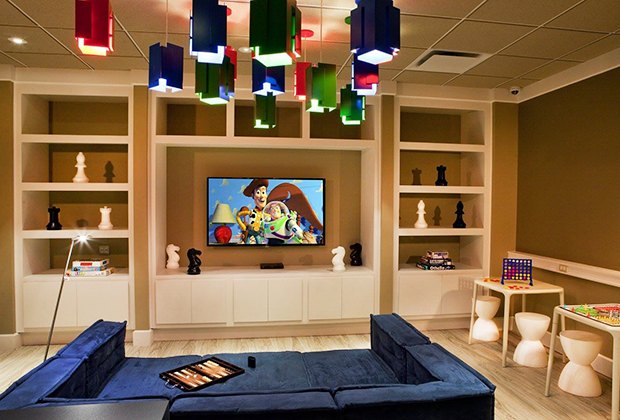 Kids can play and chill in the game room at Ocean Place Resort.
Ocean Place Resort – Long Branch
This beachfront resort has plenty to keep kids busy: an indoor pool open year-round and a game room stocked with TVs, board games, billiards, and a life-size chessboard. Stroll to nearby Pier Village for shopping, dining, and a small arcade.
The Pocono Mountains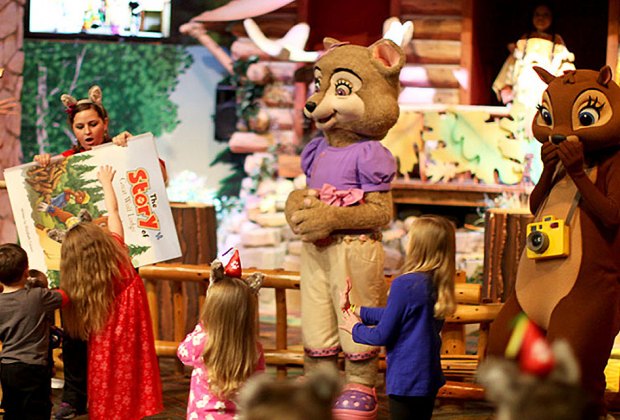 Family story hour at Great Wolf Lodge is a perfect way to relax at the end of a busy vacation day!
The Poconos is a pretty perfect family vacation destination. There you'll find some of the best family resorts, including Camelback, Great Wolf Lodge, and Kalahari, which is home to the country's largest indoor water park. The landscape is gorgeous, and nature lovers won't want to miss one of the area's beautiful waterfall hikes. We love the Poconos so much, we came up with 61 things to do there as a family.
Hudson Valley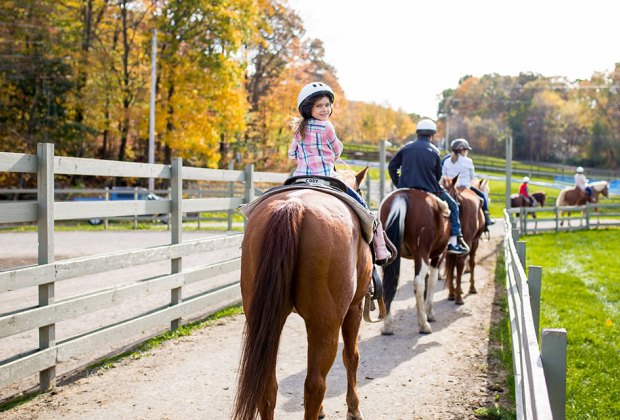 Unlimited horseback riding is just one of the many draws of the Rocking Horse Ranch resort.
New York's Hudson Valley is home to several family-friendly resorts, including the excellent Rocking Horse Ranch in Highland. You can even spend the night at a lighthouse! Packed with natural beauty, culture, and charming towns such as historic Hyde Park, the Hudson Valley offers tons of things to do with kids.
And coming to the Catskills in April 2019 is New York State's biggest indoor waterpark: the Kartrite Resort.
Philadelphia

Visit the Betsy Ross House, birthplace of the American Flag.
Looking for an urban getaway? The City of Brotherly Love is filled with kid-friendly attractions, including the Please Touch Museum, the Franklin Institute, and the Philadelphia Zoo. Of course, there's tons of history in Philly, too—you can see the Liberty Bell, visit the birthplace of the Declaration of Independence and the Constitution, and even meet Betsy Ross. Check out our list of must-do things for first-time visitors, and find even more fun in our list of 100 Things To Do in Philly with Kids Before They Grow Up.
Thinking of flying south? Check out our list of the top Florida beach vacation destinations for families, and the best all-inclusive family resorts in the U.S. and Caribbean.
Unless otherwise noted, photos courtesy of the hotels/resorts.