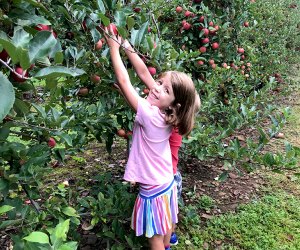 40 Things We Can't Wait to Do with NJ Kids This Fall
What's not to love about fall: The cool autumn air, brilliantly colored leaves, apples, pumpkins, Halloween...the list goes on.
While the pandemic-ridden fall of 2020 may feel a bit different than previous years, we've still found 40 seasonal activities to ensure your calendar is bursting with activities, from pumpkin picking to corn mazes and special Halloween events. So, get outside and take advantage of all of the fall fun the Garden State has to offer.
Be sure to check out our NJ Fall Fun Guide for more seasonal fun.
Subscribe to our FREE newsletters to get posts like this delivered to your inbox.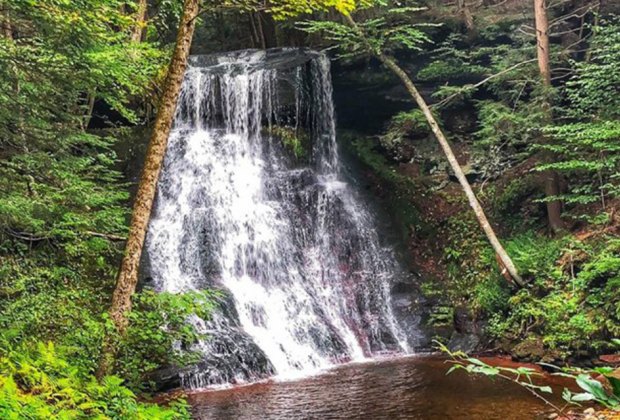 Take a family-friendly hike to Hemlock Falls. Photo courtesy of NJ State Parks
1. Breathe in the crisp autumn air on a family hike to one of New Jersey's beautiful waterfalls.
2. It's apple-picking season at Terhune Orchards, Alstede Farms, Demarest Farms, and plenty of other popular New Jersey farms.
3. Relish the Garden State's beautiful fall foliage at a scenic park or playground.
4. The Liberty Science Center has reopened to the public; be sure to check out the Angry Birds and Wild Kratts exhibits, which close late September.
5. Shore season isn't over yet.
RELATED: Amazing Corn Mazes at New Jersey Farms

Take a wildlife tour at Six Flags Great Adventure Safari Drive-Thru.
6. See exotic animals from your car at the Six Flags Great Adventure Safari Drive-Thru running through Sunday, November 1.
7. Get your game on at an indoor arcade; many have reopened with social distancing protocols.
8. Catch a drive-in movie on the big screen at Demarest Farms through the end of October.
9. Cozy up with farm animals at these NJ agri-spots.
RELATED: 14 Fall Weekend Getaways Near NYC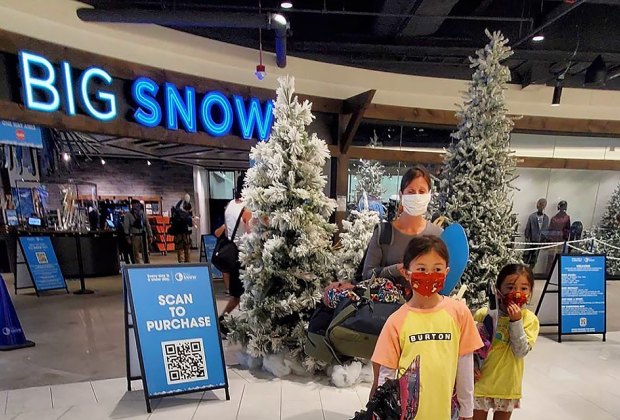 Get a jump on winter sports at Big Snow.
10. Spend (at least) a day at the newly reopened American Dream entertainment complex, with an indoor ski resort, amusement park, and water park. Big Snow is currently open; the rest reopen Thursday, October 1.
11. It's not too late to dine alfresco, throw a Frisbee around, or take in the sights at one of NJ's top picnic spots.
12. Get a taste of everything-fall, including a pumpkin patch and corn maze, at Ort Farms' Fall Festival daily through Sunday, November 1.
13. Get in the autumn spirit at a harvest festival, such as the Dunellen HarvestFest Sunday, October 11.
RELATED: Best Apple Picking Orchards and Farms in New Jersey with Kids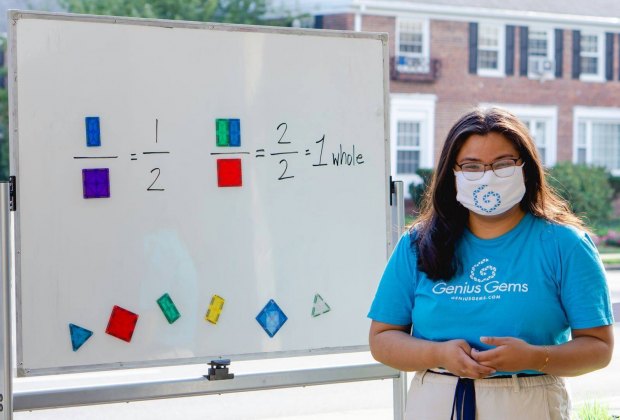 Sign-up for an outdoor class. Genius Gems offers quite a few!
14. Fall is a great time to try out a new class: Sign up for in-person classes, especially ones that take place outdoors.
15. Explore the town of Westfield, and hometown of Charles Addams, which hosts the October-long Addamsfest, with a haunted trail, movies, and more.
16. Set sail on a paddleboat, canoe, or kayak.
17. Get goosebumps on Cape May's ghost trolley tour. It's known as one of the most haunted towns in America!
RELATED: Things To Do in New Jersey This Week

Scope out a new hiking trail. Photo by Sara Marentette
18. Take a day trip to New Jersey's state parks and forests, which offer plenty of room to social distance.
19. Have a haunting evening at 13th Hour Haunted House (with safety protocols) on Fridays, Saturdays, and Sundays, October 2-31.
20. Ride the rails to a farm on the Corn Maze Train, which runs through Sunday, September 27.

Little ones will love the hay maze at Storybook Land.
21. Get goodies at an NJ amusement park fall event. Storybook Land hosts Trick-or-Treat Weekends on Saturdays and Sundays, October 3-25.
22. Take a Halloween trip to Six Flags to see its all-new Hallowfest from Friday, September 18-Sunday, November 1.
23. Pick your very own pumpkin at one of NJ's fun-filled pumpkin farms.
24. While you're there, take the family on a hayride and get lost in a corn maze.
25. Hop aboard the Great Pumpkin Train for a boo-tiful choo-choo ride along the Delaware River starting Saturday, October 3.
RELATED: See Baby Animals and More at Family-Friendly NJ Farms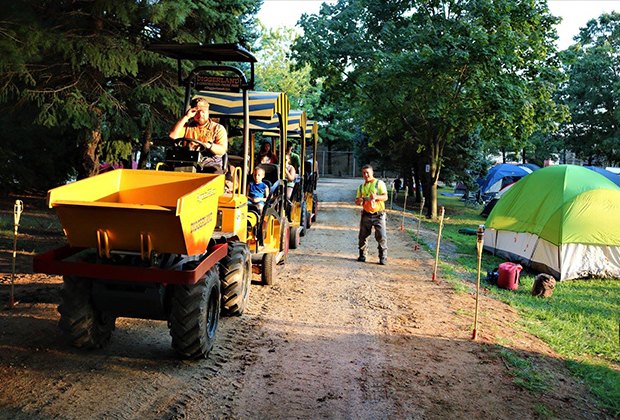 Camp out at Diggerland on Saturday, October 24!
26. Sleep under the stars at one of NJ's best family campgrounds, or camp out at Diggerland on Saturday, October 24, and enjoy rides, arcade games, and s' mores over a bonfire.
27. Spend a day exploring one of these outdoor art destinations nearby. Bonus: The fall foliage makes a picture-perfect backdrop.
28. Drive through displays of creative and kooky hand-carved pumpkins at Wagner Farm Arboretum Brite Nights from Tuesday, October 13-Sunday, November 1.
29. Indulge in food and live music at the Sussex County Food Truck and Music Festival on Sunday, October 4.
30. Sip some of the best wine around—with your kids in tow—at one of NJ's family-friendly vineyards and wineries. Cheers!
31. Put on costumes, and head over to trunk-or-treat events in Hackettstown and West Orange.
RELATED: Halloween Fun Guide For New Jersey Kids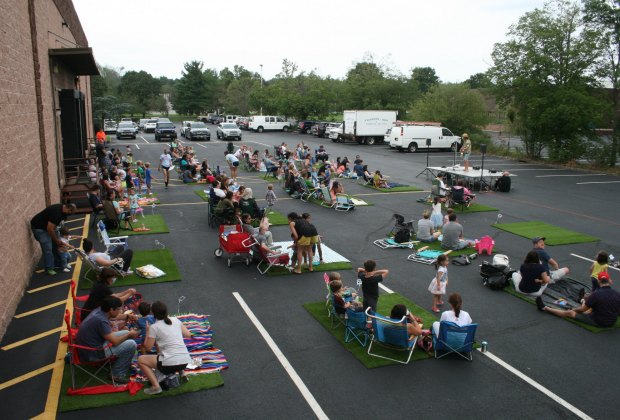 Bring a blanket and picnic and enjoy a socially distanced outdoor event at Imagine That!
32. Imagine That! hosts outdoor entertainment, such as bingo and magic, throughout September and October.
33. If your kids have grown bored with your neighborhood park, find a new playground that's worth the drive
34. Catch a Moonlight Movie from your car in the iPlay parking lot through Thursday, September 24.
35. Hear live bands every Saturday at Somerville Summer Stage through Saturday, October 24.
36. Get a glimpse of farm life in the past at Fosterfields Living Historical Farm, via a drive- or walk-thru tour.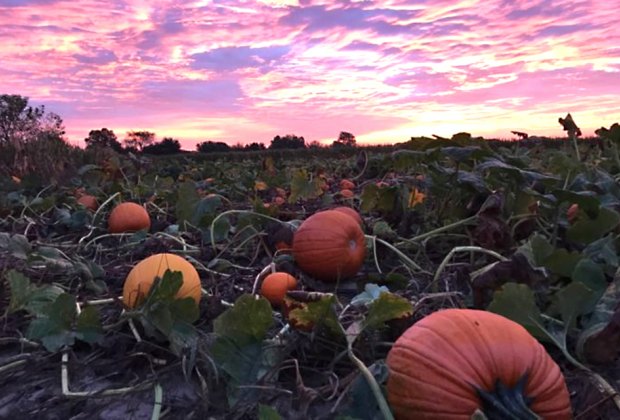 Pick a pumpkin off the vine at Johnson's Corner Farm.
37. Have fall fun every day at Johnson's Corner Farm with apple and pumpkin picking, hayrides, and a corn maze.
38. Book tickets to take in the stunning Great Jack O'Lantern Blaze at Van Cortlandt Manor in Westchester or Long Island's Old Bethpage Restoration.
39. Celebrate Halloween with a train ride, Halloween parade, and trick or treating at Ort Farms' Boo Bash on Saturday, October 31.
40. Take a scary stroll through downtown Cranford, and check out the unique scarecrows in the annual Scarecrow Stroll.
Unless otherwise noted, photo courtesy of the venues