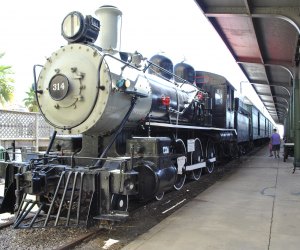 Where Houston Kids Can See Real Trains: Historic Train Depots and Museums
All aboard! Do you have a train lover on your hands? If so, this list of places to visit real trains in and around Houston is for you. Historically speaking, the Texas transit system has a history rich in railroads. To pay tribute to the larger-than-life trains that used to crisscross the country, many Houston area suburbs feature preserved train depots and museums. Many offer cheap or even FREE admission, and one even gives visitors the opportunity to ride on working trains.
The Rosenberg Railroad Museum - Rosenberg
1921 Ave. F, Rosenberg
281-633-2846
Located right next to active tracks where 30-60 trains still run daily, this museum is packed full of kid-friendly activities and historical exhibits. Kids can explore real rail cars, activate lights and sounds on an old-fashioned switchboard, see a railroad safety movie, and play in a train-themed toy room. A wooden train dubbed "Wawa's Train" and a garden railroad with model trains running throughout gives children space to play outdoors after visiting the museum.
The Galveston Railroad Museum - Galveston
2602 Santa Fe Place, Galveston
409-765-5700
Take a ride on a real locomotive every Saturday afternoon at this historic museum in Galveston. Kids can explore detailed model train exhibits, tour a preserved mail car, dining car, and passenger cars where they're allowed to sit in the seats and climb in the bunk beds. Historic artifacts and an entire room dedicated to the re-building on the museum (and entire city of Galveston) following Hurricane Ike makes this museum truly unique.
Katy Heritage Society's MKT Depot and Caboose - Katy
5615 1st Street, Katy
281-391-8400
Add this historic depot to the growing list of things to do in Katy with kids. The depot was originally built in 1898 and boasts a rich history and wealth of train artifacts inside to give visitors insight into what traveling by train would have looked like back in the day. The bright red caboose outside of the depot is eye-catching and fun for kids to look at.
The Magnolia Depot Museum - Magnolia
426 Melton Street, Magnolia
713-806-4401
Many area residents have donated photographs and artifacts to this railroad depot. In addition to railroad artifacts and a historically accurate Southern Pacific caboose, there is also a historically accurate doctor's office, barbershop, and sawmill to explore. And it's all FREE!
Tomball Railroad Depot - Tomball
201 S. Elm Street, Tomball
281-351-5484
See train memorabilia, antiques, train art, a model railroad, and meet a real train conductor at this historic depot in downtown Tomball. Outside, kids can climb the steps of a real caboose, pull the levers, and turn the exterior wheel. After exploring the depot and caboose, feed the turtles in the nearby pond or play in the splash pad if weather permits.
Heritage Museum of Montgomery County - Conroe
1506 I-45 North Feeder, Conroe
936-539-6873
Located in Conroe's Candy Cane Park, this museum showcases the rich history of Montgomery County, including the influential railroad system that runs throughout the area. There is a children's area inside the museum where kids can get hands-on with history and see what life was like back when the area was first being settled. Outside the museum, kids can see a real train, as well as an antique tractor and vintage cannon.
Sylvan Beach Depot Museum and Library - La Porte
604 Park Drive, La Porte
281-471-0493
This FREE museum celebrates the history of LaPorte, which used to be a main tourist stop on the Moonlight Express train that ran from Houston out to the seaside communities. It's filled with real train memorabilia and tons of photographs from when this train depot was in real, working order.
Top Photo: At the Galveston Railroad Museum/Photo by Ashley Jones