Splash and Play at Noah's Ark Pool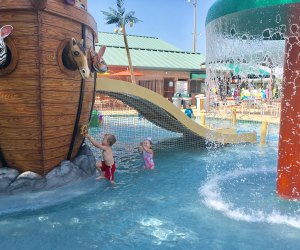 The Noah's Ark Pool in the Quillian Center (a facility operated by First Methodist Houston) is the perfect combination of a pool and splash pad with shallow water for toddlers to easily stand in, as well as several slides and many water features. You see, my son loves the water. He will let waves crash over him with reckless abandon at the beach, he lives for days spent in the backyard at his water table and he's out the door and running to the splash pad before the car is even fully in park. What he does not love, however, is swimming in pools where he can't touch the bottom. All of this means we spend a lot of time at splash pads, because he's able to experience a healthy dose of water play without worrying about if he can touch the bottom or not, and it's why we love going to Noah's Ark.
The unique pool has play features for young kids of all abilities (and comfort levels with the water).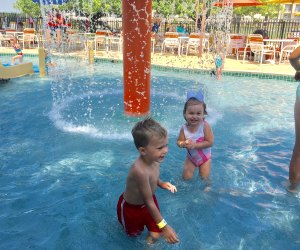 Catching water at the mushroom water drop
We decided to make the trek over to Noah's Ark on a hot Thursday morning to see what all the hype was about and arrived right as it was opening at 10 a.m. Entry to the pool is $7.50 per person (children under 1 are free), so I would definitely plan on spending a couple hours there when you go. I normally steer clear of activities like this that require a paid admission because there are so many free options available, however for $7.50 you get a completely fenced in pool with lifeguards on both sides, tables, and chairs with umbrellas and clean restrooms that also have areas to change, which are all such big perks that it's worth the admission fee for a morning of fun that's out of the norm.
Because the pool was just opening, we lucked out and had the place mostly to ourselves for the first half hour or so, and my son and his friend happily splashed around and tested out the different slides and climbed on the various animals virtually uninterrupted. Even as more people arrived it never felt overly crowded, and there was never a concern about where our kids were or if they had wandered off. The pool is designed for kids who are in pre-school and early elementary, and it felt perfect for our two toddlers, who are 2- and 3-years-old.

Taking a turn on the smaller rainbow slide
The crowning feature in the pool is - as I'm sure you can guess - Noah's Ark, which has two bigger side by side slides (easily a favorite feature for my son), another smaller slide, tunnels for crawling through, and animals at the top of the slides looking out over the pool. The lifeguards are stationed at the ladder that leads to the top of the ark and the bottom of the slides to ensure maximum safety. There's also a smaller rainbow slide apart from the ark that's perfect for younger toddlers who might not yet be brave enough for the bigger slides, a mushroom water drop, a coconut water drop, and animals that spray water.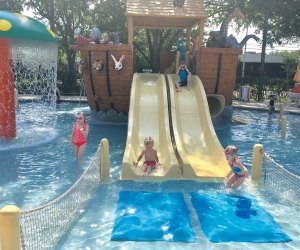 Sliding down Noah's Ark
Since the pool is only 6-inches-deep, it's an ideal depth for kids like mine who want to test out "swimming" (and by swimming, I definitely mean "walking" across the bottom on his hands while his body floats behind him) and for parents who want to wade in and interact with their kids without getting completely submerged in the water. My friend and I were able to get in the pool and walk around as our kids splashed and played without getting more than our lower legs wet, allowing us to be part of the water action with no swimsuit required. Win-win!
And if I already haven't listed enough reasons to head over to Noah's Ark, another added bonus is that patrons are allowed to bring in tabletop coolers of food and drinks or purchase food, drinks, ice cream and candy from the pool's concession stand. Playing in the water is serious business, and snacks are a necessity for fueling through all that splashing!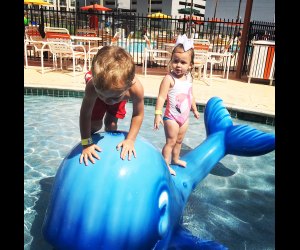 Doing a little whale watching
We ended up staying at the pool until lunchtime before calling it a day; once everyone was in dry clothes and we were ready to start heading home we made one last stop at the playground (definitely another perk!) that's located right outside the pool just to make sure the kids were nice and worn out before driving home. Like the pool, the playground is also completely fenced in, giving it an extra layer of safety. There are two different sections of the park, one more appropriate for younger kids and one better suited for older kids. Getting out that last burst of energy at the playground was a great way to bring an already fun morning to a close, and my son spent the entire car ride home talking about how much fun he had and planning his return. As far as pools and splash pads go, Noah's Ark was definitely a slam dunk in our book, and we can't wait to go back.
Helpful information for planning your trip:
Pool hours are from 10 a.m.-4 p.m. daily from the end of May to the end of August
Entry is $7.50 for adults and children 1+
Any children who are not potty-trained must wear a swim diaper
Outside food and drink are allowed in tabletop coolers
Concessions are available for purchase
On-site restrooms are available
All photos by Rachael Cherry