19 Free Things To Do with Kids at the Houston Rodeo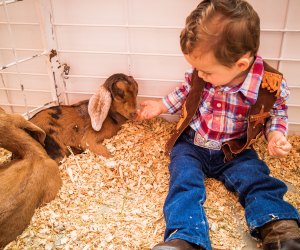 Everything is bigger in Texas, and this motto is exemplified in Houston's massive livestock show and rodeo - from the crowds to the food selections - but your resulting credit card bill doesn't have to be. After paying the price of admission, there are lots of things to do as a whole family without spending another dime. That's not to say you won't be tempted by the smells of deep-fried goodness and adorable miniature cowboy and cowgirl hats, just that it is possible to have a ton of fun at the Rodeo that's all free.
Read on for free and fun activities!
1. Petting zoo. Entering the petting zoo is free, but it does cost $3 for a small cone of food for the animals. The food isn't necessary for the kids to enjoy petting (and chasing) the animals, and the hungry goats have been known to snatch the entire thing out of younger kids' hands if they aren't careful. You can stay inside for as long as you like, and there are brushes laying around for the kids to "groom" the animals. Or in my toddler's case, use as a personal hairbrush. There is one petting zoo inside AGventure and another outside as a part of the Junction. The outside zoo is right next to Fun on the Farm.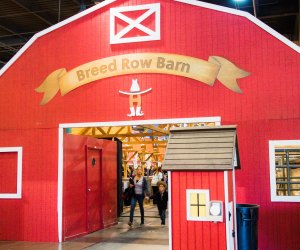 2. Breed Row Barn. Inside a red barn in AGventure, Breed Row Barn lets kids get up close and personal with a variety of some very chill animals, from cows to swine. It can get a little crowded, but the kids will love getting a front-row view of the animals.
3. Birthing center. Although this exhibit may bring some unpleasant flashbacks for moms, it's a pretty amazing area where cows and pigs welcome their young into the world. Now when we say birthing center, know that you will see all of what that process entails. It is also broadcast on giant screens above the pens in case crowds prevent you from getting close.
4. Fisheries. This smaller exhibit highlights the fishing aspect of Texas agriculture, and the best part is the Touch Tank that allows kids to feel a variety of creatures, including starfish and sea cucumbers.
5. Honey Bees. Don't worry, these busy bees are safely locked behind glass, and kids get to examine the stunning intricacies of beehives. There is usually a bee expert on-site to answer any questions and share more info about the insects. Also in this area are larger-than-life bug displays.
6. Parakeet Encounter. AGventure has a new exhibit this year! Visit Parakeet Encounter to tour a walk-in aviary, and interact and feed these friendly birds.
7. Horticulture. Also inside AGventure and in the same area as the aforementioned AGventure freebies, the Horticulture area teaches about the importance of soil composition and how it affects agriculture. Kids get to scoop their own soil and take some sunflower seeds to grow at home.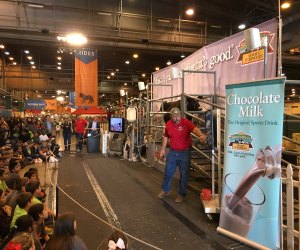 8. Milking parlor. At this area, there are seats surrounding a stage where presenters give demonstrations on how to milk a cow and what happens to the milk during its journey to your local grocery store.
9. Poultry and rabbits. You don't have to pay a thing to see the adorable and fuzzy baby chicks and rabbits. At the rabbit exhibits, kids can even interact with the animals.
10. Tour of Texas. Learn about the different regions of the Lone Star State inside of this exhibit. From the Hill Country to Big Bend, kids learn about the areas' various agricultural landscapes with interactive displays and models.
11. We're Small Y'all Barn. Just when you were sure you couldn't handle any more cuteness after those baby chicks, the rodeo hits you with this - a barn full of miniature animals. Kids get to see and touch these little guys, including miniature horses and donkeys, and learn how the breeds came to be.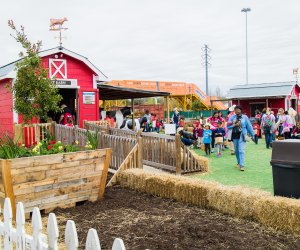 12. Fun on the Farm. Just outside of AGventure at the far end of NRG is Fun on the Farm, which is a part of the kid's carnival area, The Junction. This is my favorite kid-friendly attraction at the rodeo! You wind your way around a "farm" where kids get to learn how to grow crops and plant their own seed (it's a plastic token), pick their own (plastic) produce, learn about how to milk cows and shear sheep, and at the end of it all, they can sell the produce they picked at the farmer's market. The "money" they make from their sale earns them a free snack at the end of the line! Even if the line is long when you arrive, it's worth the wait.
13. Mutton Bustin.' While participating in Mutton Bustin,' AKA the rodeo's single-greatest event, isn't free - it costs $15 per participant - it's FREE to watch fearless those 5- and 6-year-olds hold onto fluffy sheep for dear life. You'll find the arena on the south side of The Junction right next to the regular rodeo carnival.
14. Live entertainment. At the Stars Over Texas stage in The Junction (which is outside), you can catch family-friendly shows, demonstrations, and even a talent show, all day long. Check the on-site calendar on the day of your visit for the full lineup.
15. Born to Buck®. Get up close and personal with the fan-favorite bucking horses of the Rodeo. This exhibit showcases their lives both in and outside of the arena, shows just their importance to the Rodeo, and pays tribute to their amazing athleticism.
16. Pig races. Watch adorable piglets race around a 150-foot track. For viewing, it's standing room only, and the races are over fairly quick, so make sure to get there early before each competition.
17. Balloon Art. Check out the new balloon-filled mural inside of AGventure. This 'living' balloon art will evolve and change throughout the duration of the Rodeo, making it a unique experience you don't want to miss seeing.
18. Extreme Dogs. The Junction has a new show, and it's featuring some of our favorite four-legged friends. Extreme Dogs features rescue dogs showing off their agility by diving off docks, completing high jumps, mastering tricks, competing in weave pole racing, and more.
19. Farming Simulator. Build your own virutal farm at the Farming Simulator, then test out if you could hack it as a farmer by engaging in a virtual hay-stacking competition. These competitions are featured on screen so that visitors can see the farmers go head to head cheer on participants.
And of course, regular admission gains guests entry to the daily livestock and rodeo competitions, which include mounted shooting, a variety of horse shows, and more. Check the website for specific times for shows and competitions.
All photos by Shary Peck/Mommy Poppins
This post originally published in February 2018.