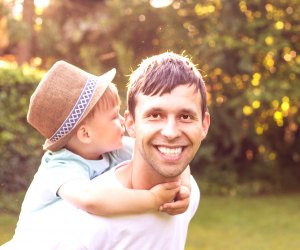 14 Things Dads Actually Want to Do for Father's Day in Boston
With Father's Day nearly upon us, it's time to plan a day of family fun to celebrate dad. We've found that the perfect recipe for Father's Day activities includes a balance of something guys really want to do with something you and children will also enjoy. Sure, you can scour our summer fun guide for ideas, but trust us (and the dads in our lives who we tapped for approval): These 14 outings are sure to make fathers feel extra special and make memories for kids at the same time.
1. Visit a brewery. As craft beer has gotten more popular in the last few years, small breweries have popped up all over the Boston area. And many of them are more than welcoming to families! Several have outdoor seating, kid-friendly menus, and of course, local brews for mom and dad.
2. Go for a hike. Whether you have a baby or a teenager, there's a hike for your family in the Boston area. Stay close to home at the Middlesex Fells or Blue Hills Reservation, or venture farther afield to try the Crane Beach Dunes. Maybe you'll work up an appetite for some ice cream as a post-hike treat.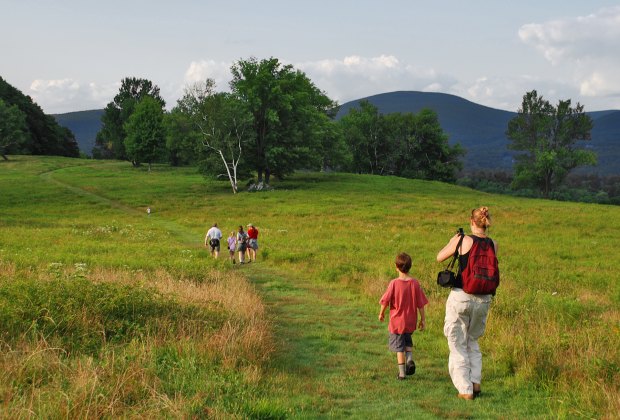 Hike over to Stone Hill at The Clark - Williamstown. Photo courtesy of Massachusetts Office of Travel & Tourism
3. Dine out. While it can be fun to whip up dad's favorite meal at home, it can be even more festive to go out (and someone else cleans up!). We've got the lowdown on where to get brunch or breakfast with kids in Boston, Cambridge and Somerville. Or check out one of these places where kids can play while you eat (and relax).
4. Hit the beach, lake or pond. Father's Day comes right before the official start of summer, which means it's the perfect time to hit a patch of sand and enjoy a swim. If dad prefers fresh water, dip your toes into a local lake or pond. Or go to a local beach, and cap the day off with fresh seafood at one of these North Shore spots.
5. Go boating. There are a ton of fun ways to get out on the water in Boston. Rent a kayak or canoe, take a river cruise or go sailing on the Charles. Or head to the harbor where you can hop aboard the Codzilla, a tall ship, or whale watch.
6. Go on an adventure. If dad is a thrill-seeker, there are plenty of ways to find some excitement right near the city. Take dad to a nearby obstacle course where the whole family can get in on the action. Or catch some air when you zipline through the trees.
Dads tend to enjoy the thrill and challenge of ziplining just as much as kids do. Photo courtesy of TreeTop Adventure, Canton
7. Visit an auto museum, fly a kite, have a picnic and romp on a playground. Larz Anderson Park in Brookline is truly a one-stop fun shop. There's a really cool auto museum with "America's Oldest Car Collection. It's also one of the best places in town to fly a kite, there are plenty of places to picnic and it has a terrific playground. (You'll probably find my family there this year, as this was my husband's top pick!)
8. Get out of town. Sometimes you just need a change of scenery and that's where a family-friendly day trip comes in. We've got 24 suggestions, from visiting Battleship Cove in Fall River to seeing historic Portsmouth, New Hampshire, so there's sure to be something that every dad will like.
9. Visit the Museum of Science or MIT Museum. While we've been to the Museum of Science and MIT Museum many times, my husband can never get enough of the mind-expanding exhibits at both. Check out the BODY WORLDS & The Cycle of Life exhibit at the Museum of Science or Drawing, Designing, Thinking: 150 Years of Teaching Architecture at MIT, going on now.
10. Get sporty. Unfortunately, the Red Sox are away on Father's Day in 2019, but that doesn't mean you can't show your team spirit. Take a tour of Fenway to get a behind-the-scenes look at the historic ballpark. If football is more dad's thing, visit The Hall at Patriot Place. Or relive some of the best moments in Boston athletics at the Sports Museum inside TD Garden.
11. Escape a room! If dad loves a brain challenge, visit one of these five escape rooms and quests for a family challenge. Not only are these tons of fun, but it's also a great way to work together and problem solve as a family.
12. Go mini golfing. While taking the whole family for 18 holes of golf may be unrealistic, if dad loves the green, taking the whole family for 18 holes of putt-putt is totally doable! Added bonus—lots of these mini golf places also offer ice cream and other fun activities like go-karts and batting cages.
13. Play games! For all the dads that are truly still kids at heart, a day at the arcades is a winner. Visit the gigantic Apex Entertainment Center for arcades games, bumper cars, rope courses, and more. Or opt for old school arcades like Salem's Willows Park.
14. Go for a spin at an amusement park. Most parks open up in the Spring, making Father's Day the perfect time for your family's first ride of the season! Spend the day with dad braving the rides, trying your luck at carnival games, and indulging in some tasty treats.
Originally published June 2014