Family-Friendly Spa Resorts and Hotels Near Boston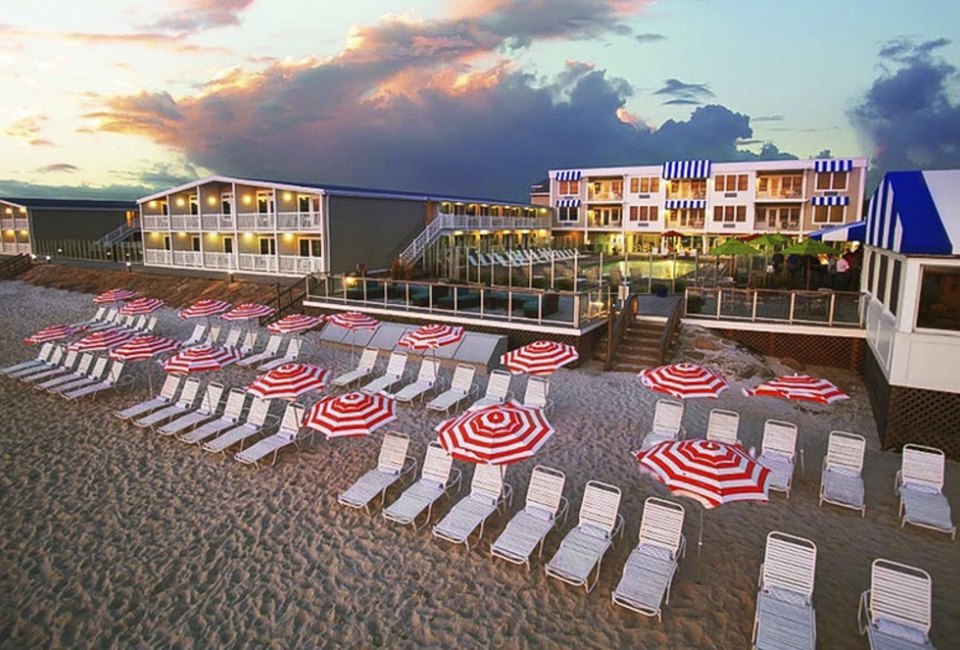 4/11/22
- By
Michael Del Llano
New England is known for its history and natural beauty, but Greater Boston is also home to some amazing, family-friendly resorts and spas. Whether you're in the mood for beachfront relaxation or sweeping mountain vistas, we've got you covered. These hotels and resorts have the right amenities for families with kids. Many also have the luxurious spa treatments that overworked parents could use any time of year!
The following resorts are some of New England's top family-friendly staycation spots. Some are within an hour of Boston. These resorts combine the amenities parents need with the relaxed atmosphere they want. If you're looking for a little more adventure and excitement in your family vacation, check out our guide to the 40 Best Amusement Parks in the US for a Family Vacation. You can also find year-round rsort ideas in our 9 Best Florida Beach Vacation Destinations for Families. And our Guide to the Best Indoor Water Parks for Easy Family Getaways can point you to some fun destinations around New England.
Family Friendly Resorts and Spas Near Boston

Put a smile on your face at a family resort near Boston. Photo courtesy of Cape Cod Family Resort, Facebook.
1. Cape Cod Family Resort - West Yarmouth, MA
Adjacent to the Cape Cod Inflatable Park (and a water park, and an arcade), this West Yarmouth resort appeals to families in search of summer fun. Standard and family rooms include fridges and microwaves, but the best perk is tickets to the attractions. The Inflatable park has games, slides, and obstacles for toddlers as well as big kids, Wicked Waves outdoor water park gives little ones a great way to cool off on a hot day. And Shark Bites Arcade is the largest arcade on Cape Cod. The resort also has a hot tub, an indoor and an outdoor pool, and a cafe.
2. Wequasset Resort and Golf Club - Harwich, MA
This 5-Star resort in Harwich combines luxury with family-friendliness. The resort's Children's Center engages kids ages 4-12 with stimulating and fun activities. The center has a pirate-ship themed playground, complete with a splashpad and ball pit. Links-loving families need no more reason than the golf course, Cape Cod National; it ranks as one of the best courses in New England and the nation. Wequasset is also home to the Cape Cod Jazz Festival.
3. Sea Crest Beach Hotel - North Falmouth, MA
These waterfront and water-view rooms, suites, and cottages bring the ocean practically to your doorstep. The Sea Crest's beach-centric experience includes family games in the surf, kayak and paddleboard rentals, and delicious seafood. A private beach, indoor & outdoor pools, and ice cream should keep the kids occupied while mom and dad unwind with yoga classes. The resort has an arcade and gift shop as well.
4. Nantasket Beach Resort - Hull, MA
Less than 20 miles from downtown Boston, this historic hotel has stunning views of Massachusetts Bay. Two ballrooms overlook the beach, while two restaurants satisfy every craving. The indoor pool ensures the kids will have fun whether rain or shine. An onsite spa caters to guests who aren't relaxing on the rooftop deck. For those who'd like to get here quickly, the Nantasket Beach Resort is just a 15-minute ferry ride from the city.

Dive in! Photo courtesy of Vacation Village
5. Vacation Village in the Berkshires - Hancock, MA
This national resort concept offers family-friendly accommodations in the Berkshre Mountains of Western Massachusetts. The hotel has spacious suites and a laundry room on every floor. Pools include a spacious outdoor, several indoor, and a children's pool. Vacation Village also has a playground, an arcade, and hiking trails. An on-site movie theater entertains kids with age-appropriate features.
Family Friendly Resorts and Spas Around New England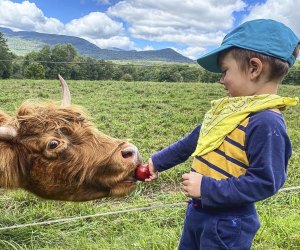 Kids can join a "Meet the Cow" tour at the Trapp Family Lodge. Photo courtesy of Facebook.
6. Trapp Family Lodge - Stowe, VT
The rsort town of Stowe has an Austrian-style lodge in the midst of Vermont's Green Mountains. See where the Von Trapps (yes, the Sound of Music Von Trapps) put down roots. Indoor and outdoor pools. The Trapp Family Lodge has skiing and snowshoeing in the winter months, hiking and mountain biking in the warmer months. The fitness center has two massage rooms, offering therapeutic and hot-stone massages. And a stay at the resort includes a tour of the Von Trapp Brewery!
7. Mountaintop Inn and Resort - Chittenden, VT
This Vermont resort gets families away from the daily grind and into a relaxed state of mind. This scenic resort's activities include horseback riding, hiking, and swimming–in the pool or at the resort's private beach on a 740-acre lake. A restaurant and tavern make meals to go, ideal for a picnic while enjoying their 40 miles of hiking trails. The spa and salon pamper guests with a variety of services.

8. Tyler Place Family Resort - Swanton, VT
Tyler Place offers week-long experiences in rural Vermont. Age-staggered activities are run by counselors, letting kids (and parents) engage in stimulating encounters with their peer groups. This all-inclusive resort offers buffet-style meals featuring fresh, local ingredients. The lounge serves Vermont microbrews, and on-site sitters allow parents to step out for a night (or for several of them). Accommodations include family suites and cabins. This resort is family owned.

Pair your ice cream with a family-sing-along. Photo courtesy of Sebasco Harbor Resort.
9. Sebasco Harbor Resort - Phippsburg, ME
This midcoast resort has 0ver 130 rooms and suites in buildings throughout 550 waterfront acres. One building whimsically evokes a lighthouse. Their onsite spa provides a full range of massages, treatments and other services. Their restaurants prepare meals with fresh seafood, hand-crafted cheeses and local produce. A retro rec center boasts vinatge candlepin bowling lanes, ping pong, and more. Kids will love the pool overlooking the harbor.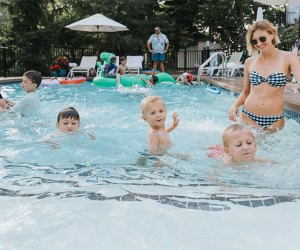 Dive into family fun at the Lodge on the Cove in Kennebunkport. Photo courtesy of the lodge.
10. The Lodge on the Cove - Kennebunkport, ME
This fun resort adds elements of a traditional motor lodge with the modern comforts of a family resort. Spacious rooms (4 of which are dog-friendly) all include microwaves and refrigerators. The room with bunk beds is sure to satisfy the kids. The resort has lawn games and a poolside restaurant. Bikes and beach towels are available for guest use, and the shops and restaurants of Kennebunkport are close by.