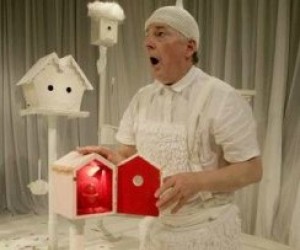 White: A Whimsical New Show Just for Preschoolers
I love taking my kids to see live theater, but since they're both under five, there aren't a whole lot of shows that are appropriate for them (or, more to the point, that engage them). But every season, the New Victory Theater presents a few productions that are specifically aimed at preschoolers. That's why I jumped at the chance to see White, a short, low-key show for 2- to 5-year-olds.
Presented in the New Victory's intimate New 42nd Street Studios, the show follows Cotton and Wrinkle, two characters who lovingly care for their all-white world and work hard to keep it completely color-free. The guys sweep the white floors with white brooms, sleep in a white teepee, wear all white clothes and catch white eggs from the sky. But one day, a red egg appears, and suddenly Cotton and Wrinkle realize what they're missing.
Just like Potato Needs a Bath, which my kids and I saw last season, White is performed in a small studio where everyone sits on the floor at the foot of the performance space (we ended up next to Naomi Watts and Liev Schreiber and their kids, no less!). My children were mesmerized by the sweet music, floating feathers, twinkling lights and quirky set. Kids can really relate to Cotton and Wrinkle. Even though they're played by adults, they act like preschoolers. They start out as control freaks who want everything their way, but they also have this amazing curiosity, which leads to changes in their rigid world. Although the story is simple, White still delivered a powerful message. In fact, days later, my 3-year-old son continues to ask incredulously why Cotton and Wrinkle wouldn't want color in their lives, so clearly the show made an impression.

White is recommended for children ages 2-5 and I think parents should stick to that, if possible. I brought along my 16-month-old and although he surprised me by sitting still for the first half, he got restless in the middle. Luckily, families can take a break in an adjacent room if necessary, and then return to the show. At 40 minutes, it's a great choice for first-time theatergoers, and even includes a brief pre-show arts and crafts session, when kids can get creative with paper, crayons and colored string.

In conjunction with the show, the New Victory is holding a pair of shadow puppetry workshops for children ages 3-5 on Saturday, November 5. The cost is $17 per person.
White is playing at New 42nd Street Studios through Sunday, November 13. Tickets are $20. Visit the website for a full schedule.
OUR LATEST VIDEOS