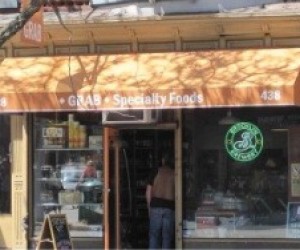 Best Foodie Spots Near Outdoor Music Concert Series in NYC
Summer in New York City can feel like one season-long music festival. There are an incredible number of free outdoor concert series around town, and my family and I try to hit as many performances as we can. (We never say no to complimentary culture.)

Since we often make a day (or evening) of it, some kind of meal is always involved, and as an ex-Food Network employee, I admit that I can be picky.

Some series, like Celebrate Brooklyn!, have wonderful concessionaires to complement the amazing performances. Others, like Waterside Plaza's Music Under the Stars, leave the food up to you.

Here are five concert series that promise awesome eats or have great places to pick up snacks nearby.


Where to eat near Celebrate Brooklyn! in Prospect Park
A stone's throw from my apartment, this series is by far my favorite. In the past I've packed a picnic, but since beloved Ditmas Park restaurant
The Farm on Adderley
is running a stand there this year, I may bring cash instead of a basket full of food. The outpost will serve seasonal bites and is teaming up with
new ice cream shop Ample Hills
for dessert. Since the lines will most likely be long, my backup spot is
Grab
, a small gourmet deli that has an amazing selection of cheeses, dried meats, artisanal breads, craft beers and cupcakes from Baked.
Union Market
, a larger purveyor with many organic items, is also nearby.
Where to eat near SummerStage in Central Park
The
Brooklyn Flea
is once again setting up shop, which means you can try eats from Pizza Moto and Asia Dog, followed by scoops from my favorite ice cream parlor, Blue Marble.
Where to eat near the R&B Festival at Metrotech in Fort Greene
Since the concerts start at noon, they're perfect for picnic lunches, and the nearby
Greene Grape Provisions
has everything you need. Opened by the two women who own a wine shop up the street, Provisions has produce, cheeses, meats, Balthazar pastries and other local eats. If you prefer to hit a restaurant after the show, try
Dino
.
Where to eat near Madison Square Park
The Flatiron green space actually hosts two concert series: the adults-aimed
Madison Square Music
on Wednesday evenings, which features jazz, bluegrass, folk, R&B and soul artists, and
Madison Square Kids
, which showcases kindie rock bands on Tuesday and Thursday mornings. While eating at
Shake Shack
seems like a no-brainer, the line is always daunting—particularly right before or after a show. Instead, try pan-friend dumplings from
Rickshaw
, sandwiches from
'wichcraft
or big gourmet salads from
Chop't
. For dessert, hit
City Bakery
for enormous cookies or
Tarallucci e Vino
for addictive cream-filled doughnuts.
Where to eat near Waterside Plaza's Music Under the Stars in Murray Hill
This series is held at a luxury high-rise on the East River, and it's a bit of a schlep from, well, most everything. Before heading there, grab some southern grub to go at
Hill Country
or upscale pub food from
The Breslin
.
Petite Abeille
is also a good bet for a family-friendly dinner before a show.
See what else we've written about
food in the city
, including our favorite
family-friendly restaurants with outdoor seating
and
ice cream shops near great playgrounds
.