25 Indoor Places to Play in NYC to Beat Summer's Heat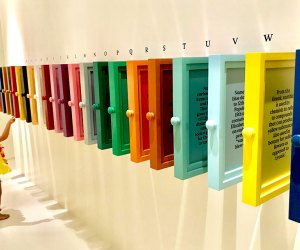 8/6/21
- By
Sara Gramling
Summer is traditionally the season for spending as much time outside as possible. Except sometimes it's just so…hot. Our top picks to beat summer's heat include indoor play spaces, museums, and local shopping destinations where kids can play—all while enjoying some industrial AC. Find more fun things to do inside—in any season—in our Guide to Indoor Fun.
Subscribe to our newsletters to get stories like this delivered directly to your inbox.
This magical play space lets your child's imagination run wild. From flying to space on a rocket ship and building a skyscraper in the play space's construction zone and serving up favorite foods in the diner or putting out fires on the fire truck, your little ones can spend hours playing in this perfect spot to beat the summer heat. Designed for children ages 6 and under, the play space offers 2-hour play sessions. Be sure to bring your socks as all feet must be covered. Food and drink are not allowed at this time.
2. Sip & Play – Park Slope, Brooklyn
When it's rainy or sweltering outside, venture indoors to play one of the 300 board games available at Park Slope's first board game café. Fortify yourself for friendly competition with some snacks from the kitchen; the menu includes chicken poppers, onion rings, sweet potato fries, and there's a rotating menu of beer from local breweries. It's the perfect way for the whole family the while-away the day—choose from its slew of board games, including Apples to Apples, Bananagrams, Battleship, Clue, Monopoly, Pictionary, Risk, and Sorry!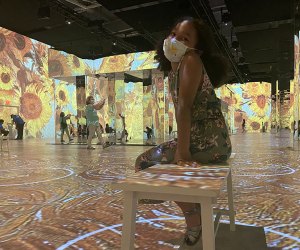 Snap a picture in a field of sunflowers, painted by Van Gogh, at Van Gogh: The Immersive Experience on the Lower East Side. Photo by Jody Mercier
3. Van Gogh Exhibit – Lower East Side & Battery Park City
It's no secret by now that there are two immersive Van Gogh exhibits taking over the city this summer. Whether you choose to go to the Immersive Van Gogh Exhibit—designed by Tony Award-nominated David Korins (Hamilton, Dear Evan Hansen)—or Van Gogh: The Immersive Experience, you're in for an eye-popping treat and plenty of industrial AC. Read our full review before booking your timed-entry tickets.
Let your kids go wild with the colors of the rainbow in this immersive experience, which brings color to life in all sorts of ways. Jump into the ball pit with 500,000 balls, take pictures at the photo stations, Find Your Soul Color and dance away, marvel at the Balloon Room and its huge unicorn balloon, and enjoy pre-packaged, color-coordinated food, like ice cream and macaroons, from local vendors. There's no end to the fun that can be had at this colorful stop.
Your crew can play the day away while you enjoy a break at the café overlooking the play space. Kids can play dress-up with the store's costumes, pretend to cook in the little kitchen, build a train track, or play with baby dolls. Big kids (up to age 6) enjoy climbing on the play structure, going down the slide, and jumping in the ball pit. Its café offers a range of snacks and light fare, including Pirate's Booty, string cheese, smoothies, and sandwiches. Book your playtime in advance on its website, and be sure to bring socks and a mask.
RELATED: Summer Fun Guide for NYC Kids

The recently debuted ArtCamp in Columbus circle welcomes creative kids for indoor playtime. Photo by Jody Mercier
6. CAMP – Multiple Locations
This innovative play space and toy store has steadily spread across the city since the debut of its flagship Flatiron store. With locations in Downtown Brooklyn, Hudson Yards, and a new Columbus Circle outpost, there's plenty of fun in each store. We love peeking behind the magic door to see what's new, including its ArtCamp theme at Columbus Circle and the upcoming debut of Cosmic Camp on Fifth Avenue.
After you've cooled down with a visit to this contemporary art spot, step outside to the fifth-floor gallery for family artmaking during the Whitney's Outdoor Open Studio. Artmaking happens on Saturdays, and timed-entry tickets are required.
Step inside this 21,000-square-foot store dedicated to all things Wizarding World. Visit the wand shop to try your hand a duel and let a wand pick you. Gawk at the giant Fawkes the Phoenix in the entryway, pick up gear in your house colors, peep props from the popular films, and ride the newly opened VR experiences. Be sure to swing by the Butterbeer Bar before you depart for a cool, foamy concoction.
RELATED: Best Things To Do in NYC in August 2021 With Kids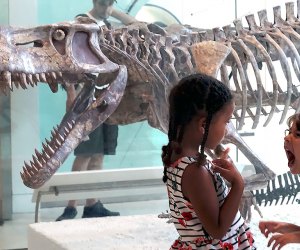 Roar with the dinosaurs at the American Museum of Natural History. Photo by Jody Mercier
Arguably the best museum for families in NYC, the Museum of Natural History is known worldwide for its impressive collection of dinosaur fossils, including a huge T. rex skull, the 122-foot Titanosaur, a Triceratops, and so much more. Head to the museum's Hall of Ocean Life to see the breathtaking blue whale model, made of 21,000 pounds of foam and fiberglass. There's so much to see that you could easily spend days just roaming the halls.
Before going to the top of the tallest building in the Western Hemisphere, you can watch videos detailing its construction. Be sure to sign the registry of guests (more than 10 million visitors so far). Once in the elevator, zip up to the 102nd floor—be forewarned, the trip takes less than one minute! The observation deck—which is completely enclosed—affords breathtaking, panoramic views of Manhattan.
11. Funtopia USA – Middle Village, Queens
Funtopia lives up to its name, offering different play areas for various age groups, including a jungle gym and toddler area with tunnels and slides. Older kids love bumper cars, laser tag, and more than 100 arcade games. There is also a concession stand if anyone needs a snack.
RELATED: 36 Summer Day Trips from NYC to Take as a Family

Pop into the Brooklyn Children's Museum for some little-kid-friendly playtime. Photo by Janet Bloom
The world's first children's museum offers several different play areas for kids ages 7 and younger. Your kids can play in kid-sized shops at World Brooklyn; there's a bakery, a pizzeria, a travel agent, and a grocery store. Explore the museum's community garden, where kids can immerse themselves in the greenhouse. Spend time exploring the Totally Tot's section with water, sand, music, dress up, and blocks. Don't miss the Museum's sensory room and science center. While you're there, be sure to explore the brand new A-Maze-D exhibit, which has turned the second-floor gallery into a maze made from corrugated cardboard boxes.
This museum has 12 indoor and outdoor exhibits, dance and art workshops, and story times. Visit the Block Harbor to let the kids build; play life-size chess, dominoes, checkers, or Connect Four; explore the bugs and arthropods section; discover different environments in the rainforest canopy; drive a dogsled; or dive in the ocean floor.
This indoor escape has a little something for everyone, from mini golf to arcade games. The Shipwrecked golf course is made of completely reclaimed and recycled materials, taken from an outdoor location in Maryland and relocated to the heart of Carroll Gardens. All 18 holes are indoors, making it a perfect summer adventure out of the sun.
RELATED: 100 Free Things to Do in NYC This Summer With Kids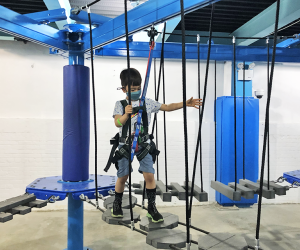 Area 53 offers plenty of activities for all ages across its trio of locations. Photo by Diana Kim
Play to your heart's content at Area 53, which offers indoor laser tag, obstacle courses, and more fun, plus outdoor paintball and water sports attractions. Its Williamsburg location is the largest and houses its indoor paintball and an adventure park.
With 40 bowling lanes, a small laser tag arena, an arcade, and excellent bar food, Bowlmor is the perfect place to hide out from the too-hot sun. It can also arrange kids and teen parties if you're traveling with a crowd. Find more fun bowling alleys to explore citywide, too.
17. Lego Store – Flatiron & Rockefeller Center
The Flatiron Lego Store offers tons of space for Lego-loving kids to enjoy, including a Mini Master Builder Bar dedicated to creating their very own Lego masterpiece. While you peruse the aisles, marvel at the impressive Lego art, including an 8-foot-tall Statue of Liberty torch. A bit further north, you'll find the newest city outpost, a completely new, two-story Rockefeller Center Lego Store based on a "retailtainment" concept, overflowing with models, photo ops, and experiences.
RELATED: 50 Fun Things To Do to Cool Off in NYC This Summer With Kids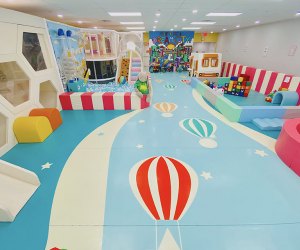 Dream City offers a bright, clean play area to explore. Photo courtesy of the play space
18. Dream City – Forest Hills, Queens
This impressive 6,200-square-foot play space has a little something for everyone, including a wood cube pit with dump trunks and shovels, a dress-up room, a ball pit, and plenty of climbing structures. Reservations are required, as well as socks for both kids and adults.
19. Brooklyn Museum – Prospect Heights, Brooklyn
Beat the summer heat and take in some culture at our favorite, kid-friendly Brooklyn Museum. Strollers are allowed throughout, and capacity remains limited, which means you'll have more room to maneuver through the exhibitions. Don't miss the KAWS exhibit, which runs through Monday, September 6.
20. Playday – LIC and Cobble Hill
This pair of self-described creative micro-schools offers fun classes to get the creative juices flowing. Consider signing up for a morning doodle hour or testing your skills at a variety of other classes, ranging from grown-up-and-me classes to full- and half-day camp options and single-day options. Register for all programs in advance.
RELATED: 100 Things To Do in NYC With Kids Before They Grow Up

There's plenty to explore at The Cliffs Harlem's sprawling location. Photo by Jody Mercier
21. The Cliffs – Multiple Locations
With a brand new Harlem outpost, plus locations in Long Island City, Gowanus, and even an outdoor spot in Brooklyn Bridge Park, The Cliffs offer plenty of fun bouldering walls to explore, and no two visits are ever the same. If you want the kids to have a little instruction, register for its youth programs, including summer camps, competitive programs, and group and individualized lessons. A low teacher-to-student ratio helps climbers of all ages build confidence. The Cliffs is committed to providing members with an inclusive climbing community and has launched a Diversity, Equality, Inclusion, and Action Initiative to build on its community aspect.
Get moving at this rock climbing haven located in the heart of Gowanus. For kids, the space offers several options to teach them the art of rock climbing. During the summer, enjoy its all-day summer adventures (ages 5-14) program, which includes climbing challenges, STEAM activities, and team-building exercises. Older kids can register for intro to climbing classes to learn bouldering basics (age 14 and above).
Adults and children alike love this museum. Check out its impressive Jim Henson exhibit, which pays tribute to The Muppets and its esteemed creator. Other fun, family-friendly picks include its exhibition dedicated to The Simpsons, and a temporary display on Stanley Kubrick's Space Odyssey.
RELATED: 50 Indoor Activities for Kids on a Rainy Day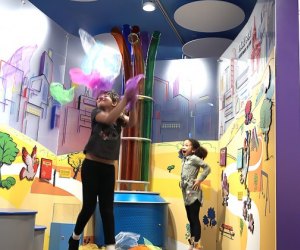 Kids are delighted to explore the hands-on fun at the Children's Museum of Manhattan. Photo by Jody Mercier
Like the Brooklyn Children's Museum, this spot has a little something for every kid. Little ones can feed Alphie the Dragon letters or visit the Dora and Diego gallery on the second floor. The museum also has rotating exhibits to keep things fresh, including Right to Vote, Superpowered Metropolis: Early Learning City, and Inside Art.
Celebrates the city at this museum dedicated to its history and culture. We always love peeking into the Stettheimer Dollhouse and exploring its centerpiece, New York at its Core. Other current exhibitions include New York, New Music, a look back at '80s music, and Activist New York, a series about social activism from the past and present.