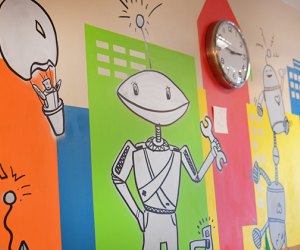 30 Fun Ways to Get NYC Kids Ready for Back to School
Summer is ending, and with school just around the corner, we can hear the kids' groans (and parents' cheers) already. But making that leap from summer funlike water slides to the classroom chair isn't always easy. All summer we've been sharing great ways to keep the kids engaged with brainy, but fun activities through our Summer Slide Busters guide. From storytime to science experiments, we've collected plenty of activities to keep little ones busy and learning. Need book suggestions for the rest of the summer? The NYPL even shared a host of summer reading book lists for all ages, including grown-ups.
What else can you do to prepare your kids for school? Well now we're sharing 30 ideas for fun stuff to do around NYC with the rest of the summer that will get the kids' brains back in gear, from cool free drop-in classes to outdoor learning that will hardly feel like school even as they soak up a bit of biology. So read on to get started on one, five, or all of these 30 activity ideas.
1. Finish up any lingering assigned summer reading or get a head start with that fall reading list by exploring the stacks at your new favorite bookstore, stay for reading time, or even listen to the author read your kids' favorites.
2. Turn a trip to the zoo into a lesson in biodiversity and conservation. Save money by timing your visits with free admission days.
3. Who said math is boring? Help your kids learn math through educational board games and apps.
4. Stop by for a drop-in chess class at Rockefeller Park (adults are welcome, too) or pay for a session at Stories Bookstore and Lab. Chess improves concentration, strategic thinking, and problem-solving.
5. School isn't just about brain smarts: let your child explore sports at the Summer Sports Experience at Cpl. Thompson Park on Staten Island. Keep your mind and body limber by trying a martial art with the entire family at the Inwood Hill Park Family Capoeira event (ending soon).
6. Explore nature through art at the New York Botanic Garden, Wave Hill, or Riverside Park.
7. Stave off the rainy-day blues with indoor arts and crafts projects, exercising fine motor skills and basics on colors, shapes—and yes, sharing.
RELATED: August GoList: Best Things to Do with Kids in NYC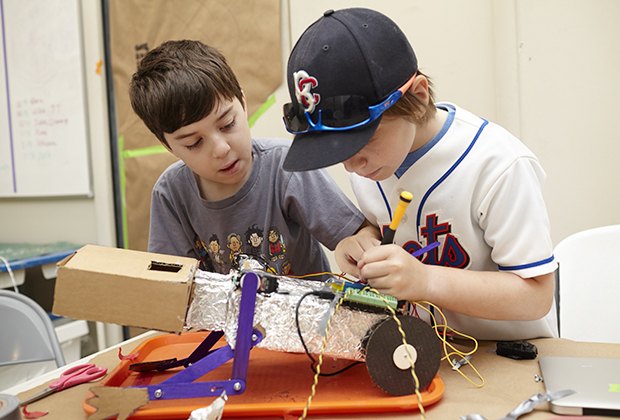 Let your child flex his or her brain at the Brooklyn Robot Factory. Photo by Roy Beeson/courtesy of BRF.
8. There's no better way to get hands-on with math and science than by making robots. Visit one of our top picks for robotics classes, with some classes admitting kids as young as 3 years old.
9. Brush up or go in-depth on new and old subjects by visiting NYC museums. Learn about marine life at these locations; take a history lesson at the New-York Historical Society; or conduct a science experiment at the New York Hall of Science.
10. Explore the science of flavor and cultivate your kids' palates at the Museum of Food and Drink.
11. Get hands-on with cooking classes where they can learn the science behind cooking and make their own delicious foods.
12. Does your child know what to do in an emergency? Send him or her off to school safe and informed thanks to the Jewish Children's Museum's Kids to the Rescue interactive exhibit.
13. Follow the pop-up learning center from the Uni Project around the city as it sets up in various locations. Equipped with activities that foster reading, writing, and learning, this popup is like a school on wheels.
14. Build confidence and self-esteem through sing-along events around the city. Visit Elk Cafe to jam with Frank from Rolie Polie Guacamole (or one of its other kid-friendly musical guests), or join Lillypad music at Normal & Jules.
15. Teach your kids real-world survival skills and an appreciation of nature with a camping trip to one of these family-friendly sites near NYC.
16. Dust off those storytelling skills with these NYC writing classes.
17. Go fishing in Prospect Park, no fishing pole necessary. Kids can get up close and personal with marine biology and ecology, collect their own bait, and of course, have fun.
RELATED: 5 Ways to Ease the Transition to Preschool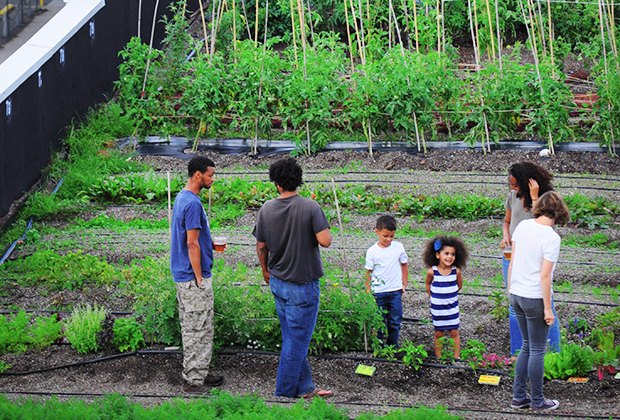 Urban farming is a hit at Brooklyn Grange's rooftop garden. Photo courtesy of Brooklyn Grange.
18. Where does our food come from? How do vegetables grow? You don't have to go far to teach your kids about farming, just visit one of NYC's urban farms. Randall's Island hosts an urban farm exploration day, Governors Island's Teaching Garden is open every weekend in the summer, and the Brooklyn Grange offers tours and classes across its three NYC locations.
19. If your child has just reached preschool age, September is an exciting time. Prepare him or her for that first year of school through preschool play at the Robert F. Wagner Jr. Park.
20. Look to the stars at the High Line's stargazing events. Aspiring astronomers can look through a telescope and talk with experts from the Amateur Astrologers Association.
21. If a night under the stars piques your child's interest, visit the American Museum of Natural History's Hayden Planetarium for an immersive stars and planets exhibit.
22. Do your kids know how water reaches their faucets? What exactly is rain, anyway? Children can learn the answers at the Dynamic H2O exhibit from the Children's Museum of Manhattan. This interactive exhibit lets kids go hands-on with the water cycle, trying their hands at a potential future career with water, such as a chemical engineer.
23. Learn with puppets as they retell classic fables such Puss in Boots or try one of these other children's shows playing this summer.
24. Take in modern art outdoors with these interactive exhibits around NYC.
25. Head to the Museum of the Moving Image, where screentime becomes interactive: learn about Kermit's rise to stardom, the art of filmmaking, and other behind-the-scenes news.
25. Take in some local history by visiting one of NYC's historic houses, such as Morris-Jumel Mansion in Manhattan, the oldest in the city.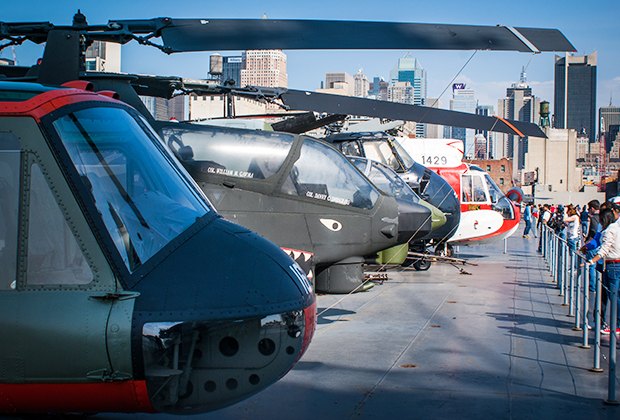 Explore naval history and more at the Intrepid Sea, Air & Space Museum. Photo by Clemens v. Vogelsang via Flickr.
26. Visit a living piece of naval history at the Intrepid Sea, Air & Space Museum. Your child can learn about ships, warplanes and the history of naval warfare while you geek out over the museum's new Star Trek exhibit. Hey, you could use some back-to-school prep, too.
27. For even more naval and ship exploration, visit the South Street Seaport Museum and the rest of the historic neighborhood.
28. Expose your kids to another culture with a visit to the Museum of Tibetan Art, the Museum of Chinese in America, or another NYC institution.
29. Encourage your kids to explore the history of their surroundings with a walking tour. Learn about the secrets hidden under your feet with expert tour guide Joyce Gold; discover the city's hidden spots of nature; and much more.
30. Start preparing for the new schedule. No more lazy sleepy days. Instead, ease your kids into the school routine by waking up a bit earlier.
Ready or not, here we come teach.
Top image: An inviting mural at the Brooklyn Robot Foundry. Photo courtesy of BRF.