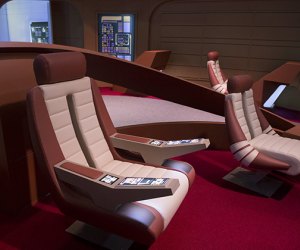 Geek Out at the Intrepid's New Star Trek Installation
The Intrepid Sea, Air & Space Museum is getting ready to boldly go where no American has gone before! Imported from the Canada Aviation and Space Museum and opening Saturday, July 9, Star Trek: The Starfleet Academy Experience is a 12,000-square-foot, interactive installation where fans of all ages can immerse themselves in the sci-fi franchise's universe by "training" for various on-ship jobs. By completing fun tasks and taking brief quizzes at themed stations, find out whether you're best suited for a career in Communications, Medical, Science, Engineering, Navigation, Tactical, or Command, all while tracking your progress on a high-tech wristband that sends your results to your email.
For Trekkies, missing this exhibit would be "illogical" as Spock loves to say. But will casual viewers and little kids think it's out of this world, too? Find out whether your little space cadets are ready to join up, and tips for making the most of your voyage!
And don't forget to check out the NYC Museum Guide for all the latest kid-friendly exhibits.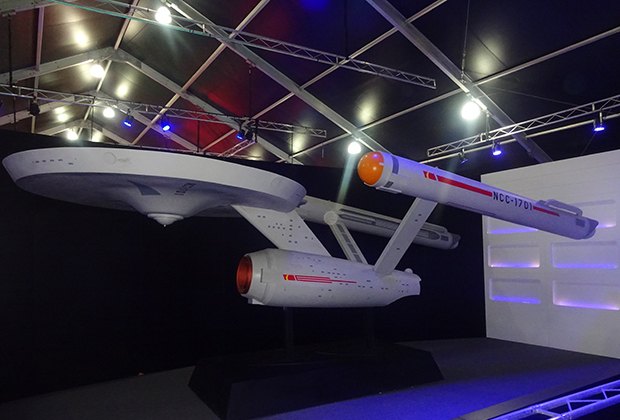 A replica of the original Enterprise is suspended from the roof. Photo by the author.
Though unquestionably geared toward fans, Star Trek: The Starfleet Academy Experience can still be enjoyed by families who mistake the Cardassians for reality TV stars, and confuse Dr. and Mr. Spock. From the moment you walk in to the exhibit, which is housed in a specially built structure on the pier, not on the Intrepid itself, you're plunged into the world of Star Trek. An impressive, oversize replica of Captain Kirk's original Enterprise is suspended on your right (awesome for photo ops), and info panels giving an overview of creator Gene Roddenberry's vision, and the crews of the various TV series and movies is on your left. This is the last part of the experience where Star Trek is referred to as fictional. From there on out, you are in the 24th century. A handy Star Trek timeline even gives you a cursory future history lesson to that point.
RELATED: Star Wars Exhibit Opens in Times Square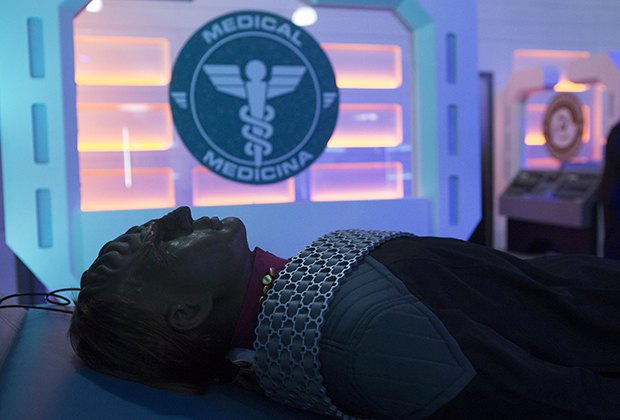 Diagnose an ailing Klingon at sick bay.
While authentic costumes and props are on display alongside character facts and famous Star Trek clips, the interactive elements are definitely the main attraction. Each of the nine themed sections has some kind of hands-on activity; just scan your bracelet to get started. You can diagnose Klingon patients in sick bay (don't worry, they're mannequins), hone your phaser aim at a tactical simulator (aka a video game), or make like Kirk and try to beat the unwinnable Kobayashi Maru training scenario while sitting on a replica of The Next Generation bridge. If this all sounds like geek to you, don't worry: From the assignments we tried, they all seem simple enough for grade schoolers to complete, even if they have no prior knowledge of Star Trek.
Although about half of the virtual interactives weren't ready to try during the late-June press preview, I returned to the exhibit with my family after it opened so we could experience them all. The hands-down favorite was the Species Selfie station, where you pose for a pic and then add extraterrestrial attributes to your image. With so many options of alien skin color, hair, noses, ears, and even antennae to choose from, it was hard to drag my kid away—she wanted to try multiple combinations! After three, I insisted we move on. Another highlight was The Transporter station, where you stand in a translucent tube while an image of you "beaming" off the ship is projected across the way. In order to discourage Transporter hogging, your wristband requires you to wait at least five minutes in between tries.
The other stations like Klingon 101 (where a virtual teacher instructs you on how to speak the guttural language), Emergency Landing (identifying the best planets for an emergency landing), Plot Your Course (touch-screen navigation) were all cute, but definitely didn't pack the photon torpedo punch of those two. At the end of your tour, you're assigned a personality profile and a specialty, and you can request the PDF with the info, plus your Species Selfie and Transporter video, be emailed to you to keep (apparently I show "aggression, compassion, diplomacy, and risk-taking"). Note that regardless of how many Species Selfies or Transporter trips you take, you're only emailed your final ones.
Since 2016 marks the 50th anniversary of Star Trek, the Intrepid is also hosting additional programming throughout the summer and fall that complements the exhibit. Highlights for families include the chance to view the Galileo, a life-size prop shuttlecraft that appeared on The Original Series; Star Trek-themed sleepovers and camps; the four-day Space & Science Festival (July 14-17); and FREE screenings of various Star Trek movies. (Also of note: a Star Trek convention hits the nearby Javits Center September 2-4, though it's not part of the Intrepid's lineup.)
RELATED: Play Ghostbuster at New Virtual Reality Exhibit and Game in NYC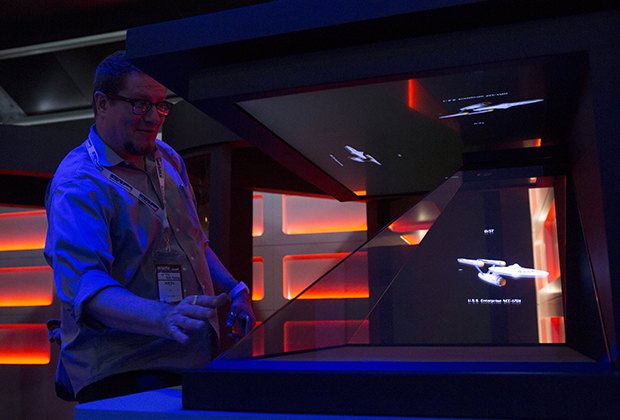 At the Inspect the Fleet interactive station, leap-motion technology allows visitors to browse and manipulate holographic models of iconic Starfleet vessels.
Speaking of the films, for people who only know J.J. Abrams' Star Trek reboots, The Starfleet Academy Experience may be a bit disappointing because the new movies are never referenced. No Chris Pine or Zachary Quinto as Kirk and Spock, only William Shatner and Leonard Nimoy, etc. Other quibbles: While I understand that the activities need to be simple enough for kids to tackle, grown-ups may find them too easy and repetitive, especially given the exhibit's hefty price tag, which does not include admission to the Intrepid museum proper. So if you want to do both in one day, be prepared to pay two separate entry fees. Thankfully, there are some discounts floating around out there for the museum, and the Star Trek exhibit is offering $5 off with your Star Trek Beyond ticket stub. Also a warning: You must exit through the gift shop, which is well-stocked with all kinds of Star Trek tchotchkes.
Of course, given that the Intrepid is an educational institution, the exhibit does try to connect Star Trek's fictional future tech with today's real-life STEM accomplishments, but it's mostly tenuous—though those communicators sure do look like flip phones! I was more struck by the fact that Star Trek was impressively multicultural (and multi-species!) decades before that became en vogue. No wonder Star Trek continues to live long and prosper.
If you're bringing a tot, take note: The aisles are wide enough to accommodate strollers but when it gets crowded you may have some trouble navigating. Also, there are no bathrooms at the exhibit. The closest ones are on the pier; happily they have changing tables.
Star Trek: The Starfleet Academy Experience is on view from Saturday, July 9, to Monday, October 31, at Pier 86, 46th Street and Twelfth Avenue. Admission is $25 for adults, $18 for children ages 5-12 and does not include entry to the Intrepid Sea, Air & Space Museum. Save $5 on admission by presenting your Star Trek Beyond movie ticket stub (one per visitor).
All photos by Erika Kapin Photography/courtesy of the museum.
Intrepid Sea, Air & Space Museum
46th St & 12th Avenue Pier 86
New York, NY 10036