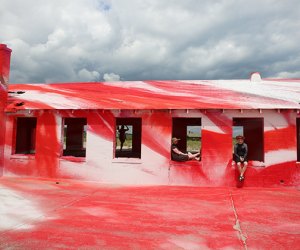 7 Free Outdoor Art Exhibits to See with NYC Kids Now
Want to see some art with your kids, but can't handle the hordes of summer tourists? (Guilty!) Believe that museums make more sense during the frigid winter months? (Also guilty.) Just not able to make your work hours or the kids' naps coordinate with FREE hours at NYC museums? (Hand raised.)
Here's the solution: check out these seven outdoor art exhibits on display in NYC now. Since they're located in city parks and other public spaces, they're FREE! All have art that is interactive (to some degree), educational, and fun for kids. At one exhibit—Swale, a traveling barge with a "floating food forest"—you can even feed your kids healthy food they pick themselves. What could be better? Maybe the fact that you're outside and your children can run around afterward and get tuckered out? (Guilty again.)
​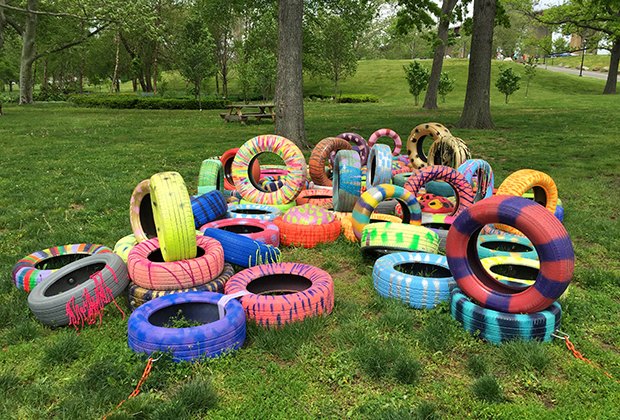 Denise Treizman's Spartan Follies at Randall's Island is cool to look at but even better because it's 100% OK to touch. Photo courtesy of NYC Parks.
Flow.16 — Randall's Island
On view through November
Randall's Island Park
This annual exhibit features sites-specific projects by emerging artists designed to foster appreciation of Randall's Island shoreline. Kids will have a blast playing with (and on) the colorful found objects in Denise Treizman's installation designed to engage visitors, gazing through Tracie Hervy's giant wooden frames, circling Samantha Holmes' mosaic cairns, and checking out Tim Clifford's puzzle-like Monument to a Missing Island. While you're on the isle, be sure to check out its other kid-friendly attractions, like horseback riding, an urban farm, and a playground.
RELATED: NYC Parks & Playgrounds Guide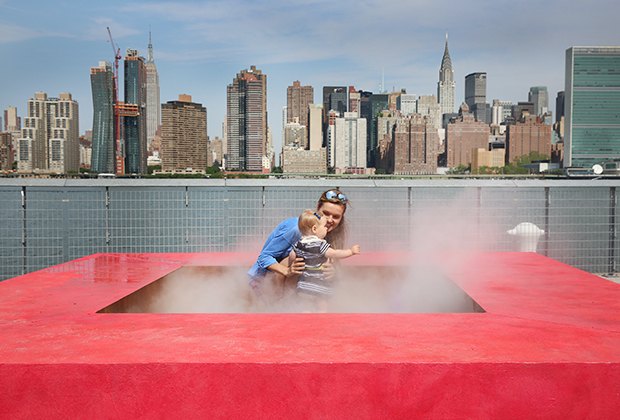 Climb into Mika Tajima's Meridian (Gold) to cool off with a light water mist. Photo by Shira Kronzon.
Meridian (Gold) — Long Island City
On view through September 25
Hunter's Point South Park
As if the Manhattan view from Hunter's Point South Park weren't magnificent enough, the plumes of colored water vapor rising from Mika Tajima's Meridian (Gold) add an extra dose of drama. Kids can climb on and frolic in the small tub as the color of the mist shifts from magenta to turquoise. While the symbolism of the project may be a little more than your kids can take in (the colors correspond to the changing price of gold), all of you are almost guaranteed to be mesmerized—and refreshed.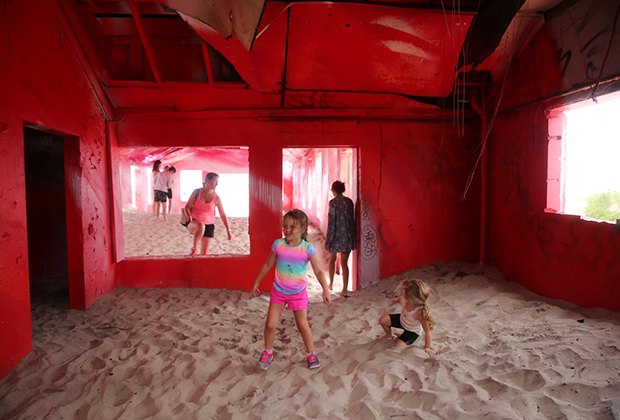 Hit the beach to explore Rockaway!, a building set for removal turned beach art. Photo by Shira Kronzon.
Rockaway! — Breezy Point
On view through November 30
Gateway National Recreation Area at Fort Tilden
German artist Katharina Grosse took some spray paint and transformed Fort Tilden's former aquatics building into a striking artwork reminiscent of a sunset. This unusual exhibit right on the beach celebrates and memorializes the structure, which was condemned after Hurricane Sandy and is scheduled to be destroyed in late 2016. In the meantime, take this chance to let your kids check out this candy-cane-colored house for an immersive art experience to remember. Note: Unfortunately, it appears that you are not actually supposed to play inside the structure as we obviously did. There is a small sign, and a tired ranger, telling visitors to "Keep Out." We missed it the first time around. Whoops.
Smart Tree — Chelsea
On view through March 2017
High Line at West 23rd Street
When artist Nari Ward visited his father's house in Jamaica years ago, he discovered an abandoned car with a lime tree growing inside it. Ward re-created that memory in the form of a Smart car covered in tire treads and raised on cinder blocks, with an apple tree sprouting out of the top. Chances are, the image is startling and interesting enough to stick in your child's memory as well.
RELATED: Best Children's Theater Playing Now in NYC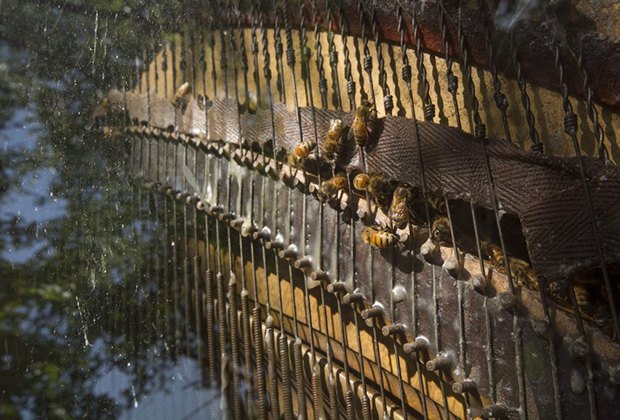 Real bees make their home in Jessica Segall's Fugue in B♭, a piano harp beehive. Photo by Nate Dorr/courtesy of Socrates Sculpture Park.
Sticks and Landmark — Long Island City
On view through December 31
Socrates Sculpture Park, 32-01 Vernon Boulevard
Sticks, a lattice-like outdoor room crafted of scrap lumber by local design studio Hou de Sousa, serves as the site for Socrates Sculpture Park's FREE drop-in Saturday Sculpture Workshops, taking place through September 24. Until August 28, you can also explore the park's kid-friendly Landmark series, featuring works like Concave Room for Bees, a circular walk-in earth bowl, and Jessica Segall's Fugue in B♭, a piano harp beehive: kids will love watching bees interact with the instrument to create music. While you're in the area, be sure to check out other nearby museums, all within walking distance, and round the day off with an ice cream.
Swale — Varying locations
Governors Island through September 15, then at Brooklyn Bridge Park until further notice
Want your kids to understand that blueberries don't come from the supermarket (or even the local farmers' market)? Artist Mary Mattingly has created a 130-foot barge that sails around New York City, providing visitors with free food grown on the ship itself. Kids will love exploring this "floating food forest" and picking blueberries right from the bush—as well as foraging for other edible plants.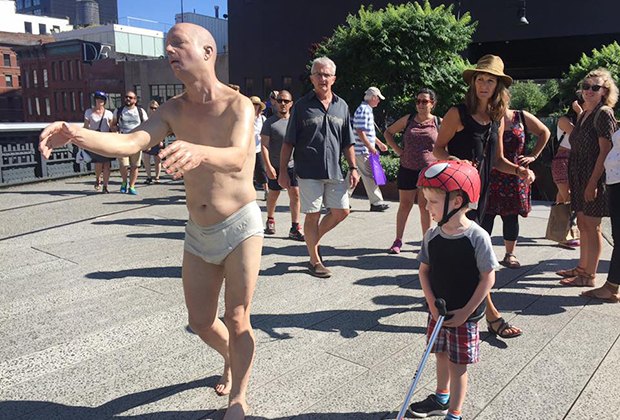 Tony Matelli's Sleepwalker on the High Line makes most passersby do a double-take. Photo by Shira Kronzon.
Wanderlust — Chelsea
Through March 2017
Various locations on the High Line
Wanderlust, as might be gathered from the name, is about journeys—in this case, a stroll along the High Line as you admire the works in this group exhibition. No need to worry that your children will be bored; the exhibit features items like a bell (with a rope to ring it!), cement watermelon sculptures, and perhaps the show's highlight, Tony Matelli's eerily realistic (and underwear-clad) Sleepwalker, which is sure to get a giggle out of the kids.
Top image: Rockaway! Photo by Shira Kronzon.