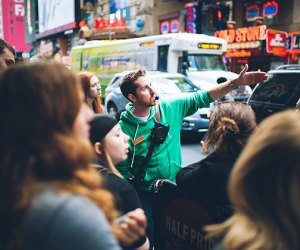 8 NYC Walking Tours for Every Family Interest
Walking tours are a great way for families, both native and tourists, to explore NYC. Whether you tour a neighborhood or borough you don't know well or one you've known forever, you are bound to learn something new while having plenty of fun. In a city as chock-full of life as New York, tour options are available for seemingly every sort of interest. You can take eating tours, check out movie and TV locations, explore nature, get a deeper understanding of Big Apple history and even learn which local wild plants are safe to eat.
My son and I are big fans of walking tours, particularly ghost tours. We loved the spooky history tour we took in Montreal, and the Colonial-themed ghost tour of Williamsburg, Virginia. But until last summer, we hadn't tried a walking tour in NYC. We fixed that by tramping around the West Village with a Ghost Tour of NYC guide and fellow Mommy Poppins contributor Raven and her daughter. We had a blast and so did our almost-tween kids: We learned which Greenwich Village apartment buildings may be haunted and by what; gleaned some interesting historical tidbits; unearthed the macabre history of Washington Square Park; and discovered you don't have to be a tourist to enjoy a good walking tour.
Looking for more ways to see the city? Check out our Visitors' Guide, which includes reviews of all the city's best sights, places to eat, and stay.
Best for History Buffs
Joyce Gold Walking Tours
If you want to learn about NYC's storied history in detail, Joyce Gold is your guide. Her walking tours have been educating tourists and natives on the hidden secrets and stories of some of NYC's most fascinating neighborhoods and landmarks, including the West Village, Harlem, and the Brooklyn Bridge, for nearly three decades. Gold is a born educator and teacher at New York University whose passion for the Big Apple's past comes through in an expert narrative. Tours are conducted nearly every weekend throughout the year, including tours of Governors Island, Brooklyn Bridge, and the Upper East Side scheduled for August 2016. To take a tour, just show up at the designated spot—no reservations are required. Gold also offers the option of building a custom tour for an additional fee. History tours are best for older kids who can keep up with the group while walking and of course, understand the information presented. Tours are two hours in length. $20.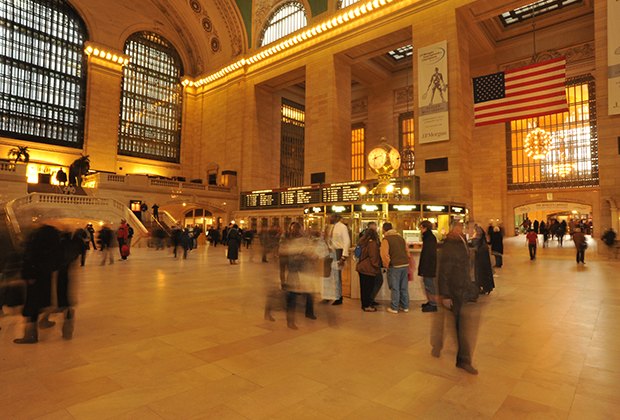 Learn about the "ghosts" of Grand Central on a surprisingly educational indoor tour.
Best for Ghost Hunters
Ghosts of New York
You don't have to believe in the paranormal to enjoy a ghost tour. They aren't scary and typically delve into forgotten, fascinating minutia while offering a new perspective of NYC. Ghosts of New York originated this type of tour in the city and my son and I tramped through the West Village with their guides last summer. We haven't looked at the neighborhood the same way since. Ghosts of New York suggests "Peter Stuyvesant and His Ghostly Friends of the East Village" tour for families. Patrons hit the streets surrounding St. Mark's Church in-the-Bowery looking for the spirits of the nabe's famous former residents, including Edgar Allan Poe, Washington Irving, and Harry Houdini, to name a few. There are tours in nearly every corner of Manhattan, including an indoor tour of Grand Central Station and a Ghostbusters movie-themed tour of the Upper West Side. Most tours are 90 minutes and cover less than a mile so they are perfectly kid friendly, and kids 8 years and younger are FREE. Tours are offered year round on Saturday nights. Advance reservations required. $20 for adults, $15 for kids and seniors
RELATED: Best Boat Rides Around NYC for Families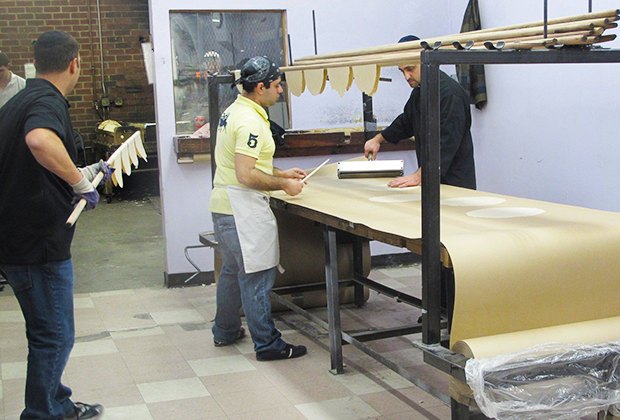 See the making of local specialties like those at a Brooklyn matzoh factory with Noshwalks.
Best for Junior Foodies
Noshwalks
This has been on my bucket list since a foodie-friend told me about it years ago. I am just waiting for my 11-year-old son to become more of an adventurous eater before we experience the culinary delights of all five boroughs with Noshwalks. These are not your typical pizza and cupcake tours of Manhattan. Food writer and adventurer Myra Alperson loves to share hidden culinary gems of NYC's multicultural neighborhoods. Her tours give families a chance to visit areas of NYC they may otherwise have missed, including Brooklyn's Borough Park, where you can visit a matzoh factory and a Yemeni market; Brooklyn's Sunset Park or Flushing, Queens, where you can watch noodles being pulled by hand; Midtown Manhattan, where you can sample South Asian, Persian and Korean dishes and then visit the world-famous Kalustyan's market; or the Bronx's Little Italy for some Italian classics. Noshwalks also offers an eating tour of Dyker Heights, Brooklyn during December when houses are festooned with holiday lights. Most tours are great for children, but if you have a picky eater, contact Alperson in advance. Each tour last about three hours and includes a half-dozen or so tastings. Advance reservations are recommended, and Alperson can custom-build tours to your interest. Prices vary, but start at $57 for adults and $20 for children ages 6 to 12; ages 5 and younger are FREE.
RELATED: Hidden NYC: 21 Fun Things to Do in Central Park with Kids

"Wildman" Steve Brill tours Central Park. Photo by Violet Brill.
Best for Kids Who Eat Their Vegetables
"Wildman" Steve Brill Foraging Tours
We've told you about these tours before, but they definitely deserve a place here. My son and I have done two tours with the Wildman. Over the years we've explored the edible plants and flowers in Central and Prospect Parks—and even brought enough samples home to make a salad for dinner. Foraging tours are a fantastic way to spend some time outside, learn something new and maybe even cut down on your grocery bills. Learn what wild plants are edible and which ones make you sick. A naturalist by trade, Brill has written a number of books, including one on foraging with children; has apps on the subject; and has worked as a foraging teacher for the NYC Parks Department. Brill loves working with kids and will make any tour kid-friendly. In fact, his 12-year-old daughter Violet often co-leads tours with him. Tours are held during temperate weather spring through fall, last four hours, and cover about two miles. Tours are $20 for adults and $10 for children younger than 12. There is a sliding scale option if the cost of the tour is out of your budget. Pack your own container to bring home foraging finds. Advance reservations required.
Best for Nature Lovers
Central Park Discovery Tours
The Central Park Conservancy leads a variety of tours through the magnificent green space all year, but the best ones for families are the hands-on Discovery Tours. Tours are 90 minutes and each session visits a different section of Central Park, allowing kids to discover the park through scavenger hunts, exploring fallen leaves, studying trees and plants and using tools from the park's Discovery Kits. Tours take place twice a day on weekends and some school holidays during spring and fall. Fall dates have not been announced as of late July, but should be on the Conservancy's website by the end of August. Best for kids 5 years and older. No strollers allowed. FREE.
Best for TV and Movie Junkies
On Location Tours
You've seen their film-strip-emblazoned bus driving through NYC, but On Location Tours also offers a walking tour of Central Park's hot movie and television spots, taking families to locations they just can't get to see from a bus. Actors and actresses guide you to 30 iconic spots where films and TV shows have been made. See where the hoofers from Glee sang "I Love NY", where young Kevin McAllister fed the pigeons in Home Alone 2, and locations from other NYC-based, family-friendly flicks, including The Smurfs, Enchanted, and Elf. Tours are two hours and cross the park from east to west, entering on East 59th Street and finishing at West 67th. Tours are conducted almost daily, year round, except for January. There is no age minimum. Kids in strollers are welcome, but On Location suggests kids be at least 8 years old to fully enjoy the experience. Advance reservations required. $43 for adults, $27 for kids 6 through 9 years.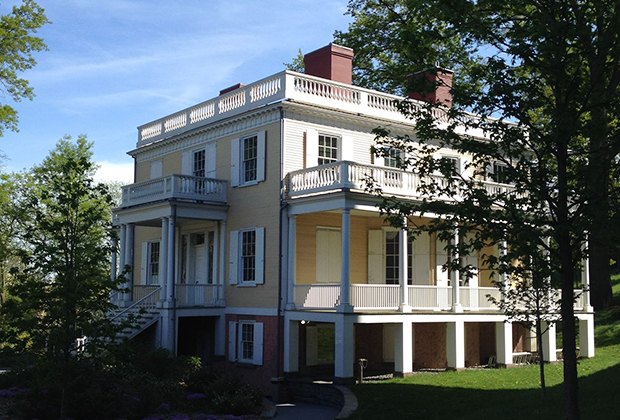 Alexander Hamilton's NYC home, The Grange, is still open for tours in his former Harlem nabe. Photo courtesy of NPS.
Best for the Hamilton-Obsessed
Inside Out Tours: Hamilton's New York
Even if your kid hasn't seen the musical, he or she probably will enjoy one of the pair of NYC-based Alexander Hamilton history tours. Head uptown to the Harlem neighborhood Hamilton called home for an intimate exploration of his life while checking out The Grange, his NYC estate and the Morris-Jumel Mansion, Manhattan's oldest house. Take the downtown Wall Street Tour to learn about Hamilton's legacy and the formation of the United States government while visiting some of the Founding Father's local haunts and his final resting place at Trinity Church. Neither tour is designed for children, but they are led by professional tour guides and a leading Hamilton expert, Jimmy Napoli, a gifted and engaging storyteller who will capture the attention of all ages. Both tours are three hours long and offered on weekdays and weekends year-round by advance reservation. $50
More a DIYer? When the Hamilton sensation first hit, we put together a list of five sites around NYC where school-age children can learn more about this founding father. It's a great way to see the city and learn at your own pace. It includes Morris-Jumel Mansion, which we also just toured this summer, so you have plenty of family-friendly options here!

Get to know the real stories of NYC's famed theater district on an insider's tour led by Broadway Up Close.
Best for Theater Geeks
Broadway Up Close
The 14 expert guides from Broadway Up Close cover 100 years of Broadway lore, tell behind-the-scenes theater stories and use their perspective as working actors and actresses to give an insider's view of the life of a Broadway performer. While you don't enter any theaters on the tour, you will enjoy photos, ghost stories, tales of secret rooftop gardens and Theater District history. Broadway Up Close offers a basic tour covering a half-mile of the Great White Way and a dozen stops for first-timers as well as two additional in-depth tours for returning walkers. Private tours are also available. Tours are 1 hour and 45 minutes and run daily. Advance registration is required. $35 for adults and $30 for kids 12 and younger.
Top image: Learn all about the Great White Way with real actors on the Broadway Up Close tour. All photos courtesy of the tours unless otherwise noted.