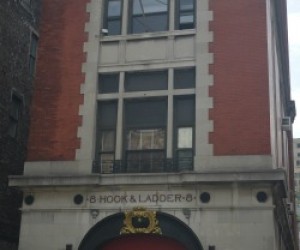 On Location: Family Tours of NYC's Most Famous Movie Sites
From King Kong to Batman, New York City is one of the most famous settings for countless movies and TV shows. Filming is so ubiquitous here that locals can barely make it down the block without tripping over a production crew. Still, there's a thrill in seeing such iconic movie sites in person—and not just for kids.
Families looking for an off-beat, outdoor adventure can DIY their way to these big (and small) screen "sets" for FREE with our list of top NYC movie spots, or hop onto one of the many bus and walking tours to narrate your way through the city's most famous locations like a certain Ghostbusters' downtown firehouse and a Smurf landing in Central Park.
Touring NYC movie locations is a great way to learn more about why specific sites were chosen in the first place. You'll also walk away with a head full of obscure NYC fun facts. Exhibit A: After a recent movie tour, not only were my kids newly aware that most of Central Park is built upon Manhattan mica schist bedrock, but, a few days later, my daughter observed, "So they really used more dynamite to create Central Park than they used during the entire Battle of Gettysburg?" Wow!
Top 10 NYC Kid Movie Locations:
You can DIY a tour by using a resource like On the Set of New York or The Worldwide Guide to Movie Locations, or download a FREE podcast from the New York City's Office of Film, Theater and Broadcasting. But if you are looking for something a bit easier and more robust, you may want to consider booking a formal tour.
RELATED: The Best Way To Spend One Day in NYC with Kids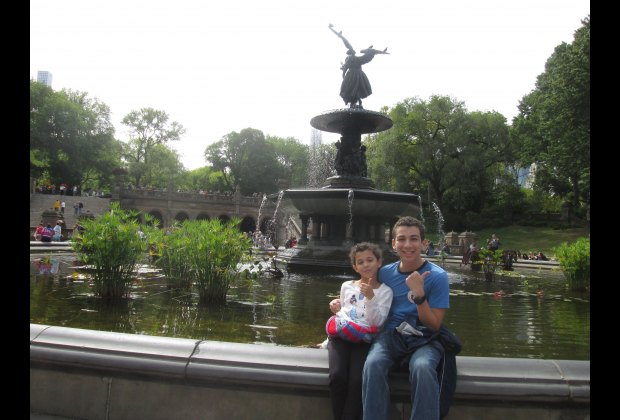 Central Park's Bethesda Fountain is one of the most filmed locations in the world.
Central Park TV & Movie Sites — On Location
This tour takes the family around Central Park in less than two hours to several iconic sets: The Smurfs landing at Duck Pond, the site of Glee's song-fest at The Mall, The Avengers' meeting spot at Bethesda Fountain and pretty much every spot Amy Adams sang and danced through during Enchanted, along with many others. On Location offers a variety of other tours covering themes like Sex and the City Hotspots, Sopranos sites and more; however the Central Park tour is the most kid-friendly of the bunch, in our opinion.
Movie & TV Site Tours — CentralPark.com
This outfit also offers a Central Park tour, but parents can choose from 1 hour, 2 hour and 5 hour version, so you can decide just how much your kids might be up for. Private tours are another option with this Central Park hosted walking tour that visits Home Alone, Spiderman, Ghostbusters, Gossip Girl and other filming spots.
RELATED: Best NYC Views: 11 Spots to Photograph this City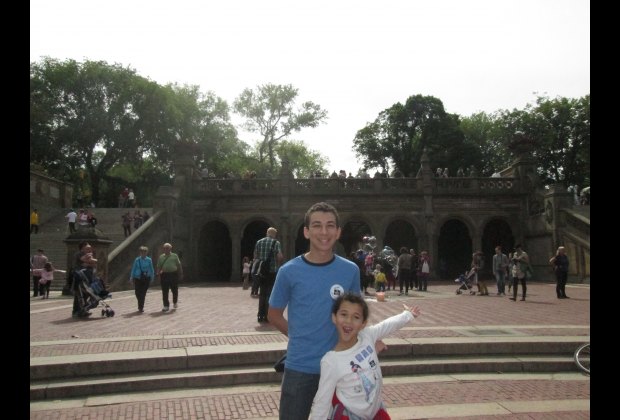 Posing in front of the site of scenes from Home Alone 2: Lost in New York, Enchanted, Ransom and more.
Starring New York: TV, Movies & Celebrities — Levys' Unique New York
Children under 13 are free on this tour that specializes in improvising. See where the Ghostbusters took down the giant Marshmallow Man, where Macaulay Culkin fed pigeons during Home Alone 2: Lost in New York and where the Men in Black 3 went back in time.
Scenes and Soundtracks Tour — Hush Tours
No Enchanted, here. Instead, prepare for a guided tour of Brooklyn locations of movies like Do The Right Thing, Fresh and Dave Chappelle's Block Party, accompanied by the sounds of classic hip-hop. Great for teens or budding hip-hop fans, this tour is seasonal, so contact Hush Tours for upcoming dates. For year-round entertainment from the same company, book its Dancer's Delight Tour, which highlights music video locations—and teaches you a few moves along the way.
We'll see you at the movies (videos and TV, too)!
Top image by Robb1e via Flickr.