Burdock Root & Dandelions: Forage for Edible Plants in NYC with Wildman Steve Brill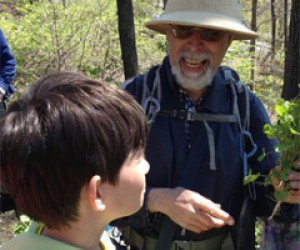 As wonderful as New York City is with its slew of museums, theaters and eateries, it can sometimes feel overwhelming. Naturalist Steve Brill (a.k.a. "Wildman") can help slow things down a bit, though. For more than three decades, the famous Wildman has been taking New Yorkers including school-age kids on foraging tours in every borough and beyond. In fact, people come from far and wide to experience his quirky charm.

Locations that piqued my family's interest included Greenwood Cemetery, Inwood Hill Park and Sunken Meadow Park on Long Island. We ended up deciding on an edible plant adventure in Central Park. With about 30 other folks, we set out for a new foodie experience, sans the plate and utensils!
As part of the tour, we learned how to identify and dig up burdock root (a woody, herb root), and Wildman Steve even passed around his own recipe of the plant dried and seasoned. We also got to sample garlic mustard greens, violet leaves and "poor man's pepper" (a member of the mustard family), to name a few. And my kids went nuts for the vegan jerky!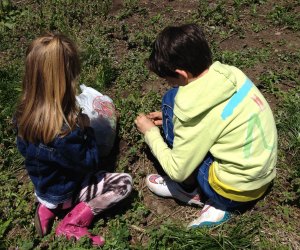 Enthusiastic foragers!
The hands-on experience also included a history lesson from Steve on how these plants were consumed, complete with drawings of most of the vegetation we covered. The best part? The Wildman is a genius with kids. All the children including my five-year-old scrambled to the front of the pack for the length of the four-hour (!) tour.
Steve showed them how to find the sweet nectar in dandelions, and even taught them how to blow into their cupped hands to produce a drumming sound, which he learned from his own father. A month later, we are all still trying to replicate it.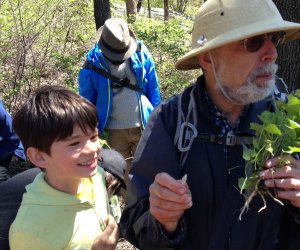 A dream come true for nature lovers young and old.
While he makes sure kids have a blast and learn a thing or two about edible plants, Wildman also tries to inspire everyone to engage with Mother Nature responsibly. It was one guest's fifth tour and she said she wasn't done. And we could see why! We loved the experience so much that we met him at Greenwood Cemetery a few weeks later, where my nine-year-old assumed the role of "Wildman's assistant."
Eating greens in Greenwood Cemetery.
Wildman loves to experiment in the kitchen and he shared a bunch of unique recipes, many found online or on his mobile app. We all left with a bag of freshly picked bounty to help us get started. This was hands down one of our best "only in New York City" experiences for the whole family.
You can join a Wildman tour from March through early December. The suggested donation is $20 for adults and $10 for children under age 12, but he will not turn anyone away for lack of funds. Steve also does birthday parties and visits schools.
For more outdoor fun, check out our Summer Guide.