Little Ninja Warriors: Indoor Obstacle Courses in Houston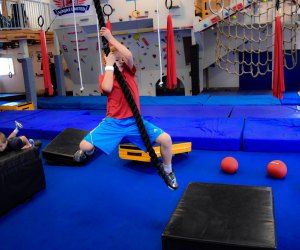 Does your kid constantly attempt to do backflips off the couch and use your body as their personal climbing rope? Then you may be raising a little American Ninja Warrior. The show of the same name pits competitors against each other as they attempt to complete an obstacle course in the fastest time - from leaping on small platforms to climbing incredibly steep and daunting rock walls.
It has sparked a movement in that it encourages kids to spend their free time perfecting their parkour moves and gaining grip strength. Coming off the heels of an era of sedentary video games, this active hobby is a welcome change. Here are four gyms around the greater Houston area that offer Ninja Warrior classes for kids. Not quite ready for these classes? Be sure to check out our round-up of gymnastics classes for preschoolers!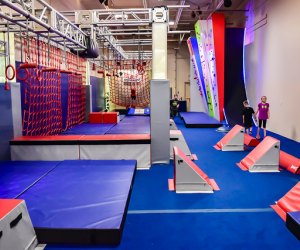 Mini ninja warrior courses challenge kids to dig deep and conquer the obstacles/Photo courtesy of Ninjas United via Flickr
Ninja Warrior: Maximum Athletics
Two locations: Conroe and The Woodlands
936-539-3547 (Conroe) & 281-419-3547 (The Woodlands)
Ages: 5+
What to expect: Ninja training at Maximum Athletics focuses on creating a safe, structured environment for kids to learn how to run, jump, leap, vault, catch, grab, and flip their way through life. Each class is designed to emotionally, mentally, and physically prepare kids for the real world in a fun, engaging way.
Mini Ninja Classes: Iron Sports
6982 FM 1960 W, Suite F, Houston
281-580-4642
Ages: 5-15
What to expect: A scaled down version of America Ninja Warrior courses that focus on building strength, conditioning, flexibility, problem-solving, and coordination. Classes are 1 hour 15 minutes long and combine obstacle courses, parkour, and strength and conditioning. ​

Working on improving grip strength through rock climbing/Photo courtesy of Ninjas United via Flickr
Super Hero Training: Discover Gymnastics
747 N. Shepherd Dr. #400, Houston
713-680-0045
Ages: 4-8
What to expect: Calling all superheroes in training! Discover Gymnastics has the class for you. This class combines flying practice, rescue academy, and ninja training to hone in on physical superpowers and then teaches the importance of real-world hero tactics like recycling and water conservation. Hero trainees must wear a superhero costume to class.
Ninja Classes: Obstacle Warrior Kids
27329 Spectrum Way, The Woodlands
281-323-4719
Ages: 3+
What to expect: Even the greatest ninjas have to start somewhere. Aspiring toddler ninjas can begin their ninja journey at Obstacle Warrior Kids and continue until they reach the Extreme Ninja Warrior level. All classes focus on improving techniques, building self-confidence, and self-awareness, fostering a love for exercise, and having fun throughout the process.