Houstonopoly Pop-Up Gives Families a Chance to Explore Houston Indoors
After a year of playing board games at home with the kids, how about taking them out to play a life-sized one this summer instead? Houstonopoly, a limited-time pop-up event in the Rice Village, is a tribute to the classic game of Monopoly with a local twist. Filled with Houston references, this attraction allows families to walk around a giant Monopoly board and admire displays representing Bayou City landmarks.
Roll the dice, work your way around the colorful squares, and take plenty of pictures while visiting iconic Houston sights in an air-conditioned room. Given that Houston temperatures can soar in the summer, consider adding Houstonopoly to your list of indoor places to enjoy when it's just too hot to play outside.

Roll the dice and you're off!
How Does Houstonopoly Work?
The entire Houstonopoly exhibit is housed in an open 10,000-foot gallery space. Visitors check-in at the counter right after walking in, where staff provide a pair of dice and a handful of play money. Then, you're off! My kids started off rolling the dice but then realized they weren't interested in trying to play the game. Instead, they just wanted to get up close and explore all the large props at each station built along the perimeter of the room.
The walls around the gallery are covered in colorful murals or street signs representing well-known Houston streets and neighborhoods. We began at our sports stadiums where we all sat on real stadium seats and pretended to cheer on Houston teams. Then we stopped by Turkey Leg in the Third Ward, took a chance with a Chance card, and showed our love for downtown Houston.
Next, we visited NASA to pose with an astronaut during the planting of the flag on the moon. The kids did a short stint in the jailhouse before making their way around the rest of the room. We visited the high-end shopping district in the Galleria, then stopped by a recording studio; an homage to famous musicians with Houston roots.
There is a small play area for younger kids in the center of the room. Children can duck in and out of the small wooden playhouses, sit at the little table and color with crayons, or crawl through a caterpillar-shaped tunnel. My kids thought it was fun to roll a couple of giant inflatable dice with their dad in the open space.

The younger kids loved playing in and with the props, rather than the actual game.
Would Kids Enjoy Houstonopoly?
This Houston pop-up felt best for tweens and teens. I bet they would love to visit it with friends and rack up fun, cool photos for their social media feeds. Younger kids might not understand all the Houston references and view it as more of an indoor play space of sorts. The little kids' area in the center of the room probably won't hold their attention too long as it is a bit limited, but they might like exploring all the over-size photo-op props and game pieces.
A family taking pictures at each station and playing with some of the interactive elements can zip through it in well under 30 minutes.
How Can I Get Tickets to Houstonopoly?
Kids aged 3 and under are free but otherwise, admission is $15 per person. Tickets can be purchased on the Houstonopoly website with timed entry from 11:30am to 7pm in 90-minute time slots. Note that it is closed on Mondays and the pop-up event ends on July 31, 2021.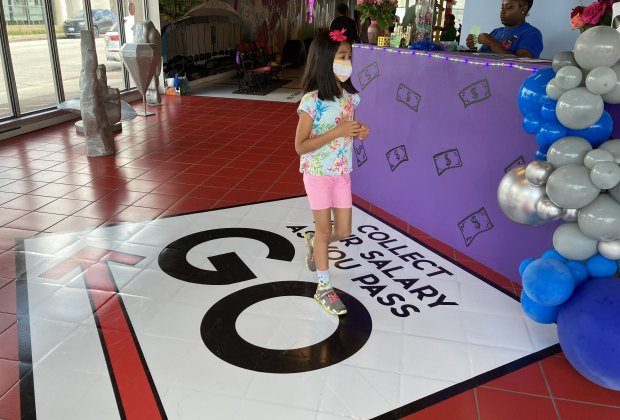 Don't forget to pass Go!
Where Can I Park?
Street parking in the Rice Village is notoriously tricky, especially now that most parking spots are metered. However, there is free, reserved parking lining the front and side of the building hosting Houstonopoly. If you don't see spaces on Rice Blvd., turn the corner right at the building and there will be marked parking spaces along the wall for Houstonopoly guests only. If for some reason you can't find parking, head to one of the parking garages in the Rice Village. The first two hours at any of the garages here are free.

There's a small play area just for younger kids, too.
Are They Taking COVID Safety Precautions?
The venue is operating at 75% capacity. When we visited there were only two other parties there. There is space between each stop on the game board, so each party should be able to distance appropriately. Guests should wait until the party in front of them moves forward before entering the next set of spaces.
Masks are required unless you are taking a photo. There are hand sanitizer stations available throughout the gallery. The venue states it uses a sanitizing fog weekly to disinfect the building.

Visit top local landmarks and themes throughout the experience.
What Else Can We Do with Kids at the Rice Village?
To round out your trip to Houstonopoly, go across the street to The Teahouse for some delicious Boba tea! Kids can choose juice or non-caffeinated options from the extensive drinks menu. Then make your way a few blocks east toward Morningside Street to visit Fundamentally Toys. After perusing this great local toy store, hop across the street to Sweet Paris for a meal or just one of the dessert crepes. Kids love to watch the chefs make the crepes from behind the glass.